December 10, 2020
eVTOL aircraft
According to the concept, eVTOL is an electric aircraft that is distinguished by electrification, automated control and the possibility of vertical take-off and landing. Due to its efficiency, noiselessness and the fact that a small "patch" of ground is enough for vertical take-off and landing, eVTOL craft can make flights a common form of movement of earthlings in space. The market of such vehicles "could be an ultra-niche addition to the existing transport infrastructure," said Rajeev Lalwani, a senior analyst at Morgan Stanley who specializes in aviation and aircraft construction. Let's see if the eVTOL machine project is as promising as it is positioned, and what the potential of this concept is based on.
Advantages and problems of the eVTOL concept 
Unlike airplanes and helicopters, the unique feature of eVTOL vehicles is that they allow people to quickly personally travel from point to point. Experts compare the hype surrounding eVTOL flying cars to the time when the aircraft industry was born thanks to the Wright brothers, and the automobile industry began with the Ford Model. People can get rid of the hassle of airports and traffic jams on the highway, as well as the cost of hiring pilots, they could fly cars with wings themselves.
Battery sizes, "flying car" air traffic control, and other infrastructure issues are among the many potential challenges in commercializing this personal air transport of the future. 
"A lot is going to happen," said Sanjiv Singh, a professor at the Robotics Institute at Carnegie Mellon University, who co-founded Near Earth Autonomy, a firm also working on the eVTOL flying machine.
"If "flying cars" cost $10 million, no one will buy them. If they fly for five minutes, no one will buy them. If they fall from the sky from time to time, no one will buy them either," Professor Singh said in an interview.
Lilium from Germany, Joby Aviation from California and Wisk, a joint venture between Boeing Co. and Kitty Hawk Corp., are also working on eVTOL projects. 
Sebastian Thrun, chief executive officer of Kitty Hawk, said it took time for planes, mobile phones and self-driving cars to gain recognition. "But for cars with eVTOL, the time gap between technology and social adoption can be faster and shorter," said S. Thrun.
People's dream of flying in the sky by car, as easy as driving on the highway, has almost come true in Japan.
At the end of August 2020, the eVTOL contraption, which looks like a sleek motorcycle with propellers, rose several feet (1-2 meters) above the ground and hovered in a grid-protected area for four minutes. SkyDrive Inc., the world's leading developer of urban air mobility solutions, has officially announced a public demonstration flight of its new SD-03 flying car model. This turned out to be the first public demonstration of a flying transport – eVTOL in Japan. SkyDrive is confident that by 2050, every resident or guest of Tokyo will be able to easily travel by air between 23 municipalities of the Japanese capital in just ten minutes. In addition, flying cars will be actively used for transporting people in mountainous areas and on remote islands, as well as for evacuation in case of natural disasters or other unforeseen situations.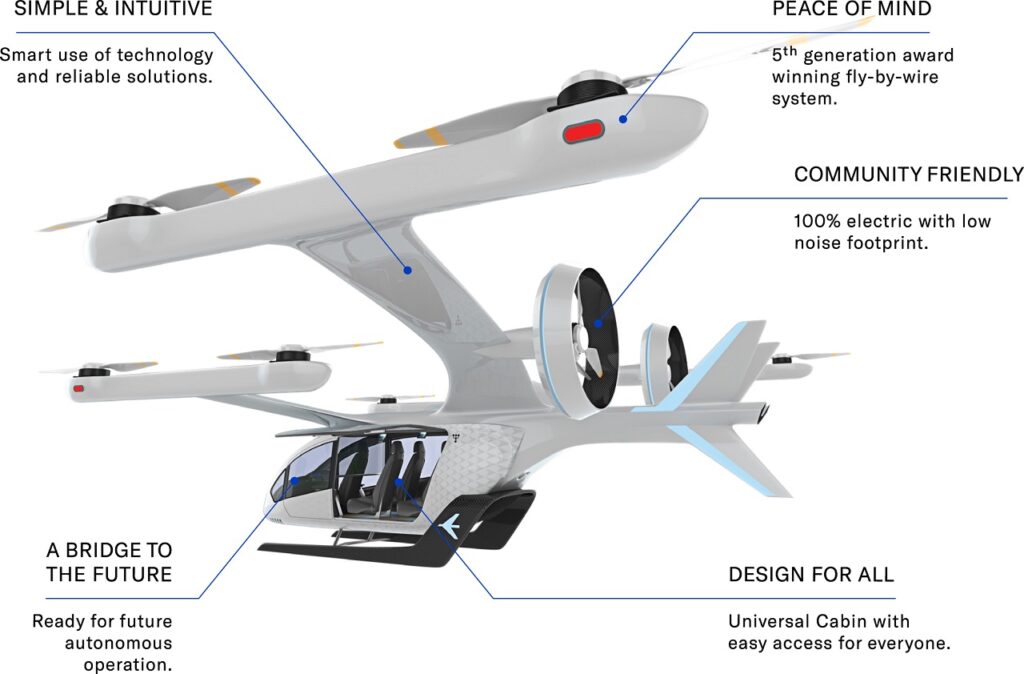 According to a study by Morgan Stanley, the electric transport with vertical take-off and landing eVTOL segment has huge potential. Approximately by 2040, global demand for it may reach $1.5 trillion.
Developments of the Slovenian Pipistrel Aircraft 
Pipistrel Aircraft in Slovenia is one of several manufacturers interested in Uber's plans to build a network of compact electric aircraft in cities around the world. Pipistrel presented its eVTOL concept, which may become a reality in a few years. The concept aircraft is equipped with special power systems for vertical take-off and landing, as well as the flight itself. It can carry from two to six passengers and fully complies with the eVTOL concept – these are aircraft with vertical take-off and landing, equipped with an electric drive. They are quieter, safer, more eco-friendly, and more affordable than helicopters.
The new Pipistrel eVTOL, developed as a partner of the UBER Elevate program, will fly longer distances and at higher speeds than previous models. The electric plane was designed using a new integrated vertical take-off system to reduce costs, but a number of experts say this requires advanced pilot skills.
Ivo Boscarol, founder and CEO of Pipistrel, stated the following: "Pipistrel is not trying to reinvent a helicopter by adding new engines to it. Instead, we offer special solutions of a vertical take-off with built-in scalability for aircraft with a capacity of two to six people. The combination of an innovative noiseless and more efficient integrated vertical take-off system with the high performance of the aerodynamic wings in the new eVTOL class will reduce the cost of operation, which will serve as a clear advantage for UBER Elevate passengers." 
Mark Moore, technical director of UBER Elevate Vehicle Systems, emphasized that "Pipistrel was one of the pioneers in the development of electric aircraft, which began to work towards increasing the flight duration of aircraft with electric engines. As a partner of Uber Elevate, Pipistrel's concept of eVTOL brings them closer to creating a new generation of aircraft with distributed electric traction. We are very happy to continue our work with Pipistrel and will be glad to offer this Elevate network concept."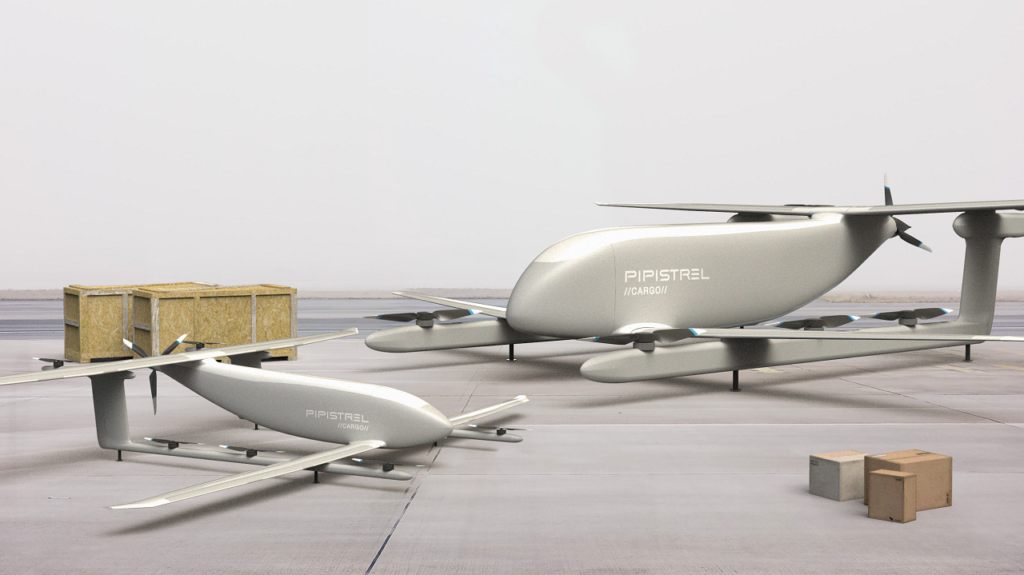 AeroMobil 3.0 from the AeroMobil Slovak company
Slovaks came up with their own production of flying cars (aeromobiles). Such vehicles are adapted for comfortable driving and flying. Immediately prior to take-off, the Airmobil's wings come out on the sides. The vehicle itself uses regular gasoline as fuel and has a cabin designed for two – a pilot and a passenger. Perhaps in the future it will be equipped with an autopilot. There is no question of Aeromobil's take-off directly from the motorway yet – for this they will have to use the runway of the nearest airfield. Accordingly, one can't do without a pilot's license yet. Nevertheless, this vehicle has excellent flight performance, which was greatly facilitated by specially selected composite materials for the fuselage-body. Aeromobil can travel up to 700 km without refueling at a speed of almost 200 km/h in the air. Its cost is not yet compared with the usual mass-produced car, although it is already equated to the price of a sports car and a light aircraft.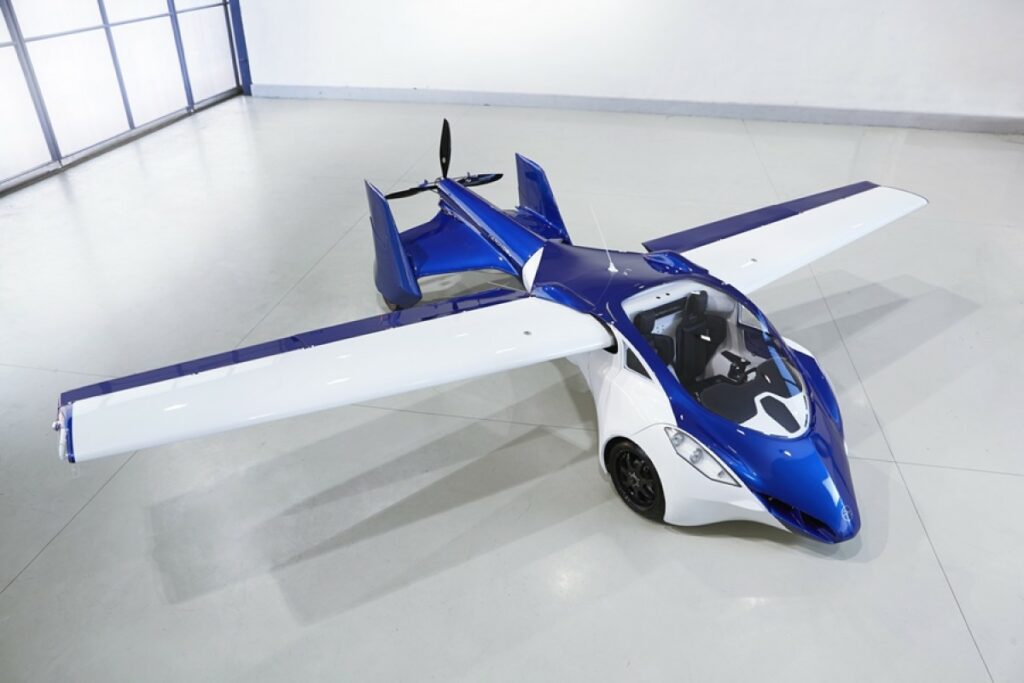 Prospects for American Terrafugia
The Terrafugia TF-X is positioned as the world's first semi-autonomous hybrid flying car that is compact in size and fits in any garage. This craft is designed for four people, has the ability to take off vertically and can move both in the air and on the ground. Without recharging/refueling, the TF-X is able to travel 800 km, because the propellers that lift the car into the air are powered by electric motors, and the pusher propeller that provides forward movement is driven by a gas turbine.
It is significant that the TF-X pilot practically doesn't require the use of professional skills, since everything on board of the aircraft-car is controlled by a computer. You just need to set the destination. The TF-X computer system also:
calculates the optimal amount of energy/fuel;
evaluates weather conditions and terrain features of the area being flown/passed;
sees and overcomes various obstacles;
is also able to land the craft independently in emergency situations;
can also report what is happening on board to air traffic controllers.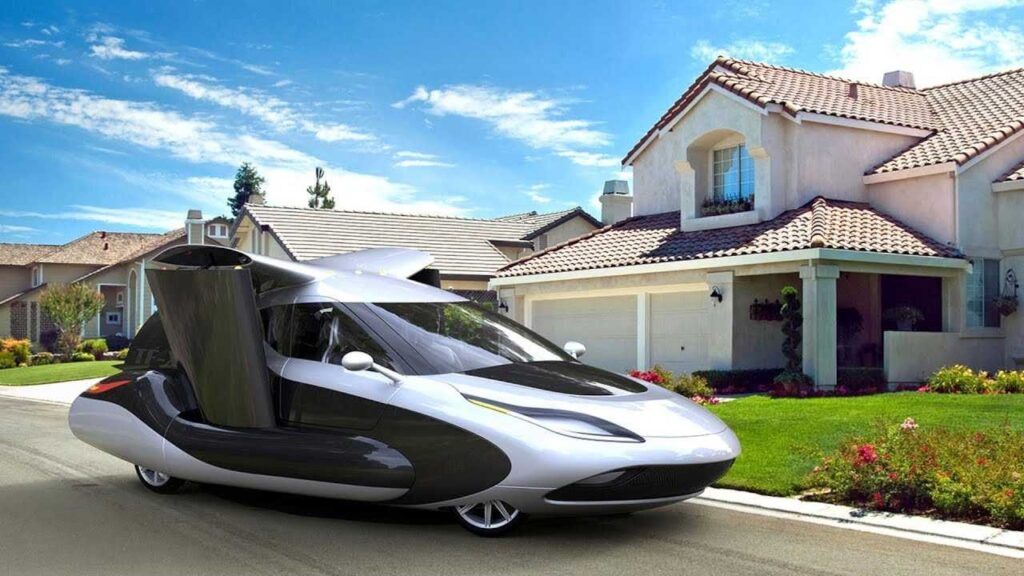 If a certain abnormal situation in the airspace doesn't allow the TF-X aircraft-car to land or a hard landing is possible, the computer will offer people on board to use the parachute systems included in the basic configuration of the TF-X craft.
The main problem is the high cost of the Terrafugia TF-X, which makes such a vehicle inaccessible to the mass consumer. But this aircraft-car is also quite affordable for those who can afford a premium car. Its price is about $300 thousand. However, the rest of those who are interested can think about purchasing the Terrafugia Transition. This two-seat car is converted to an aircar in less than a minute. The Terrafugia Transition is certified both as a means of transportation on public roads and as a "light sports plane". The speed that the car reaches in flight can be 185 km/h, while the flight range is 790 km. Gasoline is used as fuel. Unfortunately, at the same time, the Terrafugia Transition doesn't have a vertical takeoff, like the more expensive brother Terrafugia TF-X, and for safe soaring in the air, you need a flat strip of almost half a kilometer long. 
Creation of "air traffic rules" for a special class of transport in the form of flying cars (aircars) will undoubtedly require a license. And if you haven't got a flying car yet, obtain an international driver's license. Who knows how quickly aircars will enter our daily life, but the advantage in obtaining a pilot's license will go to those who already have the right to drive a car on the ground. Our website provides this service – processing of the international driver's license, you only need to leave an application.