November 19, 2020
SEMA tuning show
Held annually in November, the American tuning show SEMA is considered one of the largest in the world. The closed-type exhibition opened its doors for the first time in 1967. Since then, the show, organized in Las Vegas, has been very spectacular. At this exhibition, representatives of the automotive industry demonstrate their latest most daring and unexpected achievements. 
In short, SEMA is the realm of concepts and tuning. Many projects are built specifically for this show, so in the future they remain concepts. At the tuning show, you can see not only prototypes and tuned cars, but also various equipment, tools, spare parts for cars, wheel disks and much more.
What is tuning?
The term "tuning" means setup or adjustment, and in relation to the car, tuning is characterized as the process of finalizing an ordinary car, aimed at changing its factory characteristics. It's about design improvements and exterior transformation, technical changes, reprogramming of automotive electronics, etc. Car tuning as a desire to improve a car unites a large number of enthusiasts around the world, for whom tuning is a hobby or professional activity. Tuning of a car that is preparing to take part in a racing series is usually called a ringtool. Professional ringtools are assembled by tuning studios or special companies specializing in the field of motorsport.
Car tuning is not a new trend in the world of automobile production. After all, the first improvements to cars began after the start of production of stock models, that is, more than a hundred years ago. Standard technical capabilities don't suit everyone, because any car owner always strives for the individuality of his iron horse. This desire makes them change the external and internal appearance of the car, as well as emphasize its features and highlight it against the background. In addition, there is a rational kernel of automobile tuning, when certain transformations of the factory version can reduce, for example, fuel consumption. Optimization of costs and the entire operation of the car as a whole – the task of automobile tuning is of a higher order than external transformations. Therefore, today such tuning is ordered by mature people, unlike recently, when car tuning was the prerogative of young motorists. It was important for the latter to get an externally refined car masterpiece as a result of changes.
Modern tuning enthusiasts are divided into those who are interested:
in external transformations of the car;

in internal (technical) modifications – improving technical parameters, increasing acceleration dynamics, updating maximum power, etc.;

in internal (aesthetic) modifications – improving the comfort and aesthetics of the car interior.
In general, car tuning is divided into six main areas: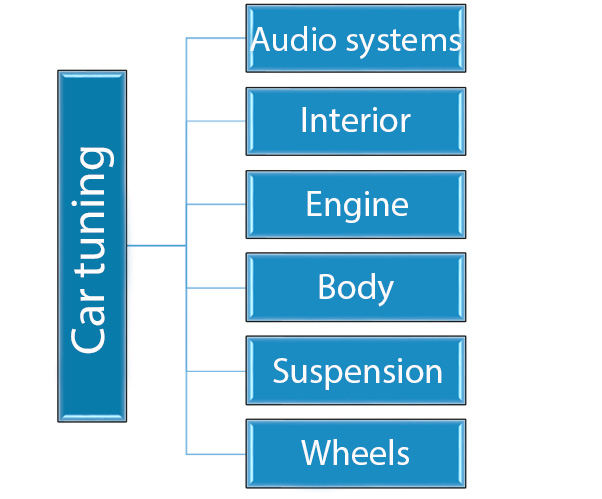 But it is important to remember that many changes to the car design go against the safety requirements, can worsen the car's handling and lead to violations of traffic rules. To prevent this from happening, and in order to the car owner not to receive fines from traffic inspectors, you need to have a sense of proportion and common sense.
Thus, tuning is any work, procedures and activities aimed at changing the design, appearance, factory settings and functions.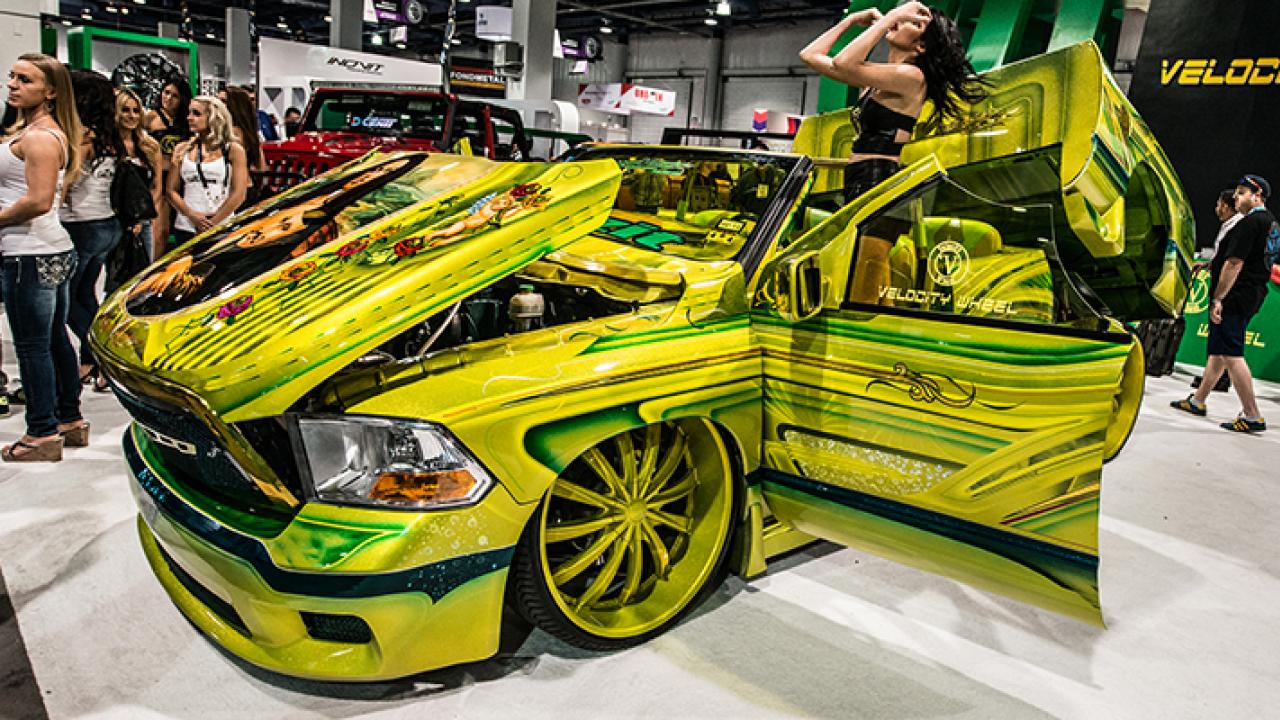 Tuning show in Las Vegas
SEMA stands for Specialty Equipment Market Association. This Association includes more than 7 thousand companies worldwide, and their production amounts to more than $36 billion a year.
The SEMA tuning show consists of kilometers of area, several levels, huge halls and an open area in front of the exhibition complex, where there are the very best tuning examples. At the SEMA show, car manufacturers, tuners, tiremen, companies that produce car care products, car paints and varnishes, tools, safety equipment, finishing materials, automotive technologies and electronics, and everything else that you can imagine present their products.
A car enthusiast who came to the Sema show for the first time wants to hold his breath and exhale: "Oh…"! Just because at first it seems to be an unreal scenery: eternal summer, eternal sun, palm trees and "these incredible cars"! It begins to ripple from the bright, vibrant and diverse colors and combinations in which cars are painted after an hour of being at the exhibition.
As a rule, American and Japanese models predominate in Las Vegas. There are much fewer "Europeans" at the exhibition. This can be seen both by the number of European-made cars, and by the very poor examples of their tuning offered. From the "Europeans", BMW models are most often exhibited, which are considered expensive and prestigious cars in the States. This is the level of lawyers and dentists, that is, representatives of the most highly paid professions. At the same time, Americans are aware that BMW is an expensive car, and its purchase is "wasted money". Any American model is much cheaper. But the notorious statusness makes the mentioned German prestigious, so it never loses popularity in the United States.
There are many charismatic cars at the exhibition, whose tuning is expressed in a wide variety of aero parts, that on unreal wheels demonstrate exhaust systems, cooling systems, brakes, and even hybrid engines that are so popular at the car show. Chameleons are very popular – in America they usually use vinyl or trivial car paints. As a rule, aerography dominates, but it is not an end in itself, but a combination of the general style of the car, and in fact is considered its complement. Hence – unexpected places for aerography (for example, the inside of the hood).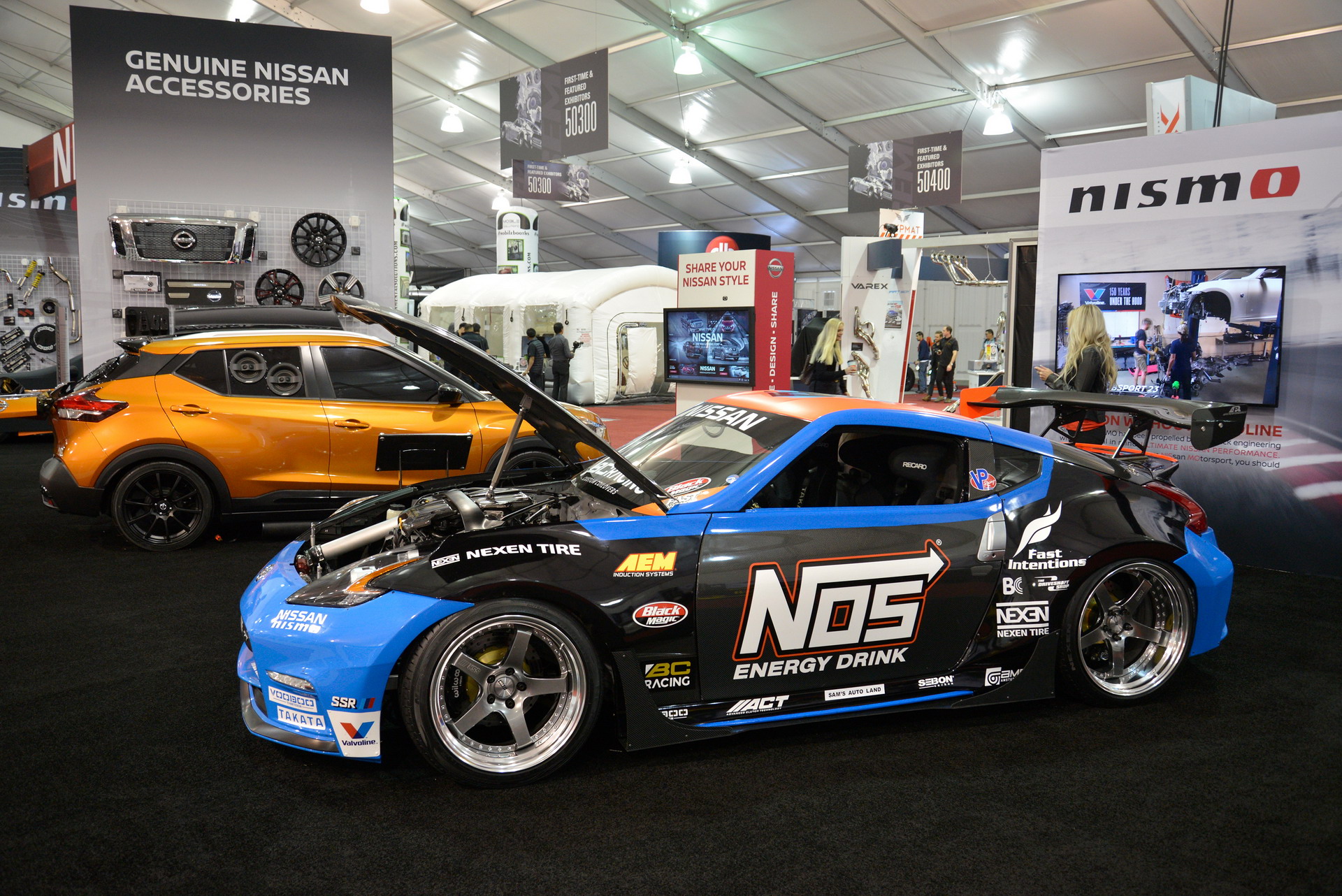 Some of the pavilion spaces at the exhibition are real tuning laboratories in real time, and visitors can enjoy the process of making and installing aero parts, installing music and other devices, painting body parts or working on the interior of the car. The audience likes it, and the public visits such laboratory pavilions with great interest.
SEMA is the highest point of creativity and individualism that can only be applied to a car, but sometimes they are accompanied by shiny components and huge disks. Engineers and enthusiasts of car tuning from all over the world, designers and fans of car tuning of different levels enjoy the creations of colleagues at SEMA, where many interesting projects based on various car models of different brands debuted. The show aims to satisfy the interests of all tuning enthusiasts, from fans of traffic light racing and sideways driving to those who prefer to force endless hills and swamps.
While in the first year only five cars were shown at the automobile show, today their number exceeds a couple of thousand, and each model is a real masterpiece of automotive creativity and the embodiment of the most irrepressible imagination of their creators. The automakers themselves demonstrate at the SEMA Show both serial versions with every bell and whistle, as well as various factory options and accessories designed to distinguish the car from the crowd. Tuning studios, which often offer absolutely crazy versions of production cars, whose power after the manipulation of engineers grows twice or even more, also participate in the exhibition.
Anyone who has visited SEMA at least once will never forget it.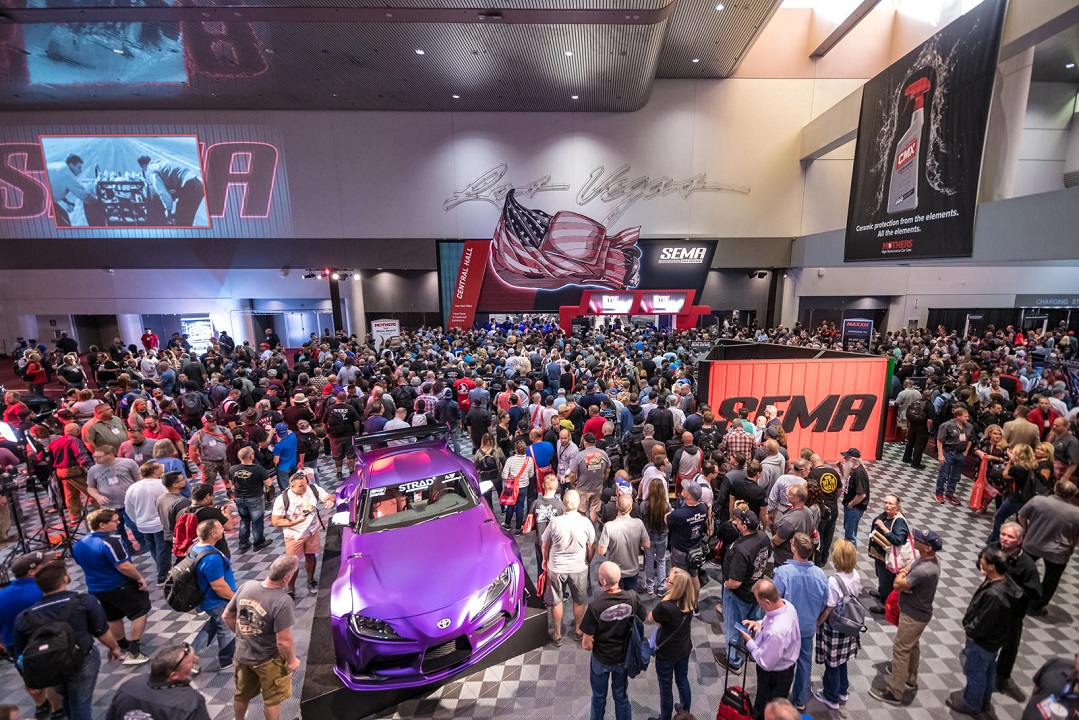 Modern creations of the tuning industry are becoming more and more important, but even cars with the coolest tuning need a driver who has documentary proof of the right to drive a car (better international). If you haven't yet obtained a driver's license of this level, we invite you to quickly and easily process the international driver's license on our website!