October 29, 2018
Caravannists in New Zealand
New Zealand is a country comparable in size to the UK or Japan, and the roads there are a pleasure! There are so many natural beauties and attractions that you can see them only when traveling by car (and for two weeks minimum). We decided to tell you about the subtleties of New Zealand's caravanning.
Starting with a car rental
All that relates to car rental, should be done in advance – through the websites of agencies involved in car rental. First, it will be cheaper, and secondly, there will be time to think everything over and choose exactly what you need, and not to look for an interpreter, if something in the agreement seems incomprehensible or strange. Third, driving in New Zealand is left-handed, and you should also take this feature into account when reserving a car. Fourthly, you should pay attention to the interaction of the rental office with the ferry service, since not all offices allow you to "swim" with your cars to another island. And the country is located on two large islands (the North and the South) and a great number (almost 700) of small islands. Since the most optimal route is along two large islands, it is better to rent a car at the airport of the North Island (for example, in Auckland) and return it at the airport of the South Island (for example, in Queenstown). Therefore, there should be a condition "free one way rent". Next, you choose the standard options required for the gearbox (mechanic or automatic), the car category (for example, SUV), standard insurance, unlimited mileage, additional driver for free, etc. There is no need to pay extra for anything. And when getting a car, you present an international driving license, a passport, a bank card. By the way, the deposit is not booked, but the airport fee (small) can be charged. But don't expect that the whole trip will take place in the same car. During ferry crossing, you will have to give the car (with a full tank), and to get a new one on the next island in the rental office (usually of the same brand, but may be of a different color). Only a booking confirmation is presented, no additional payments are needed.
The total cost of renting a car in New Zealand is such that it takes more gasoline (and it happens that caravans put 3-4 thousand km).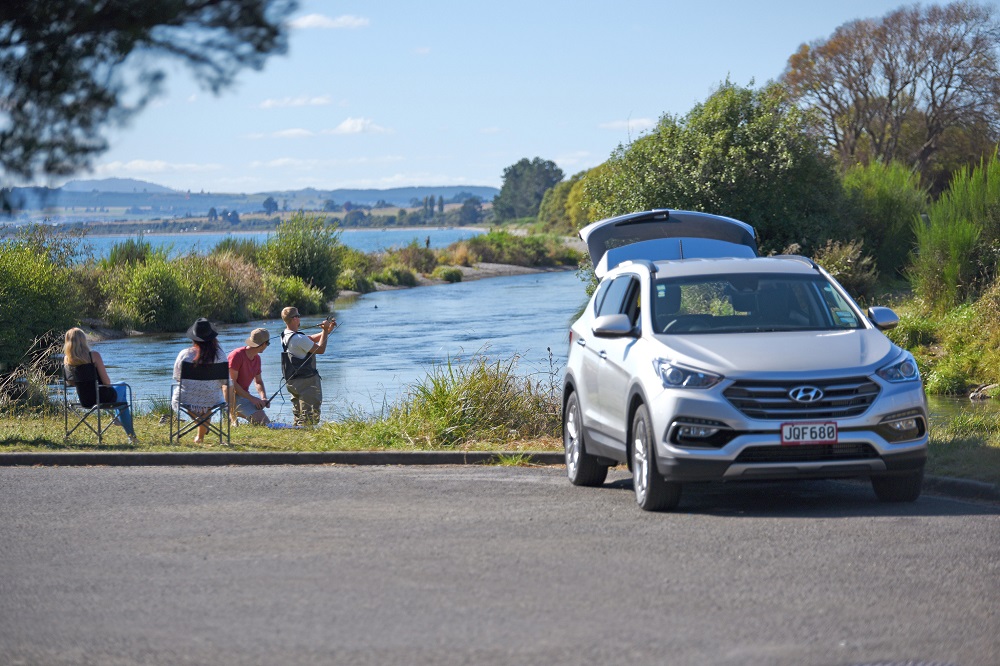 Features of traffic regulations in New Zealand
In the country, there are left-handed driving, as already mentioned above, high-quality motorways, good markings on the roadway and clear road signs. Outside built-up areas, you can drive at a speed of up to 100 km/h, and in built-up areas – only up to 50 km/h. Speeding entails a very high fine. There are no cameras for video recording on New Zealand tracks. There is no outside lightning, but there are excellent reflective signs and marks.
On interurban roads, there is basically one lane per side of traffic. Approximately every 5-10 km, depending on the congestion of the section, a lane for overtaking, kilometers in length, is added from both sides. This allows New Zealanders to save money when building roads, and to avoid traffic jams caused by slow transport.
The main culprit of accidents is a tourist, confusing the traffic side and exceeding the speed. Therefore, the penalty for the driver of a rented car is doubled.
Fuel stations, as a rule, are all automated and work on post-payment – after arriving, it is necessary to insert a nozzle and pour in as much as necessary, and then go to the cashier, having informed the column number. Late in the evening and at night, everything is somewhat more interesting. The staff at fuel stations doesn't work at this time, and you have to pay through the machine, usually it stands near the cash office (store). You need to insert a credit card in it and specify the type of gasoline, the required volume and the column number. After that, insert the nozzle and fill the tank.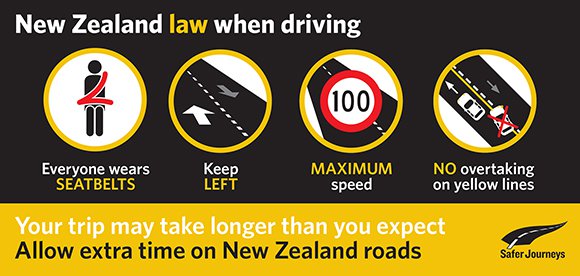 Interesting routes and places
Moving across New Zealand along the roads, you can see an incredible variety of local landscapes: snow-capped peaks and water fjords, fertile plains, subtropical forests, glacial lakes, coastline and sandy beaches.
When planning a route, leave reserve days. Firstly, in New Zealand, the weather often changes, it can rain, or, conversely, the sun beats down so that it is necessary to skip the midday time. Secondly, it is a region of volcanic eruptions, and if this happens, some areas are closed for tourists. But the best option is to have a week for the North Island and the same for the South Island. Then you can easily allow yourself to view the natural beauties without haste and bustle, as well as fully enjoy sunsets, beaches, rocks, waterfalls, etc.
Take a note of these places on the North Island:
Cape Reinga – the most far north of New Zealand. There, the Pacific Ocean and the Tasman Sea face each other.

Te Paki Giant Sand Dunes – huge sand dunes a couple of kilometers from Cape Reinga. Necessarily.

90-kilometer (non-mile) beach. Come on it by car, it is marked by the road. But be ready to push the car out of the sand, if anything!

Kauri forrest – Tane Mahuta, Te Matua Ngahere – giant kauri!

Coromandel – on this peninsula, necessarily go to Cathedral Cove and Hot Water Beach. Bring a shovel and a bucket, it will come in handy on the beach with hot water.

Auckland outskirts:
– Rangitoto – a volcano island within 30-minute distance from Auckland by a large ferry boat. You should climb to the crater of the volcano for an hour and a half, along the way you can walk in the lava caves. From the top, there is a 360-degree panorama to the surrounding islands, bays and downtown – City;
– Piha/Muriway beach – two beaches with black volcanic sand and picturesque rocks. It is a good option to relax and unwind after the volcano;
– Albert Park – a park in Auckland, where you can have a great rest and admire the unusual trees, and if time goes to dusk, then go to the next point;
– Mt Victoria – it's an ideal place for enjoying the sunset, but you need to bring warmer clothes, the wind blows constantly in New Zealand, and it is completely cool in the evening .
7 Rotorua – the geothermal and Maori capital of New Zealand, where you should see:
– Hobbiton – on the way to Rotorua – necessarily visit Hobbiton, even if you are not a fan of the famous trilogy – it's great;
– Kuirau Park – free geothermal park – boiling mud pools, fumaroles, hot lakes and springs. It is especially convenient to walk there if you stop at Rotorua Top 10 Holiday Park;
– Red Forrest – a forest of huge sequoias;
– Te Puia – a stream field, famous primarily for the 25-meter-high Pohutu geyser. In addition to a variety of gurgling geothermal things, you can look at the real Kiwi bird and the performance of the Maori indigenous people. These are all included in the entrance fee;
– Wai-o-Tapu, Waimangu, Whakarewharewa – three geothermal valleys. If you have already visited Te Puia, you shouldn't go here, but if you didn't visit Te Puia – choose any – sights of the same level.
8 Wellington is the capital of all world winds. Visit:
– Victoria Hill – a beautiful observation deck with a view of the whole city;
– Te Papa Tongarewa – a historical museum of local lore. Absolutely free, absolutely interesting. There  are five floors of expositions;
– Museum of Wellington City & Sea – if you still have energy after Te Papa – come here. It is also interesting and free;
– Weta Cave – museum-shop of souvenirs of the Hobbit and the Lord of the Rings. Take a mandatory photo with two petrified trolls.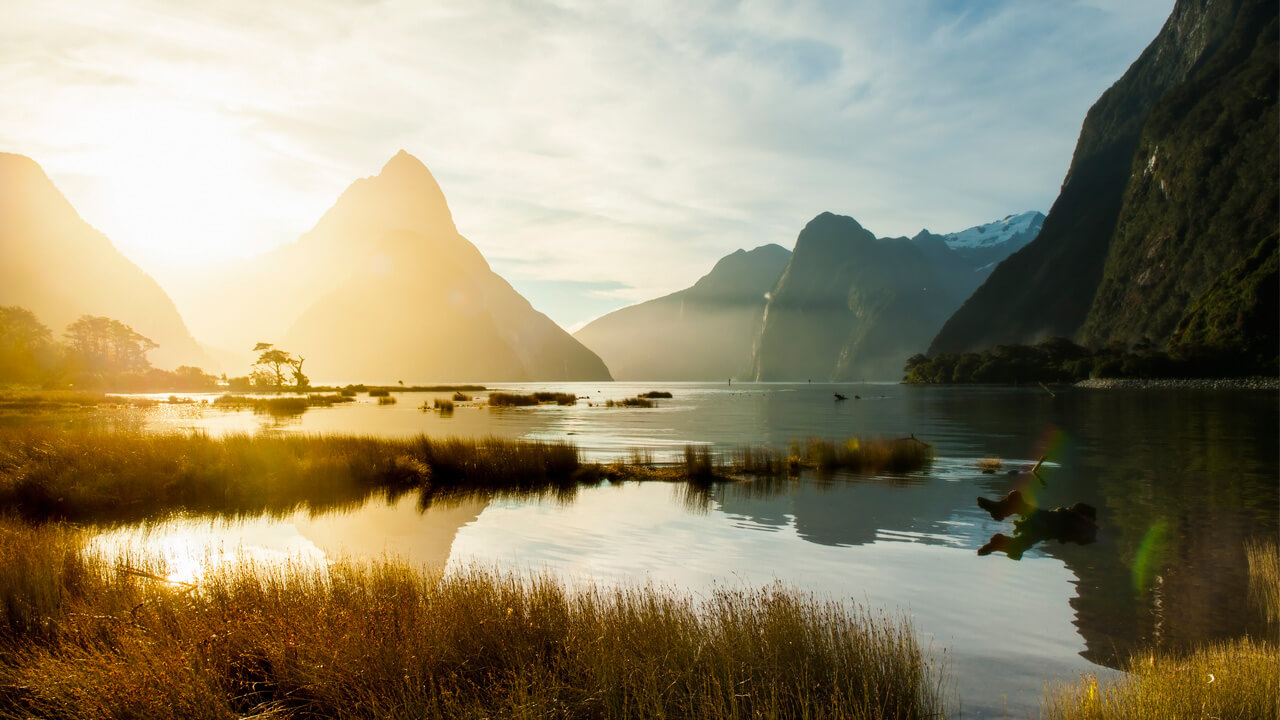 The dramatic and picturesque East-West road from Christchurch to Greymouth crosses the plain of Canterbury and passes through Arthur's Pass National Park. The 255-kilometer route can be traveled in a couple of days. Lake Pearson is a spectacular place for a camp and overnight.
If you are in Dunedin, it's worth driving to the peninsula of Otago. Leaving the city from the southeast, take a look at Portobello Road after the village of Portobello. Coastal driving is breathtaking, almost constantly tourists are accompanied by an invariably beautiful view of the rocky coast and bays all the way. Here you need to see the Royal Albatross Center, where you can make a tour to the nesting site of albatross and the place, where a colony of small blue penguins live.
On the South Island, it is advisable to see:
Punakaiki – incredibly beautiful pancake rocks that are better to visit in a storm.

Franz Josef Glacier / Fox Glacier – glaciers of the South Island. They are nothing from the bottom. You need to fly up on helicopter, land and walk on ice

in climbers

.

Moeraki Boulders – giant stone balls on the beach. It is unclear.how and where they appeared. Nearby, there are colonies of blue and yellow penguins, on which you can stare at the viewing platforms.

Abel Tasman – National park of red beaches, cosy bays and beautiful jungle.

Mt Cook – the highest peak of New Zealand, and one of the most beautiful places. There will be turquoise-azure lakes along the way:
– Tekapo – a lake of incredible turquoise. Take the mountain Mt John and enjoy panoramic views in the surroundings of the observatories;
– Pukaki – the lake is even more turquoise. Just drive to Mount Cook side and see for yourself;
– the Hooker valley track – that's why we went to Mount Cook. You can also go to the Kea Point and the Sealy Tarns Track.
Also, in the South Island at 46 km to Glenorchy, you can drive along beautiful Lake Wakatipu. The towering mountains and their reflection in the calm water – it is an incredibly picturesque place.
On the South Island, tourists are often interested in the location of the "Lord of the Rings". The road along the western shore of the South Island is very winding, it's not possible to drive along it quickly: there are many mountain serpentines. But you can see both glaciers and reserves.
New Zealand roadside service
Resting places and toilets are marked with signs and you can meet them quite often. It's better to live in New Zealand in camping. Camping is a place where you can stop by car, set up your tent and use all the equipment on the territory. Campsites vary in terms of amenities and prices – from 6-12NZD (New Zealand dollar) for camping of DocNetwork with basic amenities (water, toilet) to 20NZD in a good camping (for example, from Holiday Park Network). There will also be a shower with hot water, a kitchen, a laundry and Wi-Fi. Food and gas for burner can be bought in supermarkets, located in major cities. In the store, along with a check, you can get a discount on gasoline to refuel in a certain network os stations. You can cook in campsites in specially equipped places.
In the most popular places and in the season, it is better to book camping in advance. The fee is charged from each person in the tent for the night – honestly payment. After paying for the tent/car, the check stub is fixed. Inspection comes in around 8 a.m. and 8 p.m. If it turns out that someone didn't pay, he will be politely asked to do so. Theoretically, you can arrive late at night, leave at 7 a.m. and not pay, but when everyone is honest and polite around you, you want to match.
It is forbidden to set up tents in unequipped places.
Living in New Zealand in camping and walking in nature are completely safe: there are no poisonous creatures in the country that could harm a person. The only one that can bother, and then only on the South Island – are small biting sand flies.

By the way, mobile communication doesn't work everywhere. Internet in the country is slow and of low quality.
So, for travelling around New Zealand by car you need to have IDL – an international driver's license.  It is quite easy to issue such a document – it's done right on our website. And the license can be useful not only on New Zealand roads, so hurry to order it!