November 15, 2023
Harley-Davidson Touring Series: Unveiling the Allure of American Cruisers
Americans have visited the Balkans before – and not without their involvement. Yugoslavia dissolved into several states with the lingering pain of a past civil war. And now, the Yankees have returned to Croatia with new Harley-Davidson motorcycles. I've already told you about the Sportster family test drive, and now let's talk about the Touring series.
Baggers! True fashionistas, successfully exploiting the image of their predecessors from the fifties and sixties. And although the Street Glide and Road Glide look quite different, they are 95% the same motorcycle. The Road variant has a slightly longer fork extension, and the fairing is pushed far forward and lives an independent life from the handlebars. The front end with its double, frowning oval eyes turned out to be ambiguous – some love it, while others hate it. I belong to the first group: this Road immediately reminded me of the first-generation Buick Riviera coupe, at the sight of which I lose my will and am ready to emigrate immediately. However, in the company of Harley-Davidson, this symbol of greatness has its own name – the shark nose.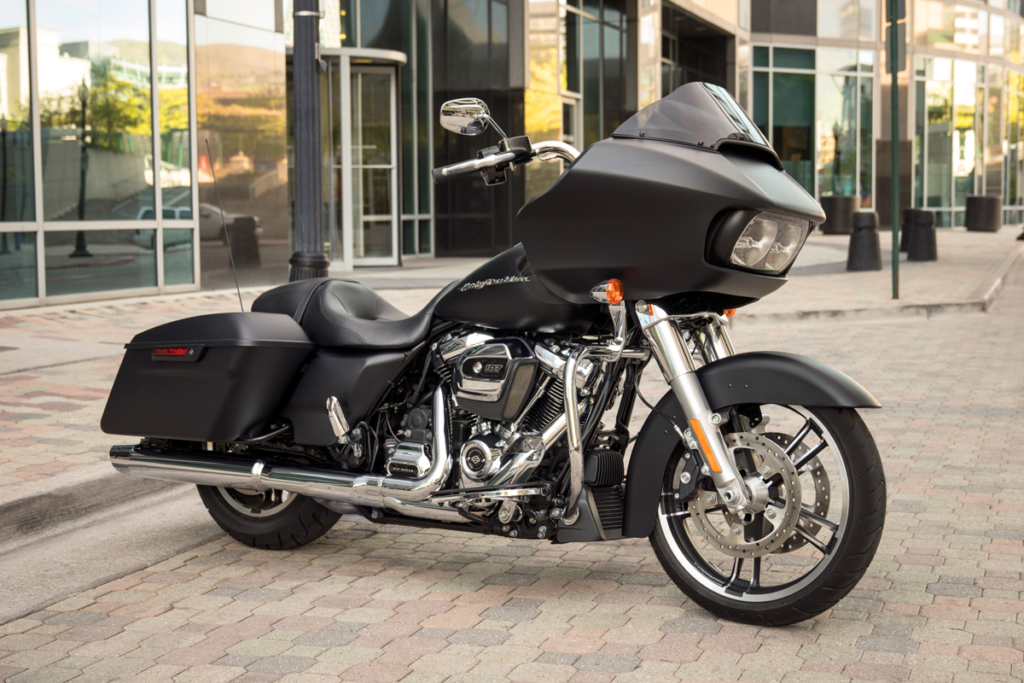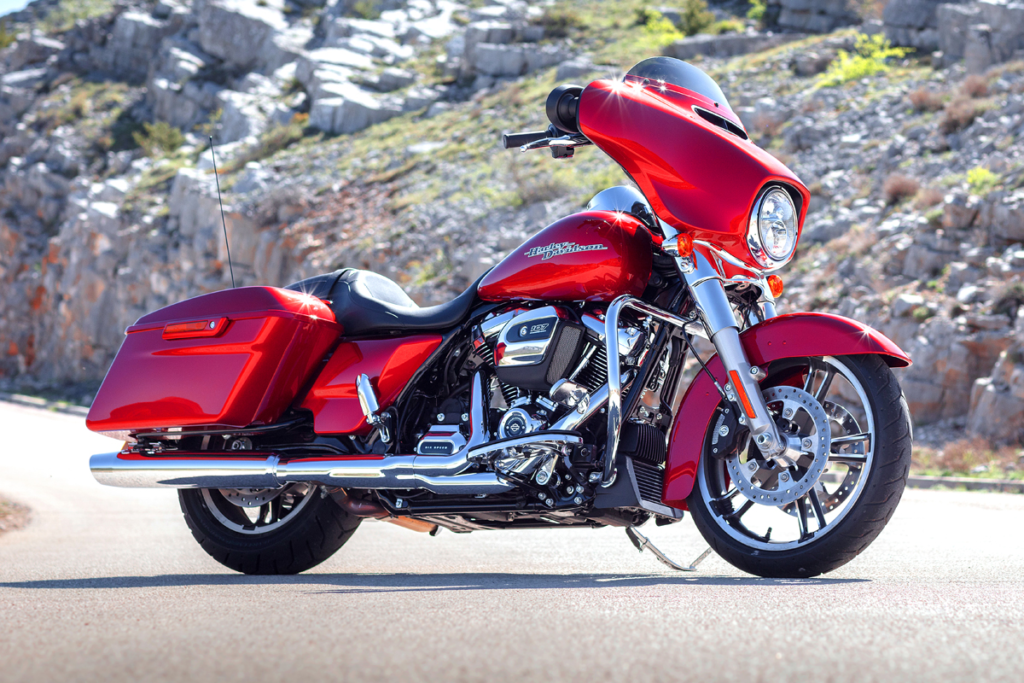 As for the Street, the fairing traditionally sits on the handlebars, and the headlight is round. This front-end form factor is called batwing. Such a couple – the Sharkboy and Batman.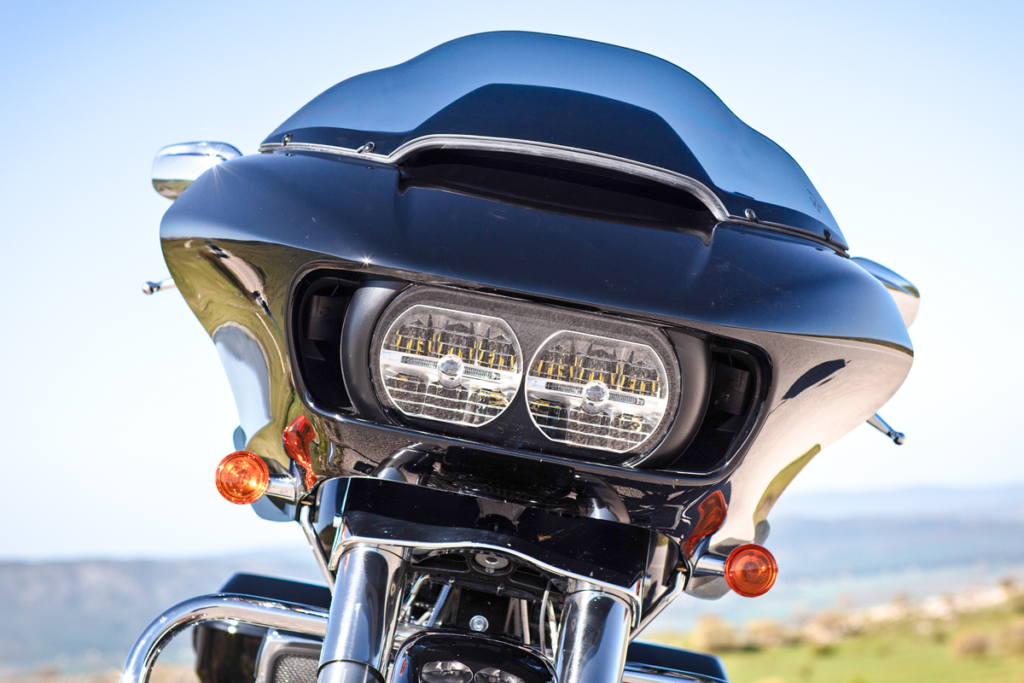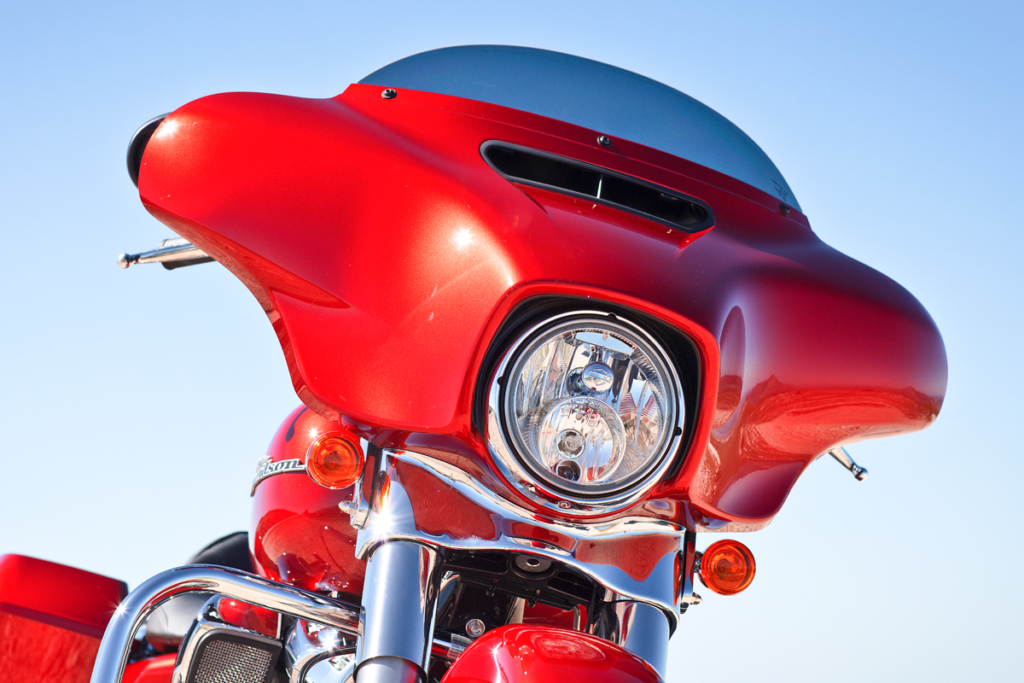 Both are designed for big guys. Gigantic foot platforms extended towards Arizona somewhere, sofa seats easily capable of accommodating a captain of XXXL size (the passenger gets half the area – uncovered sexism!). Only the Bat's handlebars are slightly closer to the driver than on the Shark.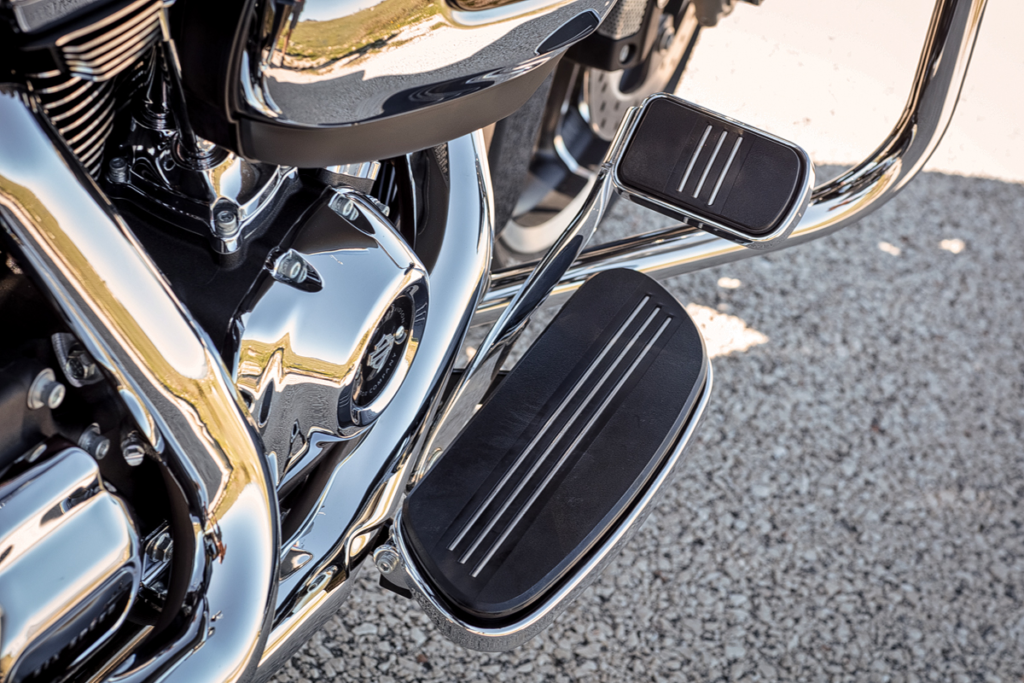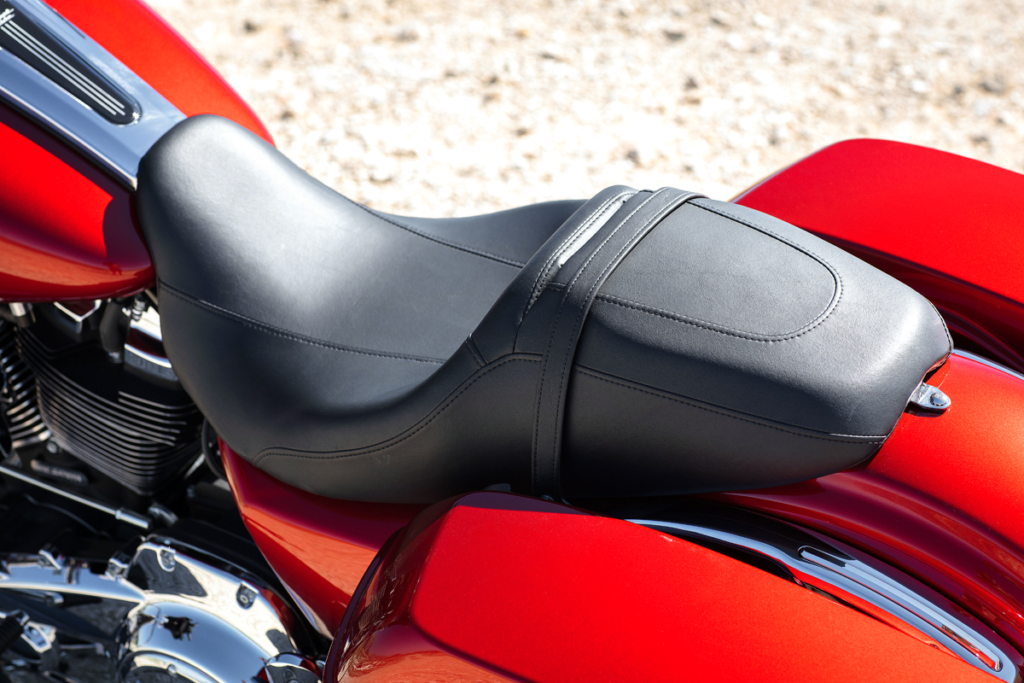 Does this mean that it will be uncomfortable for those who are not tall (short, slender, not corpulent) owners? Yes, but more mentally: the outstretched arms and legs spread far apart only emphasize the modest dimensions of the brand's adept.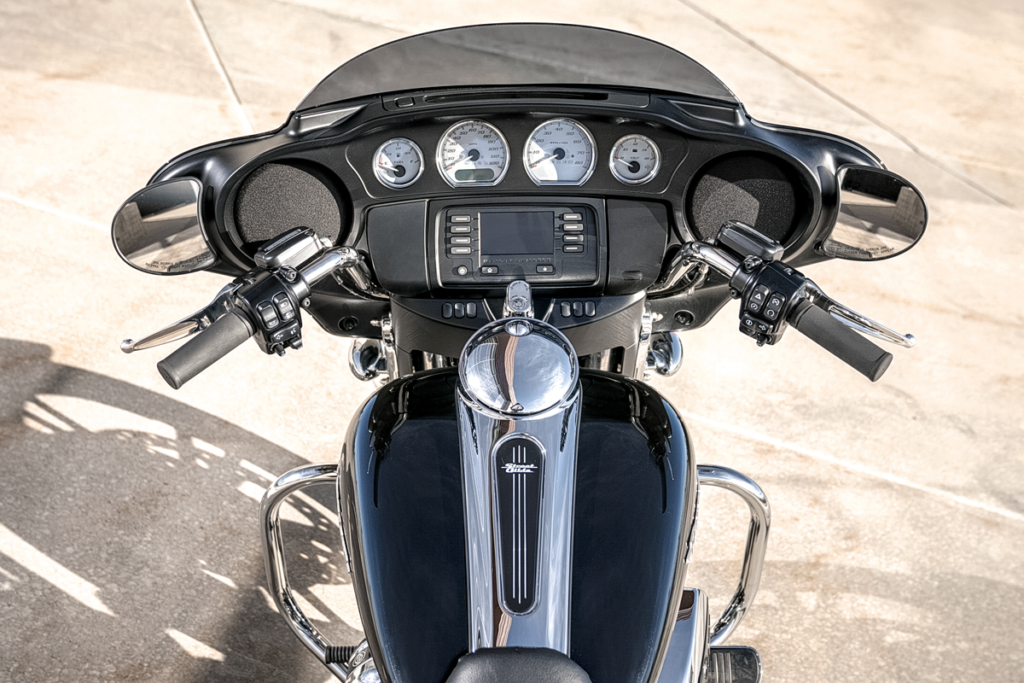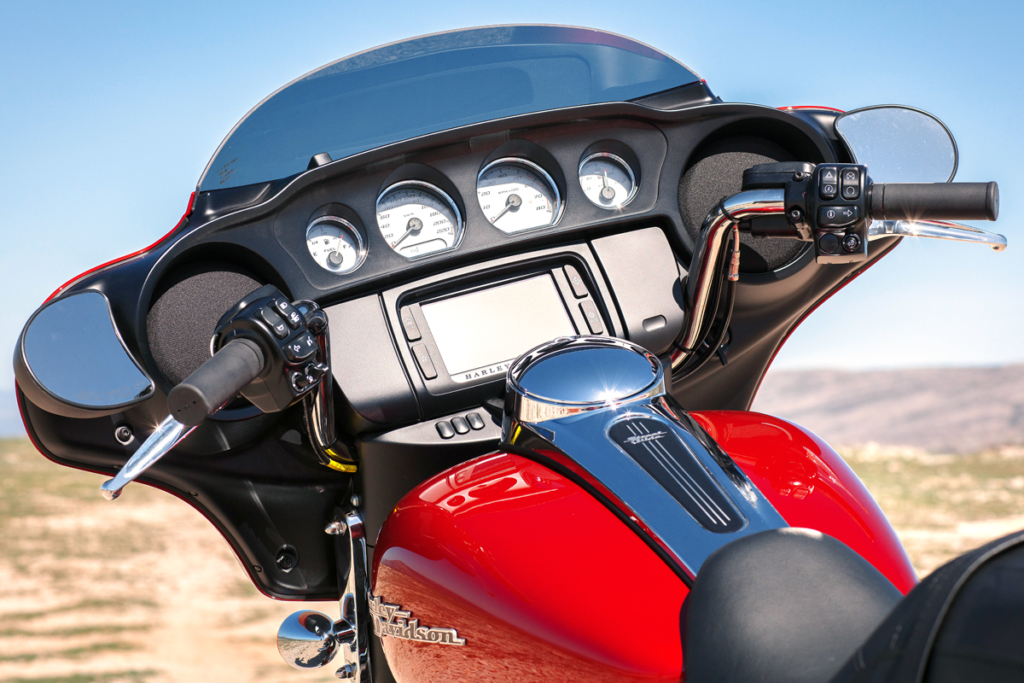 This pair is so imbued with the American spirit that you can recognize the brand even if you are tied up and blindfolded on the seat. The Milwaukee-Eight 107 engine, with a capacity of about two liters (1745 cc, or 107 cubic inches), hums businesslike and leisurely operates the pushrod valve lifters. The camshaft is low, the only one. Progress, however, has also reached this relic. No, they don't provide traction control and adjustable ignition maps, but each cylinder has two spark plugs and four valves. And there's even a balancer shaft that really reduces the trademark vibrations. All this wealth is air-cooled, and at the output, you get 90 hp – not much for leviathans with almost 400 kg of curb weight.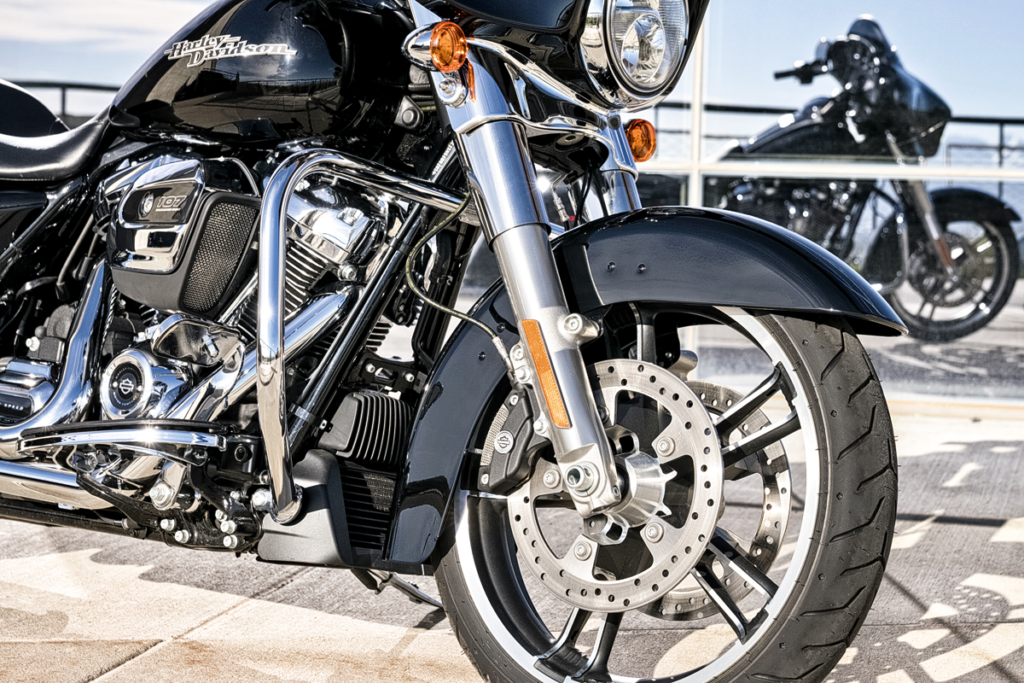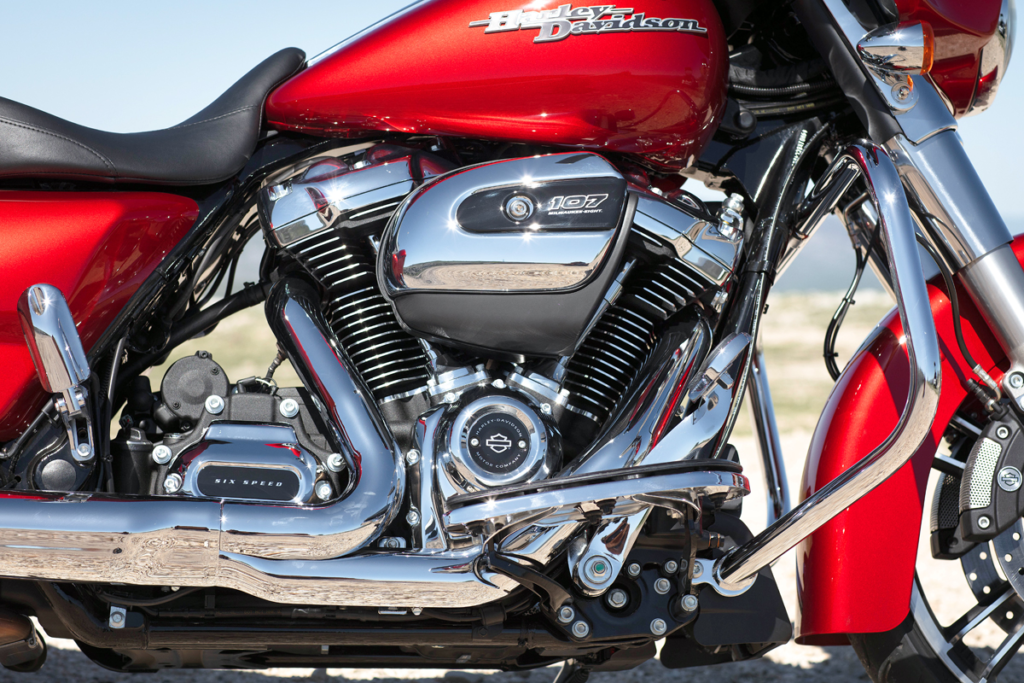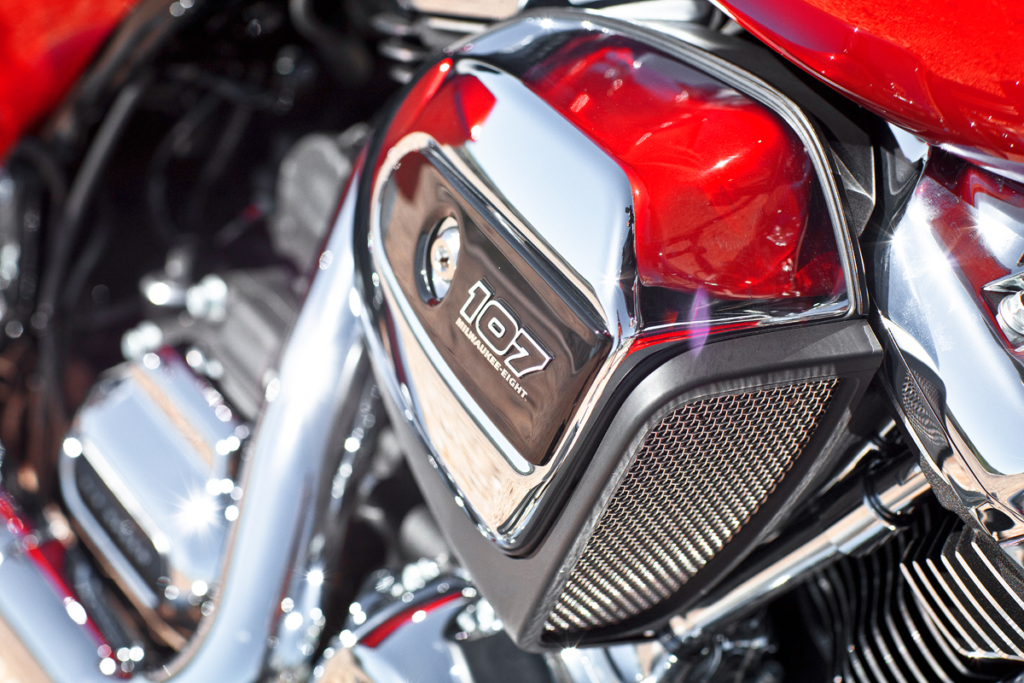 However, where's the rush on these tourists? This is the more powerful "114" engine with combined liquid-air cooling and increased compression allows you to light up. But with the "107" engine, you have to live in the moment, especially since there's a generous 150 Nm available at 3250 rpm, almost fully accessible from 2000 rpm. You ride it like a highway truck. At 70 km/h, I pushed the highest gear in the six-speed gearbox, enjoying the signature sound of a pump-action shotgun being racked – and relaxed: there will be enough torque. Cruise control, effective wind protection… Life is good! You can twist the throttle handle inside out – acceleration won't get any more intense, and after 130 km/h, tranquility sets in. It's not like a Japanese sportbike, as Harley riders contemptuously call any Japanese sportbike.
If you insist, you can expect 180 km/h on the speedometer. But, I suppose, only journalists ride these motorcycles like that.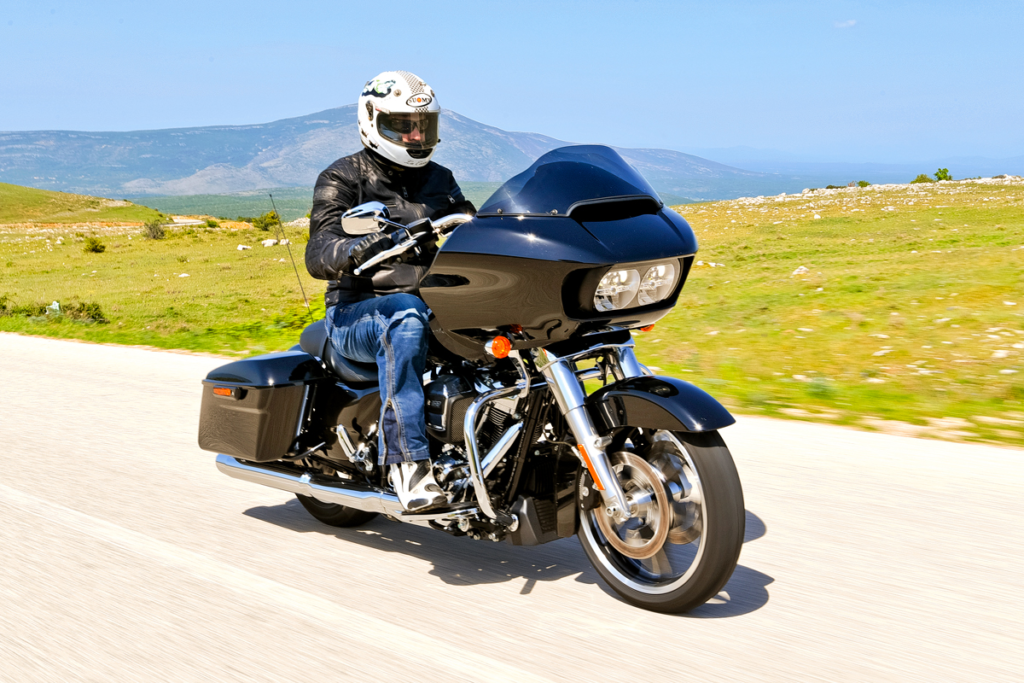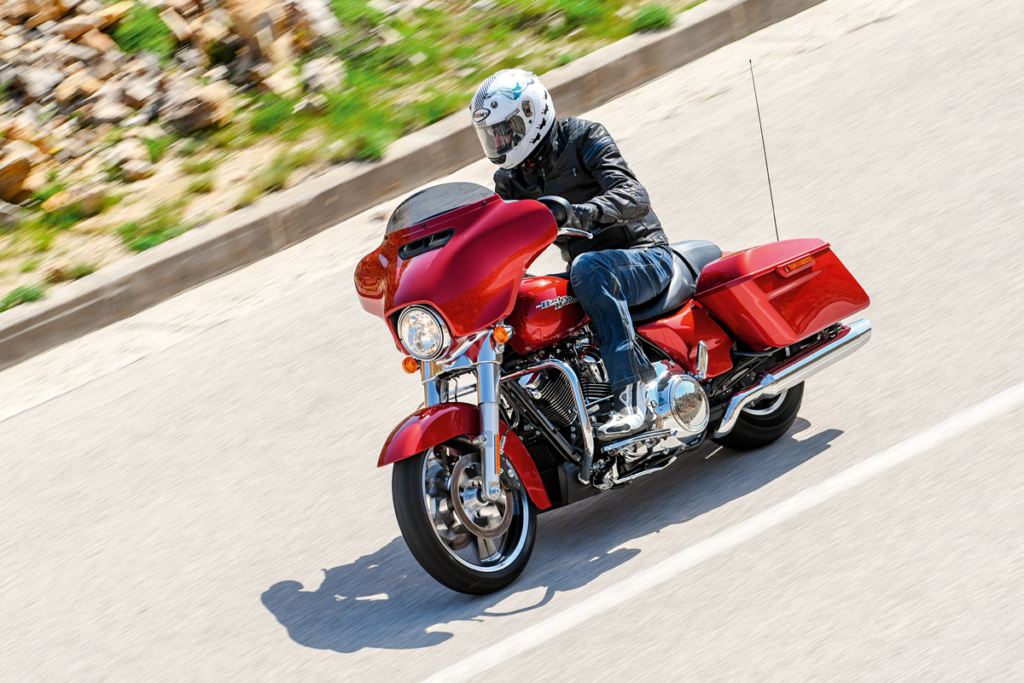 You can feel the "extra" 12 kilograms hanging on the shark nose version of the Road Glide. But to notice it, you'd have to be riding at the limit, shaving those mighty foot platforms in every turn, and testing fate on a motorcycle priced like a good crossover. But why? The trio of 300mm brake discs with four-piston calipers shares this opinion: in normal conditions, they are more than sufficient, but start "performing" aggressively, and overheating won't keep you waiting.
The suspension astonishingly combines languidness with short travel. However, the latter does not mean sharp handling: both machines lean noticeably, as befits heavy machines of this class. Is there shaking? On a bad road – yes. But these monsters flatten out good asphalt with the composure of aircraft carriers surrounded by small pie-sized vehicles.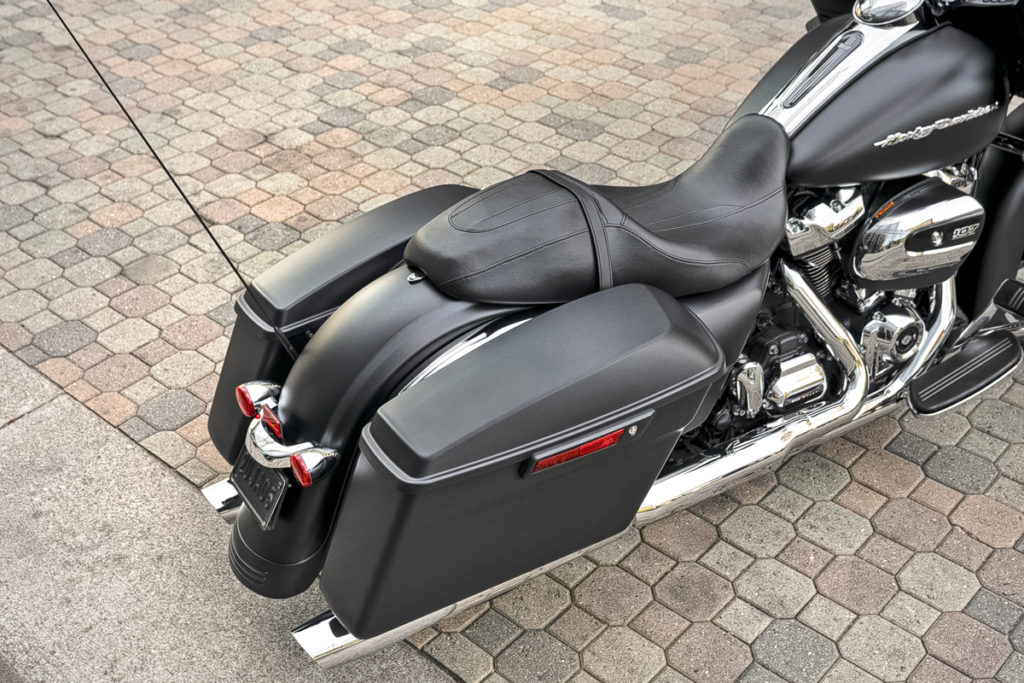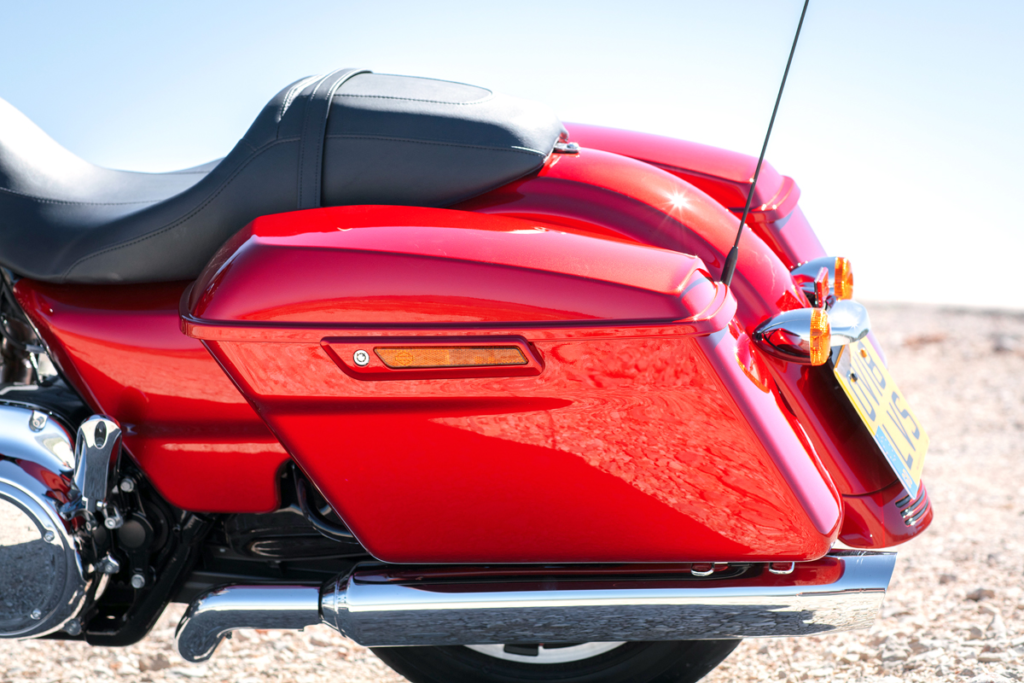 The instruments further enhance their resemblance to long-haul trucks from the mid-80s (Peterbilt, Kenworth, Mack) – classic gauges in chromed frames generously scattered. The only thing that stands out is the Boom!Box 6.5GT multimedia system with a six-and-a-half-inch diagonal touchscreen display, and you can boldly "spread" the image even with gloves on. The system understands six languages, including Russian, and finally has navigation that works in our native lands. It's also capable of recognizing voice commands, but I didn't test that: I've never been a fan of a helmet headset.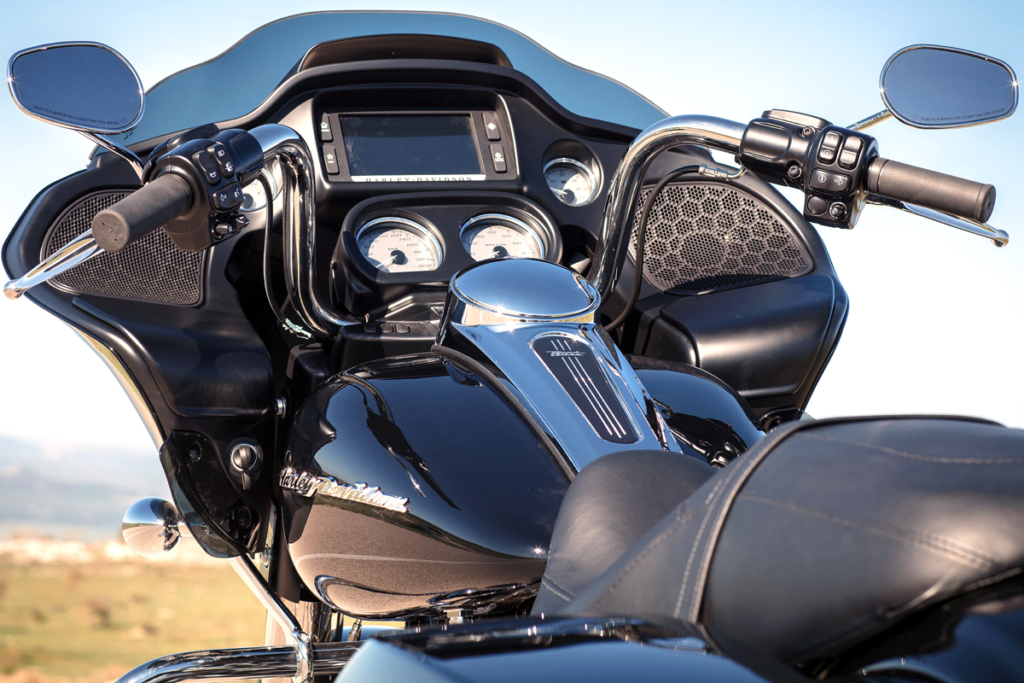 How does the audio system sound? Loud. Even for my undemanding ear, this is the best definition, and a well-known audiophile wouldn't last a couple of seconds. What can you do: motorcycles with quality audio equipment straight from the factory are almost science fiction – on my memory, it was only the Harley-Davidson CVO Street Glide for a staggering 3.5 million rubles. In all other cases, expensive tuning is required.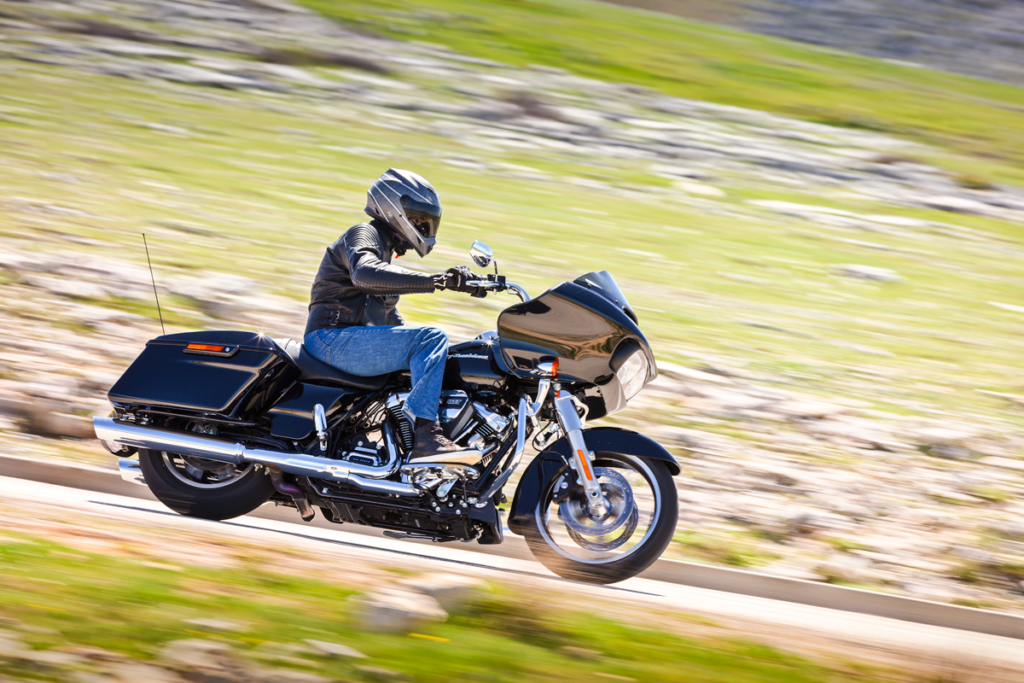 However, seeing a Harley that hasn't undergone merciless upgrades is almost impossible: every owner tries to stand out, give their favorite bike maximum individuality because they don't buy these for their last penny. The factory tuning catalogs are thicker than the heaviest volumes, and once you join the cult, you disappear into it forever, giving up everything, including your soul, for chromed accessories.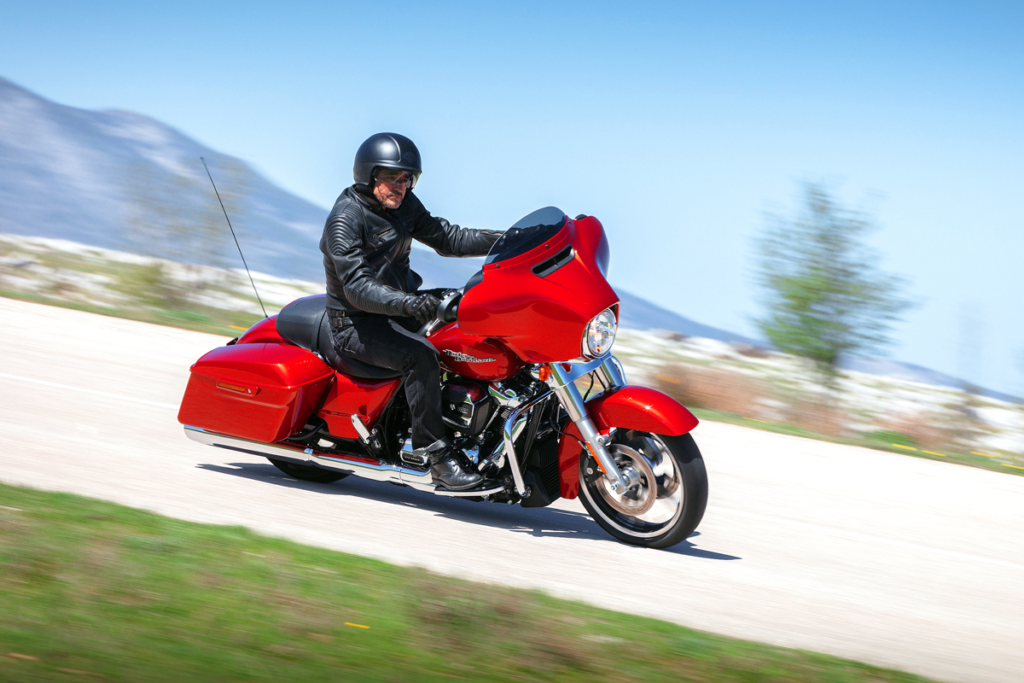 By the way, in the brand's overall sales portfolio in Russia, the Touring series accounts for about 30%. So we will definitely see the characteristic silhouette of the heavy "tourer" on our roads – despite the fact that the starting price for the Street Glide is only 2.2 million rubles, and the Road Glide is 150,000 rubles more expensive.
What about competitors? All the big "Japanese" bikes in this class left our market a long time ago, and in this format, only the American-Italian couple remains: the Indian Chieftain, which is very similar in characteristics and philosophy, starts at 2,293,000 rubles, while the technologically advanced Moto Guzzi MGX-21 Flying Fortress is noticeably cheaper at 1,919,000 rubles. But even this duo has sold fewer than 20 units in total, while Harley sold almost three hundred of its baggers last year.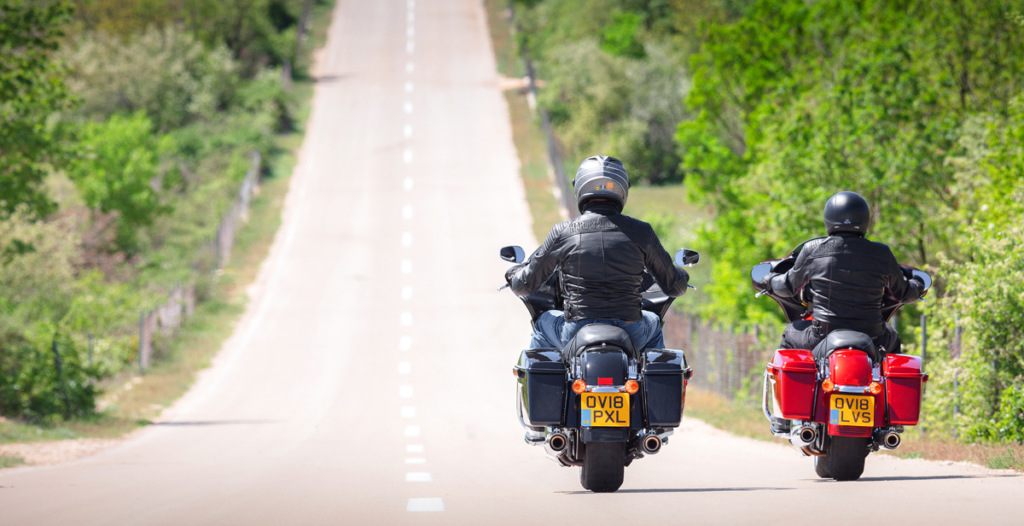 Motorcycle
Harley-Davidson Street Glide
Harley-Davidson Road Glide
Dimensions, mm
Length
Width
Height
Wheelbase
Seat Height
Ground Clearance

2450
960
1350
1625
695
135

2430
980
1310
1625
695
140
Front fork rake/offset, degrees/mm
26/170
26/173
Frame
Steel, tubular
Steel, tubular
Curb weight, kg
376
388
Number and arrangement of cylinders⠀
2, V-shaped
2, V-shaped
Cylinder bore/stroke, mm
100/111
100/111
Compression ratio
10.0:1
10.0:1
Displacement, cm³
1745
1745
Number of valves
8
8
Maximum power, hp/kW/rpm
90/66/5450
90/66/5450
Maximum torque, Nm/rpm
150/3250
150/3250
Transmission
6-speed, multi-disc clutch in oil bath, belt
6-speed, multi-disc clutch in oil bath, belt
Front suspension
Telescopic fork, Ø tubes 49 mm
Telescopic fork, Ø tubes 49 mm
Rear suspension
Two shock absorbers, adjustments: spring preload
Two shock absorbers, adjustments: spring preload
Front brake
Two Ø 300 mm discs, 4-piston calipers
Two Ø 300 mm discs, 4-piston calipers
Rear brake
Ø 300 mm disc, 4-piston caliper
Ø 300 mm disc, 4-piston caliper
Front wheel
130/60-19″
130/60-19″
Rear wheel
180/65-16″
180/65-16″
Fuel tank capacity, liters
22.7
22.7
Fuel
AI-95-98
AI-95-98
Photo: Harley-Davidson

This is a translation. You can read an original article here: Что объединяет бэггеры Harley-Davidson Road Glide и Street Glide: выясняем на дорогах Хорватии