October 18, 2023
Harley-Davidson Breakout Long Test — Record One
Never say never: just a couple of years ago, the idea of taking the flamboyant Harley-Davidson Breakout for an extended test ride (say, for four weeks) might have elicited nothing more than a sarcastic smile from me. The motorcycle came to me brand new, but this honeymoon period is unlikely to be the easiest in the life of this "American" newcomer. No allowances for its size and class: daily commutes to work, navigating through four-wheeled traffic jams, and at least one long journey – this is by no means an exhaustive list of the "joys" that await us in this budding partnership, culminating in trials at the Dmitrovskoye test track.
For me, the American brand has always remained somewhat mystical, beyond comprehension and awareness: you won't find such fervent love and reverence for any other motorcycle manufacturer. A whole industry of adoration has sprung up around the company, a true cult with the abbreviation HOG (Harley Owners Group). There, respectable businessmen and high-ranking executives in their "civilian" lives don leather vests, adorn themselves with skull rings, and closely monitor the correct execution of cult rituals for newly arrived novices. By the way, myths about uncontrollable bikes shedding parts as they go are nothing more than the machinations of competitors: killing a "Harley" would take a deliberate effort.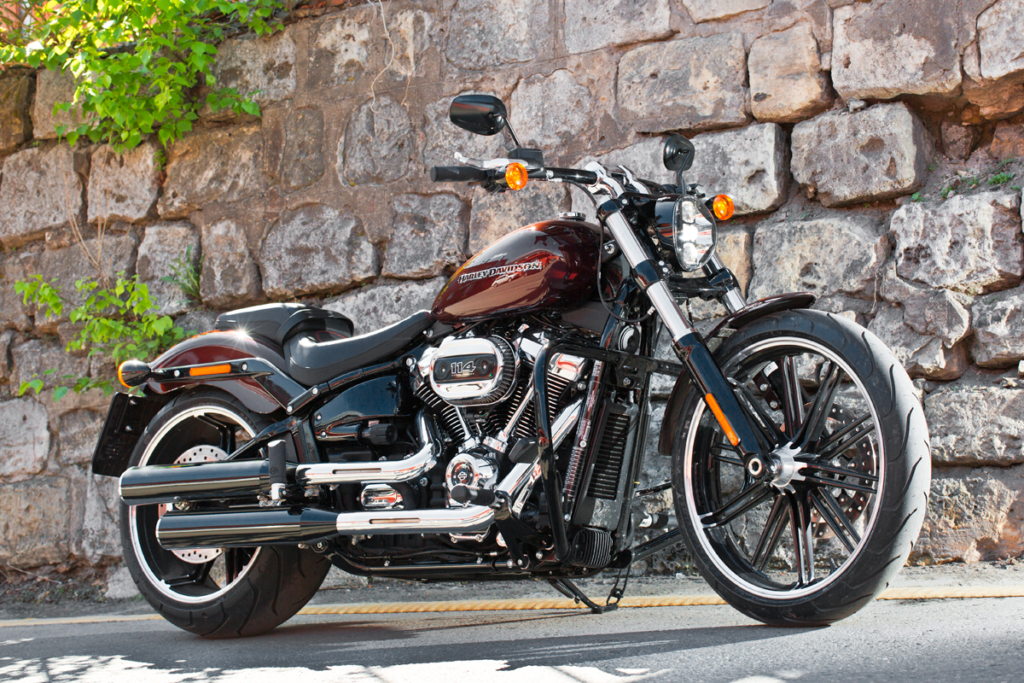 Surprisingly, the low and long (2335 mm) Breakout with its rear "fat tire" measuring 240 (!) mm and a 21-inch front wheel, apparently borrowed from a show-stopping exhibition, required no more than ten minutes for me to adapt to! Routes from home to the office alongside "ordinary" motorcycles and concerns about this dreadnought's maneuverability on the capital's streets (in the perpetual traffic of the ever-experimenting city mayor) may have stretched out over time, but only insignificantly.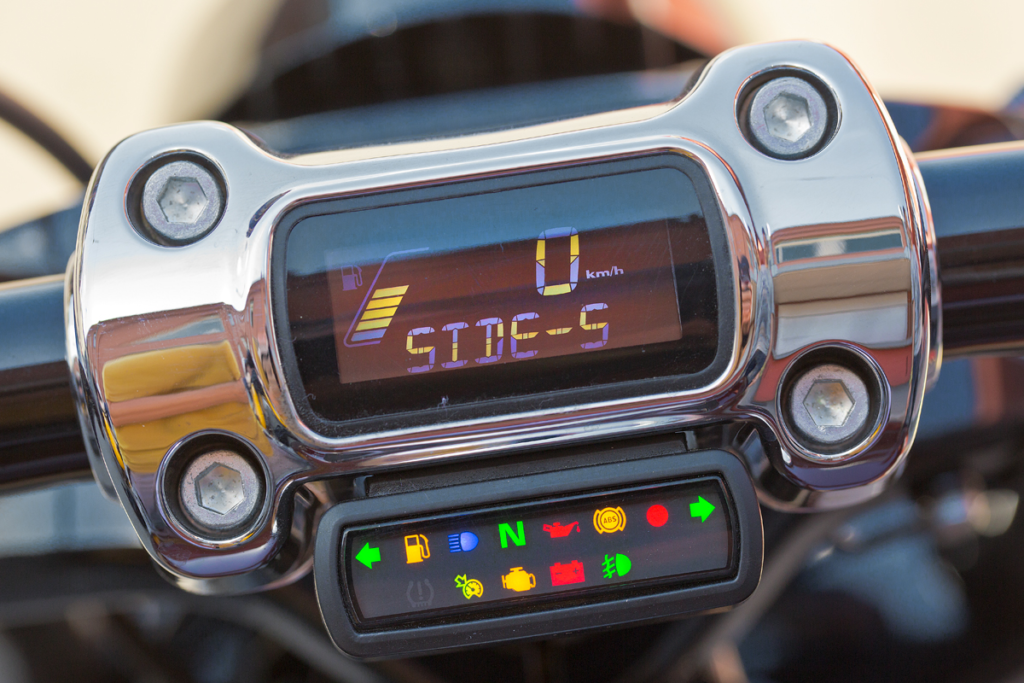 Of course, no miracle occurred – and a slightly over 300 kg curb weight with the wheelbase of a limousine didn't turn this luxurious representative of the motorcycle world into an agile naked bike: the motorcycle feels heavy and substantial. The reactions to turns are gradual and measured. The suspension, traditionally for this class, doesn't excel in comfort and transmits all the roughness directly to your spine, but it could be worse. After all, 130 mm of travel for the fork and 86 mm for the rear monoshock are not the most radical figures in the class.

However, the unique riding position with an almost straight handlebar (about a meter wide), combined with a seat set far back in an amphitheater and foot pegs lying far beyond the horizon, creates a specific ergonomics in the style of a hunting orangutan. Moreover, this triangle architecture (handlebar, foot pegs, seat) imposes certain requirements on the rider: the rider must be at least 180 cm tall, or it will simply be uncomfortable. For those of shorter stature, the company offers the Sportster family, while the Softail series is designed for, let's say, more corpulent individuals.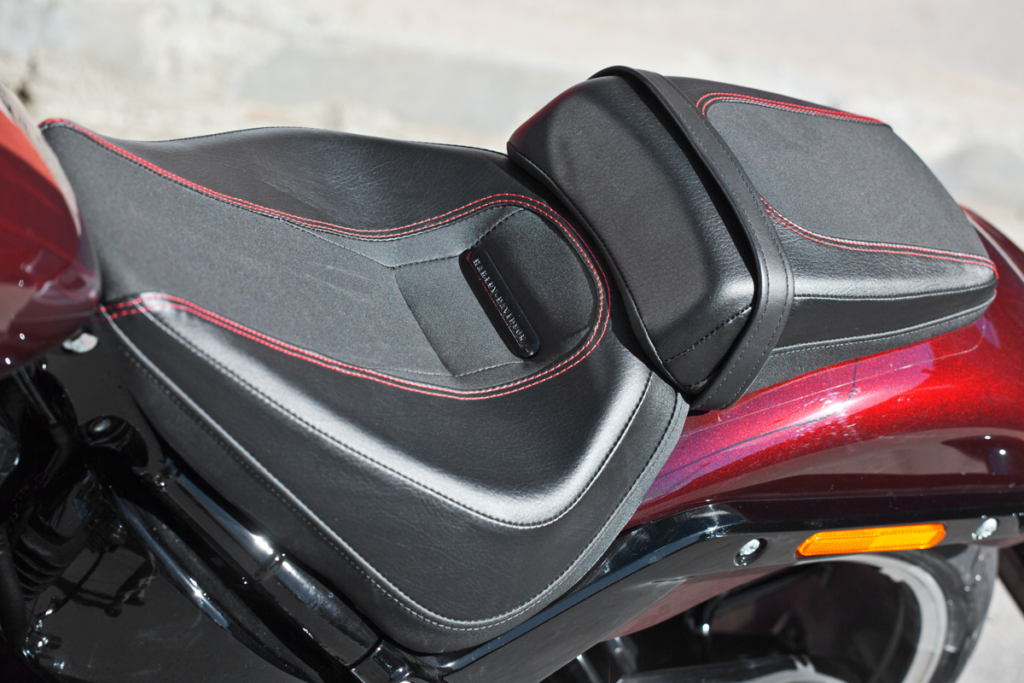 I've already written in detail about the "114" engine, a true technical masterpiece from Milwaukee with air-oil cooling. The idea here is as follows: to an outside observer, the engine looks like a classic air-cooled one, but the cylinder heads have an oil-cooling jacket. All of this is cleverly disguised, just like the unobtrusive radiator, which doesn't catch the eye at all. As for style, the Breakout from the extensive Softail family seems to be the most harmonious: in the pursuit of embellishments and other "garlands," the company's designers sometimes go too far, but in the case of my ward, everything is extremely concise and harmonious. The minimalist instrument panel hidden in the handlebar's crossbar is particularly stylish! In my opinion, it would be great to have an option with spoked wheels, but I suspect the folks from Milwaukee are deeply in the know.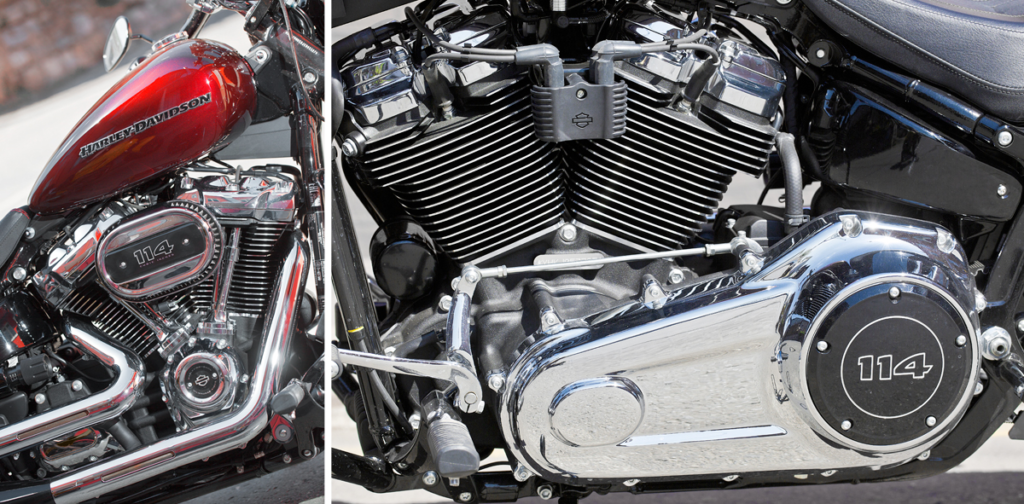 For now, I'm gradually trying to alter my consciousness. Or is Harley changing it for me? The trademark exhaust sound, the "potato-potato," from the almost two-liter V-twin, which delivers another round of "bullets" – the metaphor for gear changes in the vast box housing – completely eliminates any desire to hurry anywhere. Especially considering the 13.2-liter gas tank: it's all about style! And now, 110 km/h no longer seems humiliatingly slow, and 155 Nm of torque already at 3000 rpm allows you to engage sixth gear at 60 km/h: the engine pulls! No, if desired, you can accelerate to 180 km/h, but why bother? For the first time in over twenty years of riding motorcycles, I was overtaken by a scooter rider, and you know what, this fact didn't affect me in the slightest.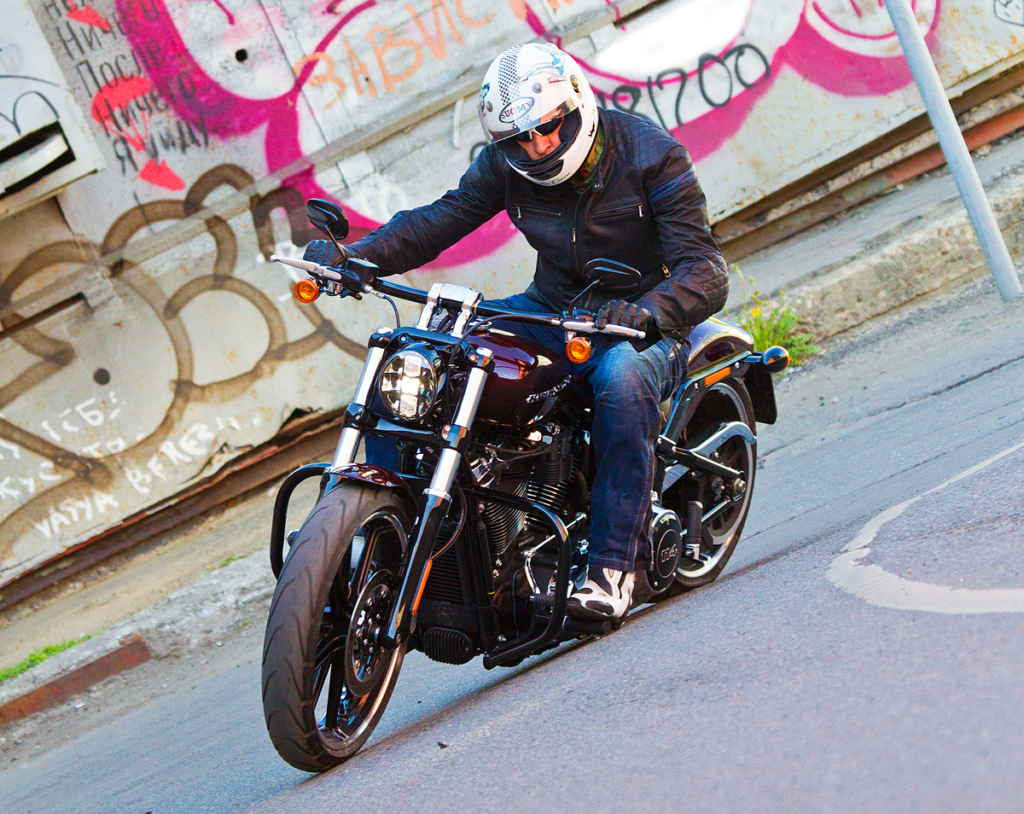 It's interesting to think about where our month with Harley will lead, both in terms of experience and finances. By the way, about the latter: the Breakout also comes with a more modest Milwaukee-Eight 107 engine with 1745 cc displacement. Now, all that's left is for me to be embarrassed by my sports bike boots "from another world," search for a leather vest from the time of perestroika, and my Ural – and to note the quite moderate fuel consumption for such a flashy showcase: 7 liters per 100 km.
Motorcycle
Harley-Davidson Breakout FXBRS
Dimensions, mm
Length
Width at the handlebars
Height
Seat height
Wheelbase

2370
950
No Data
665
1695
Front fork rake/offset, degrees/mm
34/145
Frame
Steel
Curb weight, kg
305
Number and arrangement of cylinders⠀
2, V-shaped
Cylinder bore/stroke, mm
102,0/114,3
Compression ratio
10,5:1
Displacement, cm³
1868
Number of valves
8
Maximum power, hp/kW/rpm
93,8/69/4500
Maximum torque, Nm/rpm
155/3000
Transmission
6-speed gearbox, multi-plate clutch in an oil bath, belt drive
Front suspension
Telescopic fork, Ø tubes 49 mm, wheel travel 130 mm
Rear suspension
Mono-shock, spring preload adjustment, wheel travel 86 mm
Front brake
Disc Ø 300 mm, 4-piston caliper
Rear brake
Disc Ø 292 mm, 2-piston floating caliper
Maximum speed, km/h
No Data
Front wheel
130/60-21″
Rear wheel
240/40-18″
Fuel tank capacity, liters
13,2
Fuel
Gasoline AI-95—98
Photo: Nikita Kolobanov

This is a translation. You can read an original article here: Шоумен: Harley-Davidson Breakout на длительном тесте Авторевю, запись первая