September 21, 2018
Features of traffic rules in Sweden
If you are going to travel to Scandinavia, it'd be a good idea to learn about traffic regulations adopted in Sweden. This northern country is somewhat different from its neighbors. In this material, we will try to characterize the subtleties that one might encounter on Swedish roads.
Documents confirming the right to drive
In Sweden, international driving license (IDL) or national license, if the latter are in French, English or German, are compulsory. The driver must be at least 18. If a foreign driver enters the country, he must also have a car registration certificate (and a power of attorney), and an insurance (the "green card"). When renting a car (from the age of 18) you need a passport, IDL and credit card. But some car models are given only to those who turned 24 or more.
Requirements for speed limits
Swedish motorways (and other roads) are impeccable, and Swedish Saab and Volvo cars considered the safest in the world. Nevertheless, the Swedish traffic regulations prohibit the movement in built-up areas at a speed of more than 50 km/h (and in residential areas – even 30 km/h). It is believed that at this car speed a person still has a chance to survive the crash. Outside built-up area you can move at a speed less than 70 km/h, when there is a high-speed road – don't exceed the limit of 90 km/h. And only on highways driver can afford to accelerate at a speed of 110 km/h. But the excess of these parameters even at 1 km/h entails a heavy fine. On major roads, in addition to standard signs indicating the speed limit, you can also see special electronic boards, indicating an approaching vehicle speed.
The enforcement of speed limits is monitored by traffic cameras. The fact that the speed video recording device is approaching, the driver is warned one or two kilometers before the traffic sign.
While driving on the road, the speed limit may change, so drivers should pay attention to the signs along the road. In the country, there are several road sections, which allow movement at a speed of 120 km/h.
Among the fast lanes are the following:
| | | |
| --- | --- | --- |
| Name of the fast lane | European name | Length |
| Norr Uppsala – Mehedeby | E4 | 65 km |
| Norr Gränna – Linköping | E4 | 85 km |
| Strömsnäsbruk – Söder Örkelljunga | E4 | 40 km |
| Båstad – Heberg | E6 | 54 km |
| Heberg – Söder Värö-Backa | E6 | 103 km |
| Väster – Enköping | E18 | 29 km |
| Väster Mariefred – Eskilstuna | E20 | 44 km |


About seat belts and not only
New Swedish cars have protection from a drunk driver – they just don't start. There are cars that don't go until all the people in the cabin are buckled up, and no matter if they are in front or in back seats. Safe driving in Sweden is a common decency and an indicator of good breeding. Foreign drivers are sometimes surprised with the courtesy of local motorists to other traffic participants. They are distinguished by a very calm and accurate style of driving, so even beginners will feel comfortable on the country roads.
The Swede won't get a driver's license until he understands the essence of defensive driving – the car is a means of increased danger, and while it is on the road, the driver should closely monitor all road users, especially pedestrians and animals crossing the roadway. Passing lights are mandatory when driving on any track, at any time of the year and regardless of the time of day. The "Hands Free" headset is mandatory – without it talking on the mobile phone will be considered a serious traffic rules violation and punished with a high fine.
In general, Swedes are obsessed with safety, including environmental one. There are no roads in the country where a collision with a car going on the opposite lane could be (all roads have separation barriers). There are many electric vehicles. In Gothenburg, Stockholm and Malmö special ecological zones are allocated; it is prohibited to enter this territory without a special pass. To get it, you just need to apply to the road service of the city and pass control. If the car meets all environmental criteria, the driver will receive the specified pass.
Features of road maneuvers in Sweden
Since the country has right-hand driving, overtaking is allowed only on the left. Swedish drivers necessarily watch the behavior of those who travel behind. If they notice that they want to be overtaken, they take to the right and try to do it as correctly as possible. If the car moving behind is going to make a maneuver, it is necessary to flash a right-hand headlight to it, if the road is clear for maneuver, and left, if overtaking is impossible for some reason.
On many roads there is a special lane for motorists, who are used to drive at a low speed. According to the Swedish regulations, such drivers must necessarily give way to others, faster traffic participants, and if possible use a dedicated lane.
Roundabout at the intersection gives an advantage only to those who are already on the circle. You should enter crossroads calmly and confidently. While driving in Sweden, moving across other cars doesn't work like that, and you can only change one row to another with the turn signal on. You should always stop near pedestrian crossings, because local drivers' attitude to pedestrians is attentive and respectful.
On country roads, wild animals are dangerous to drivers. The latter are notified about it with the signs. For safety reasons, you shouldn't drive on country roads at high speed. Tourists often take the "Caution, moose!" road sign to remember, so Swedish souvenir shops started selling it.
Parking rules in Sweden
If a continuous yellow line is drawn on the right side of the road, car standing is prohibited here. When the line turns into a zigzag or dotted line, you can stop for a short time (for example, to let a passenger off). In other cases, parking is possible only in specially designated areas, and the penalty for standing in the wrong place in Sweden is about 40 euros.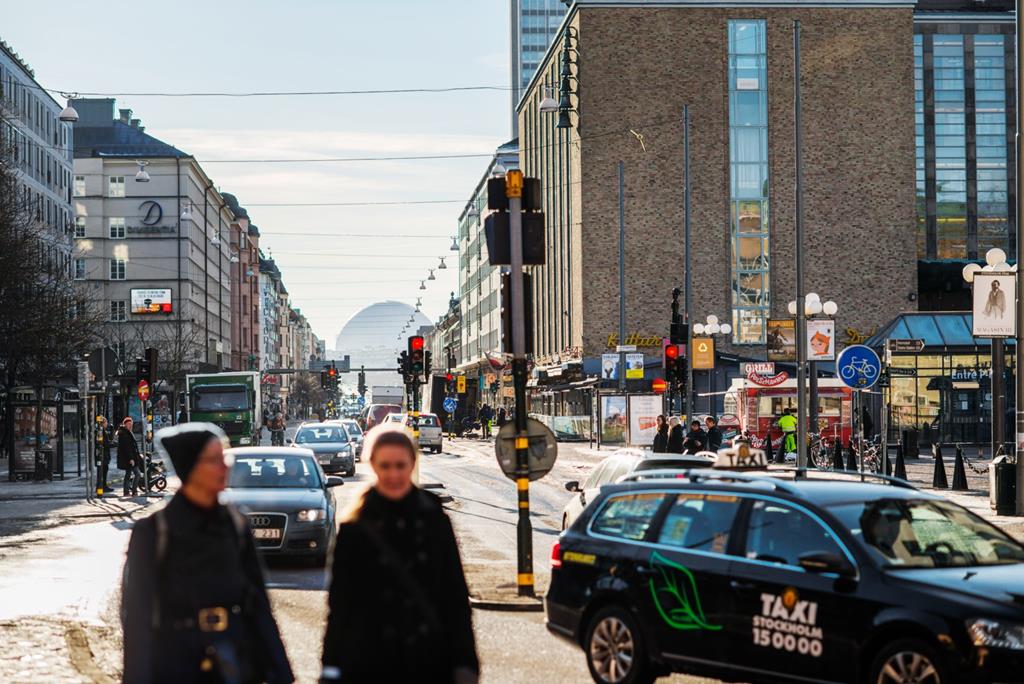 It is very difficult to find an empty parking space in the capital of Sweden and large cities. There is a time limit on each type of parking, it is always indicated on a special sign, at the entrance. All open parking lots are equipped with special automatic machines, through which it is necessary to make payment. When entering the parking lot, you must get a special ticket, indicating the time of arrival, from machine and place it prominently under the windshield. Later you can pay for parking services with its help.
An hour of parking costs from one to three euros on weekdays from 8:00 to 18:00 in parking lots placed near busy streets. From 19:00 to 24:00 parking services cost about 2.5 euros, regardless of parking time.
On Sundays, in some cities, street parking is free, and a flat rate applies on paid parking lots during the day – about 1.5 euros per hour or 2.5 euros for every 4 hours.
Public parking lots are the most expensive, the cost of their services does not depend on the day of the week and time of day; it is from 3 to 6 euros per parking hour. Park & ​​Ride parking lots located on the outskirts of cities are the cheapest ones. An hour of their services costs one-two euros. In the vicinity of Stockholm, there are more than 20 Park & ​​Ride parking lots. It is worth noting that it is not difficult to get there by public transport. Drivers who expect to park the car for the night should pay particular attention to such parking lots.
At night, leaving the car on some street parking lots is absolutely free. You should pay attention to special signs near the parking lots; it is important that the parked at night car did not interfere with the cleaning of streets.
What else can be checked
Swedish police rarely stop cars, and yet it happens. The can offer to show (except documents) a first-aid kit, an emergency stop sign, a tow rope, a fire extinguisher, as well as a reflective jacket. It is forbidden to transport radar detectors in the car, there is a fine of about 200 euros for violation. The use of a prohibited device is also punishable by imprisonment for up to 6 months. Punishment obligatorily includes a confiscation of prohibited device.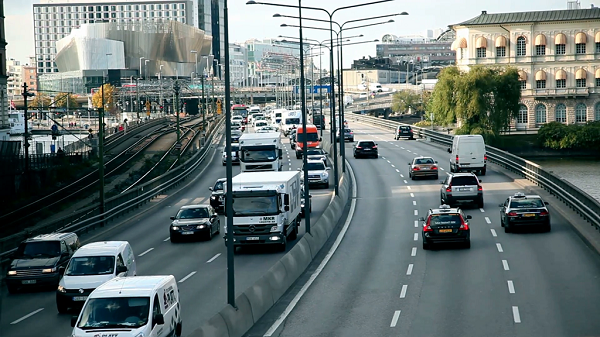 So, follow the established road regulations, and nothing will overshadow your trip to Sweden. But first get an international driving license. If you are not yet its lucky owner, we invite you to issue this document right on our site.