February 19, 2018
A car trip to Australia
5 reasons to visit Australia
If you are keen on long car trips, you should by all means visit Australia! You won't be disappointed with its nature, roads, service, and conveniences available for the tourists. To spend a vacation in Australia, you should be eager to:
get memorable and unusual impressions;

enjoy magnificent landscapes;

visit unique places;

explore the seashore;

appreciate the order on local highways
Australian traffic system
There are 900 thousand kilometers of roads in Australia, and 350 thousand of them are covered with asphalt. Roads here are nearly perfect. Even dirt roads are smooth and straight.
There are many toll road sections. Don't even try to steal a ride. Video surveillance cameras are everywhere.
However, toll road sections can be found only in large cities. All roads between populated areas of the country are toll-free. However, in the city, you can always drive a toll-free duplicate road section.
Roads in Australia are so good that Formula One holds one of its competition stages here.
The Melbourne Grand Prix Circuit around Albert Park Lake in Melbourne has been used since 1996 up to these days to hold Australian Grand Prix (1985 to 1995 the competitions took place in Adelaide).
How to rent a car in Australia
Australia is a unique country. Natural specifics of this region have always been a matter of great interest to millions of tourists. Hundreds of thousands of tourists prefer travelling alone in rental cars.
There are lots of rental agencies at every Australian airport. However, to rent a car, you must:
be not older than 75 years and not less than 21 years (however, if you want to rent a four-wheel-drive car, you must be not less than 24 years old);

have 2 years driving experience;

have a valid national driving license in English or an international driving permit, as well as your visa and passport;

plan your travel route and specify it in the car rental contract (in this case, you are not allowed to leave fixed-route highways even if you have changed your mind driving somewhere);

keep in mind that you are not allowed to visit some territories (e.g. Kangaroo Island or Tasmania);

make it clear whether you need to pay extra for the second driver (if tourists are going to drive the car in turns);

know how to drive in a left-hand drive country.
You don't have to pay a deposit (or its amount will be minimized) if when signing a contract you choose comprehensive insurance. That's easy and provide you with some benefits.
If you a holder of Gold/Platinum credit card, it is more likely that the card price already includes rental insurance in other countries. Read the contract attentively. It might be more profitable for you to pay your rent with a credit card. You can also rent a camper (a caravan).  
Specific aspects of driving and road traffic regulations
Irreproachable observance of traffic regulations is a key to the trouble-free trip. Keep in mind that policemen in Australia can shoot to kill without warning. Thus, if the police stop you and ask you to get out of the car, please be calm, keep your hands in plain view and do not be aggressive.  
Fines for violating traffic regulations are very high. Moreover, you can't pay them on site. Instead, you are given 3 days to pay them at the bank. If you have exceeded the speed limit, you will be fined 300 to 3,000 Euro. Red lights running will be fined 200 Euro, illegal overtaking will cost you 150 Euro, the use of dedicated bus-only lane or driving unbuckled will be fined 100 Euro. By the way, all passengers should buckle their seat belts.
There are many video surveillance cameras and radars on Australian roads. Violations are automatically recorded. The maximum allowed speed in populated areas is not more than 60 km/h, whereas in the country it is not more than 100 km/h, and only on highways your maximum allowed speed can be 130 km/h.    
If you hit an animal, you will be heavily fined. However, you won't be fined if you cross the double solid line when turning. However, you are not allowed to turn around at intersections (unless otherwise indicated on the road sign).
Local roads have no zebra-crossings adopted in many countries. Instead, Australians have bright yellow signs showing feet in motion. This is one of those road signs that is quite clear for both drivers and pedestrians and easily understood by any foreigner.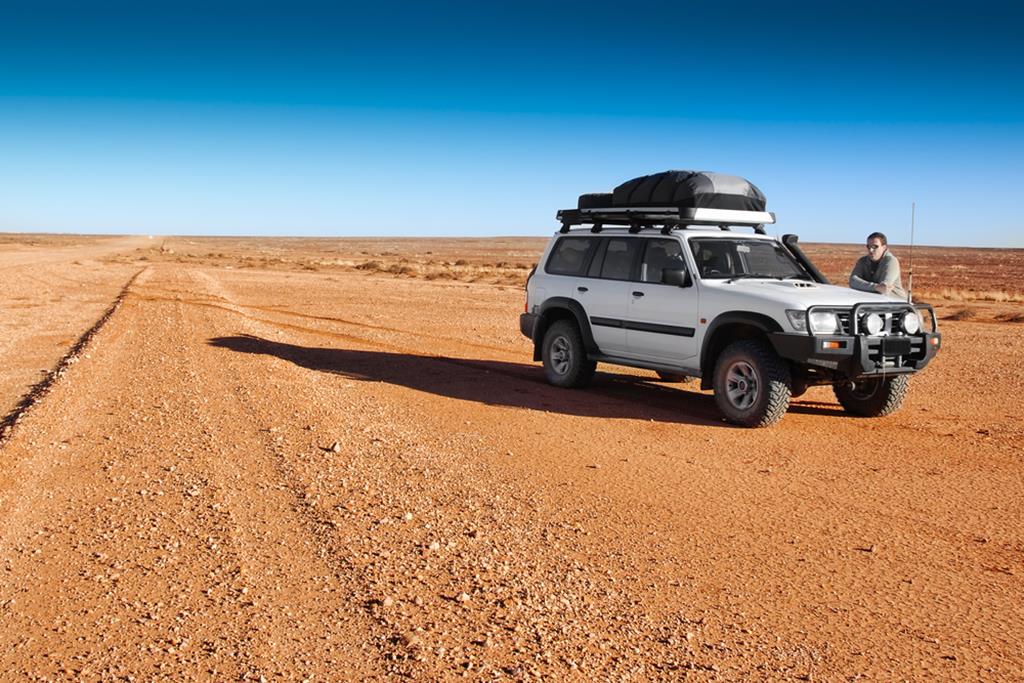 Don't forget to refuel your car on time
Australia is not like Europe with its gas stations at every turn. They are fewer in number. If you fail to refuel your car on time, you may find that you have run out of gasoline when you least expect it.
All gas stations are automated. You can't refuel if you have no credit card. These Australian gas stations work 24/7 unlike those where you can pay in cash (they work only in the daytime). The fuel costs about 1 Euro and a quarter. The quality is excellent.
Many foreigners are afraid of three-digit numbers. The thing is that the cost of a litre of fuel in Australia is specified in cents.
Within the city, the cost of fuel differs slightly at different gas stations. However, on the rural roads this difference is substantial.
Parking rules in Australia
In Australia you can park with no strings attached only if there is no:
yellow line along a curb (that means that this is no-parking zone);

yellow (sometimes white) zigzag line that is used to indicate bus or taxi stops. That also means that parking is not allowed;

strikethrough red "s" in a circle (that means that you are not allowed to park and stop here);

"clear away" sign;

sign with strikethrough red "p" in a circle (that means this is no-parking zone), however, you can stop here;

sign that indicates a taxi zone (that means buses can stop here, loading/unloading is allowed for those who have special permission). In other words, don't park (or stop) where you see red road signs.
You can pay for your parking at parking meters (modern ones that accept credit cards) and old ones that accept only coins.
Parking blocks often organize special offers with bonuses for their clients.  
Where to sleep
If you travel across Australia on your camper, there is no such problem. Other tourists may stay at motels (however, keep in mind that breakfast is usually not included), in apartments, B&Bs, caravan parks. In Australia, you are not allowed to sleep whenever and wherever you want.
Don't let the charming word "hotel" mislead you. In 99% of cases, a "hotel" in Australia is a pub where you can come to drink some beer, eat a sandwich and nothing more.   
Bed & Breakfast is usually a room in the house with breakfast. Sometimes you can book a B&B online. Otherwise, you can find all the necessary information in a tourist guide. We recommend you to watch the road signs in order not to miss a B&B sign. Not all B&Bs accommodate guests with children. Thus, make this point clear right before booking.
Caravan parks have small budget houses and villas with conveniences, bathroom, and shower, laundries, kitchen with all necessary home appliances and glassware, barbecue area. You can pay for a small glade with access to electricity and set up a tent there while your car will be parked near a caravan park.  Some caravan parks have swimming pools, amusement parks for children, sauna, etc. There are many caravan parks across Australia. Thousands of tourists and local citizens prefer travelling that way.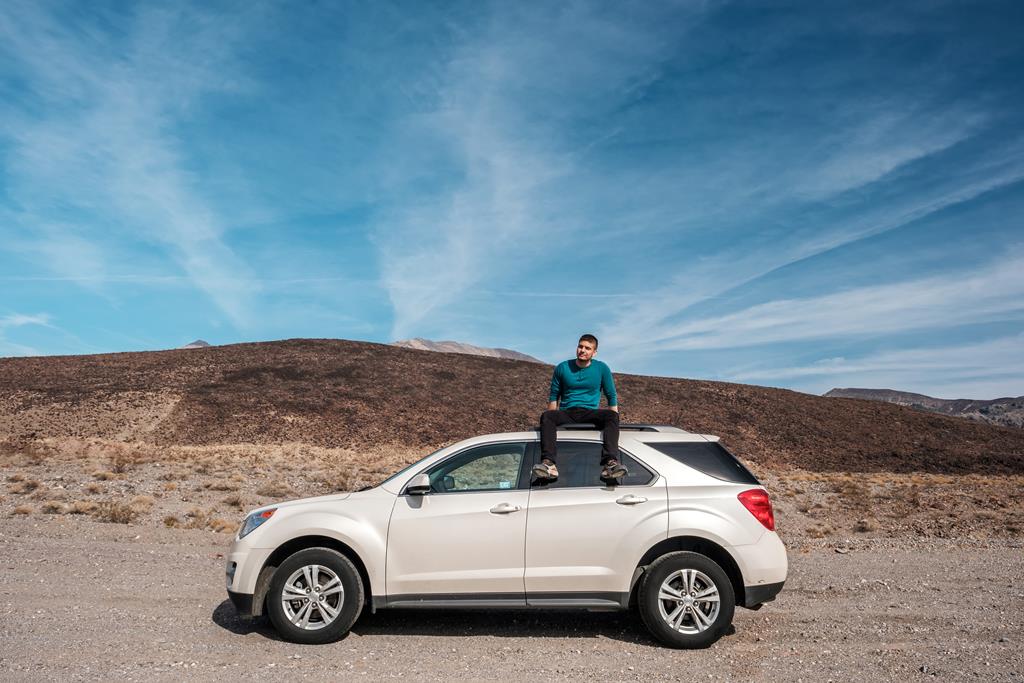 Have a safe trip to Australia!  Make sure you have taken your documents. One of the most important documents for a tourist is an International Driving Permit. Try to get it beforehand and always have it at hand when travelling overseas.