February 12, 2018
Top 10 places to visit in Italy
Italy is one of those places you keep coming back to any time of the year and that always has something new to discover. A country of olive oil is a real fairytale.
In this article, we will tell you about the most beautiful and unique places in Italy you can reach by car. Thus, keep in mind that there are lots of uncreated and man-made places of interest in Italy that last the longest. This is one of the most popular countries in the world best known for its cultural, historical and natural treasures, delicious cuisine and wide shopping opportunities.
We are going to leave aside charming and magnificent Rome, the stunning beauty of Venice, vibrant Naples and Milan since all of you know they are listed among the most desirable tourist destinations. Here we will introduce you to no less stunning and at the same time unique places where to go in Italy. It will take you just a week to see all these places, however, those memories you will keep for the rest of your life.
If you choose to rent a car in Italy
If you decide to go to Italy by car, upon entering the country you will be stopped and asked to show your passport. Though don't be surprised if no one checks out your car documents, insurance, and even a driving licence. If you want to rent a car in Italy, stick to the following rules:
book a car on rentalcars.com or use

BlaBlaCar service

;

streets in Italian cities are quite narrow, thus, we recommend you to choose the smallest car possible;

book an apartment with a parking lot in advance in order not to fall between two stools (e.g. transport in Florence is not allowed to enter the centre of the city before 07:30 p.m. Otherwise, you risk booking an apartment in the centre and have no opportunity to reach it by car);

we recommend you to have a comprehensive insurance. Parking a car in Italy may result in torn antennas, scratched bumpers or doors;

the maximum allowed speed on highways is 130 km/h. There are many surveillance cameras on the road;

an Italian roadside service will cost you three times greater than water and drinks you have bought before;

diesel oil is cheaper than petrol, thus, you'd better rent a car which runs on diesel. An average cost of fuel in Italy is €1.5-2 per litre. Keep in mind that the highest prices are at the toll highways;

at gas stations choose the filling posts labeled "Self", then the cost of the fuel will conform to the one on the screen when you approach a gas station;

you can pay for the petrol with cash via a terminal that accepts €10, 20, 50 banknotes. Notice that €100 and 500 banknotes are not accepted and the terminal does not make change;

if a post is labeled "Servado" or "Servito", a filling station attendant will refuel your car. No need to worry about the banknotes and how to make change;

a toll highway runs across both the east and west coasts of Italy. To the south from Naples highways are toll-free;

pay for the use of the toll highways at the exit (with a credit card or cash);

in cities parking behind the white line is free of charge, and if you want to park your car behind the blue, yellow or red line, you should pay via tickets. Some parking lots are intended only for the citizens of a certain region or for the disabled;

in the low season some resorts offer a toll-free parking behind the blue line while starting from June the charges are levied again;

there is a ferry to Sicily, while the island itself has toll and toll-free roads;

if your main goal is a beach vacation, there's not much sense in going to Italy. You'd better visit Croatia. It will save you much money.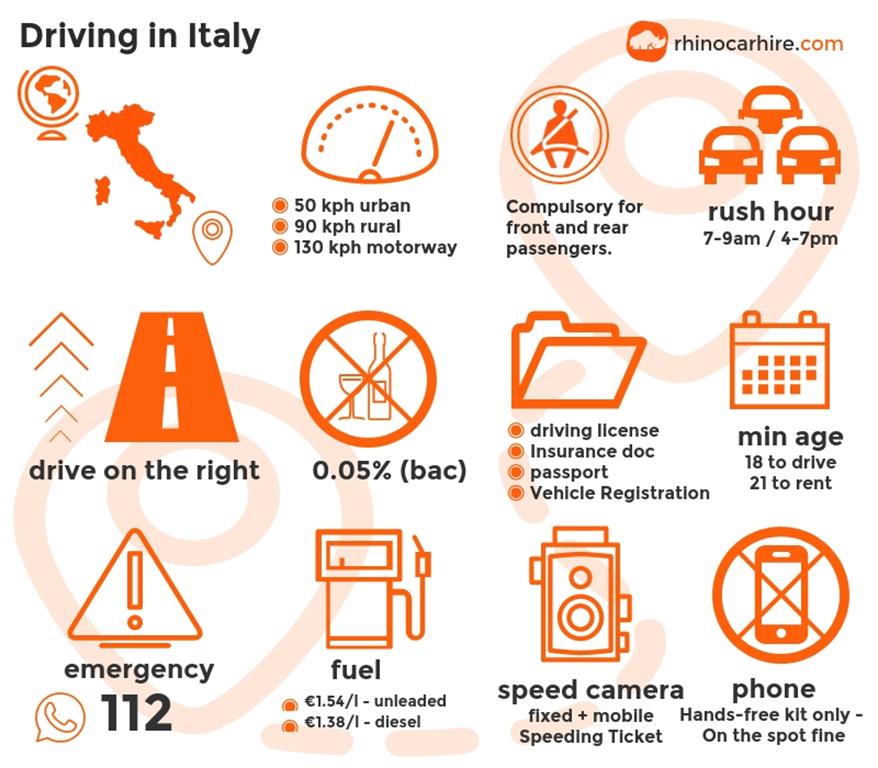 And now let's focus on the top places to visit in Italy. You can visit them through a single route if, for instance, you come to Milan and rent a car there. Ready, set, go! Our first stop on the tour to Italy is Lake Como.
Lake Como
Lago di Como is a deep and large lake that has long been attractive to all kind of artists and travelers from the whole world. A natural pearl of Lombardy is a unique combination of sky-blue water that reflects sun rays shining brightly on high, and calming mountains that make you plunge into the bliss. Tourists like this place due to its extraordinary Y-shape, impressive size (146 km2) as well as picturesque natural landscapes of the Italian Alps, fantastic cities on the coast of the lake, rich historical and cultural backgrounds.  
It seems like the deep blue sky has sunk so deep that you can reach it with your hand. A real beauty surrounded by the Alps is protected from cold north winds and really one of the best places to visit in Italy. An uncreated natural monument has become one of the most favourite recreation areas for the Europeans. That's a fascinating corner of the world where travelers feel enthusiastic about snapping away with their cameras. Moreover, this is a perfect place for those who want to improve health since its wonderful climate, fresh air and healing power of water really do wonders. A walk on a steamship along the water of Lake Como has been receiving the best reviews. Our next stop is the valley of Aosta.
Aosta Valley
Aosta Valley in the Italian Alps adds some spice to an autonomous region of Valle d'Aosta. Beautiful mountains, pure and superb Alps, close proximity to famous ski resorts — Aosta valley combines all in one.
Valle d'Aosta is the highest region in the north-western part of the country with Mont Blanc (4,807 m) and Monte Rosa (4,624 m). Such ski resorts as Cervinia, Courmayeur, La Thuile, Pila, Monte Rosa are absolutely different, though situated not far from each other. A single ticket unites ski trials of all resorts and allows you to ski in other countries (France and Switzerland).
Carnivals are held every year at the end of February in Aosta, Verrès, and Gressoney. During this period you have a chance to see with your own eyes jousts, marches in ancient costumes, taste local wine and cheese.
Moreover, the architecture here is great (e.g. a medieval castle of Verrès). Since the castle was designed to protect, it was built as a cast-in-place structure. According to the sign hanging on the door, Verrès was erected in 1390 by Ibleto of Challant. A historical carnival of Verrès is celebrated every year. The atmosphere there reminds us of stories and legends about Caterina di Challant. And now we are heading for the Ligurian Sea in the south. We recommend you to travel by Torino. An annual Chocolate Festival is held there in March.       
Liguria
Liguria is a tiny coastal region with stunning beaches that never leave tourists untouched. A unique geographical position, mild climate, and warm sea have made it one of the most popular places for the foreigners. Romantic San Remo, famous for its exceptional architecture, an ancient city of Alassio which has turned into a worldwide resort, contemporary and ancient monuments of Rapallo, Vernazza town that has nestled on a cliff — these spots attract millions of tourists all year round. However, a real paradise of Liguria is dreamlike Portofino. This small city is an award-winning resort with the cleanest beaches and purest sea water. It was founded by a Roman emperor. A former fishing village pretty quickly has turned into a prestigious resort that is considered to be among the most beautiful places to see in Italy. Hollywood celebrities and notable musicians buy real estate in Portofino the cost of which goes up each year. Thus, it's not for nothing that the residents joke that every single window in the city costs €1,000,000. This is a very respectable, quiet and aristocratic city where one can feel the harmony between men and nature. This place is far from vibrant nightlife. No building is permitted in this area. You can also go to Genoa which is not far from this place.    
Lamborghini & Ferrari museums
From Genoa, we are heading for Bologna. Nobody can resist the temptation to visit a homeland of the most prominent producers of supercars. Both museums are situated in Bologna region. The Lamborghini Museum contains rare models. After you have explored the exhibition, you can visit the Lamborghini factory.
Ferrari fans can fulfill their long-cherished desire —  test drive a supercar or even rent it for a day or more. By the way, the rental cost is about €3,000(!) a day. According to Statista.com, Ferrari was the top ranked Italian brand with an estimated brand value of about 5.75 billion U.S. dollars in 2012.
However, that's not all. There are three race tracks in Bologna: the Fiorano Circuit (near Maranello), Misano (near Rimini) and Imola (40 km from Bologna), twelve private collections of rare cars and motorcycles as well as 16 museums devoted to automobiles and motorcycles. Thus, now this region is proud of being "The Motor Valley".
San Gimignano, Tuscany
If you drive the western coast of Italy further to the south, you can reach Pisa and then Florence. Not far from Florence you will find San Gimignano. Its historical centre is recognized as UNESCO World Heritage Site. The city has barely changed since the Middle Ages. Fourteen stone towers or the so-called "skyscrapers of the Middle Ages" defend the city which is situated more than 300 metres above the valley of the river Elsa.
Two millions of tourists visit San Gimignano annually. This is a city of 100 towers that have become its landmark. Here you can find the Torture Museum, a 3-tier Palazzo Comunale, the Collegiate Church and Church of Sant' Agostino built in the 11th century. You can also try famous white wine, Vernaccia di San Gimignano.
Dry summer of San Gimignano allows tourists to walk every street of this small city. The temperature sometimes rises to 40°C, however, due to low humidity, it is easy to withstand the heat. Nevertheless, you'd better visit San Gimignano in spring.
Last weekend in July "Dentro e Fuori le Mura" Arts Festival is held in San Gimignano.
However, you can visit a historical centre of San Gimignano only on foot. That will be a nice warm-up after countless hours spent behind the wheel.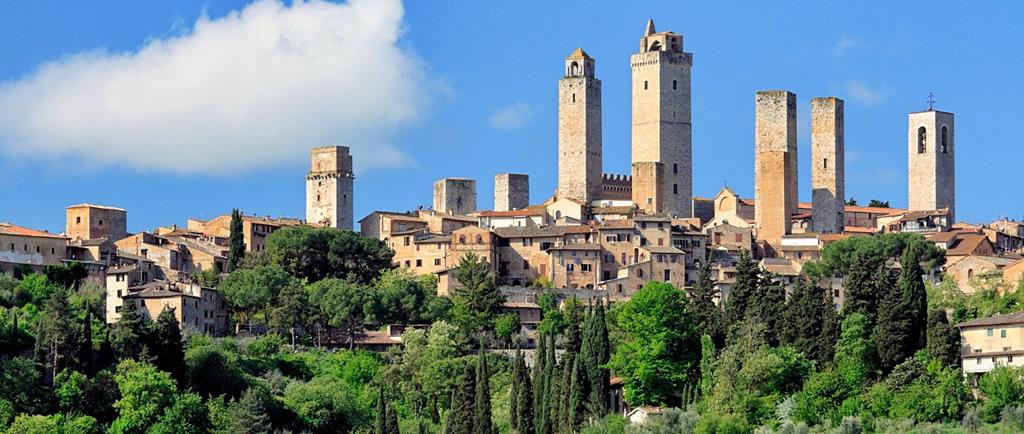 Vesuvius and the Garden of Prisoners
Let's go further to the south. Our next stop will be in Naples. There is a famous Vesuvius volcano not far from it. It is the only active volcano in continental Europe and considered to be extremely dangerous for people. That's why there stands a lab in the proximity of the volcano where scientists study its activity. You can go and look into the crater of Vesuvius by cable car. Vesuvius has become widely known due to the tragedy of the ancient Roman city of Pompeii that was destroyed by volcanic eruption almost two thousand years ago. Archaeologists have found the settlement: entire streets were buried under the ashes just like the residents of the city.
This eruption has taken nearly 16,000 of lives. Many centuries after the archaeologists have found their anthropolites. On the territory of the ancient garden, scientists have excavated the remains of people who were trying to flee when overtaken by hot ash and lava. This place was called "The Garden of Prisoners". Nowadays anyone can see the bodies of 13 people who became the victims of a horrible eruption and feel the scope of the disaster.
Gaiola
Naples region in the province of Campania hides a unique place in its territory. The place is Gaiola Island. To be exact, these are two small rocky islands linked by a bridge that seems to be hanging in the air, though it is made of stone. Gaiola is surrounded by the Gulf of Naples as well as mysterious legends… Be sure to visit Gaiola on your vacation.
The Blue Grotto
There is an island of Capri not far from Naples. The Blue Grotto is its symbol. This magic grotto is truly one of the most beautiful natural attractions of Italy. Even globally this is an absolutely unbelievable place. It got its name because when the sun rays pass through an underwater cavity and shine through the water, it creates a neon blue reflection that illuminates the cavern. However, you'd better see it once than hear or read one hundred times. Thus, leave your car in the parking lot and go to Capri by sea to get into the boat and see the Blue Grotto. However, during the storm, you are not allowed to take the sea. Thus, the weather should be perfect.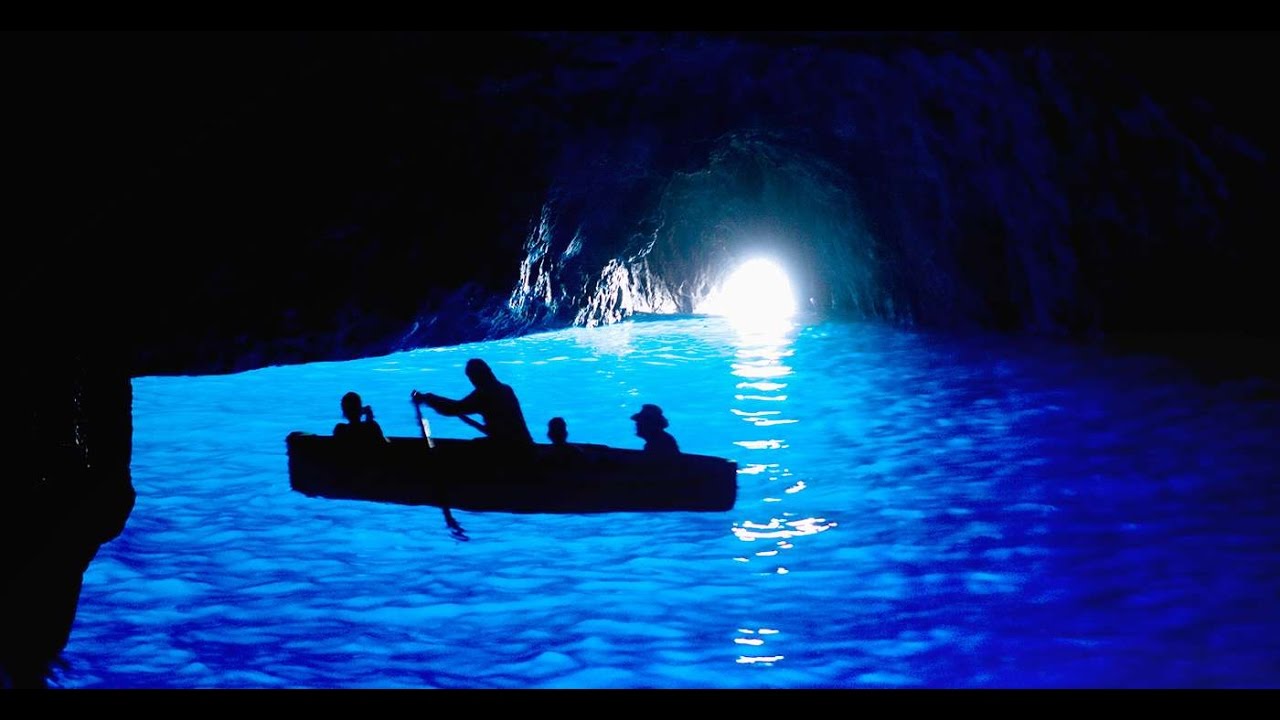 Alberobello
From the region of Naples, we are heading for the Adriatic coast, to the city of Alberobello which is definitely one of the best cities to visit in Italy. This is a popular place in Apulia with the population of no more than 11 thousand people that earns the admiration of the tourists who are fascinated by this quiet spot with plain lifestyle. This land is famous for its houses with conical roofs built of dry stone, also known as "trulli". They look like tinker toys. It took only two days to build a house like this. Though all the buildings look alike, they have a unique structure, design and magic symbol on the dome. Travel guides tell funny stories about these buildings and their origin.   
Since 1996 trulli have been protected by the United Nations Educational, Scientific, and Cultural Organization (UNESCO) as a part of world historical heritage. Statistics show that Italy has 53 properties inscribed on the World Heritage List including both cultural and natural. From above, a small city of Alberobello looks like a board with chess pieces. There are houses which were built in the 18th century, however, some of them appeared only 100 years ago. Remarkably, in 1925 the construction of trulli was officially prohibited, thus, nowhere else you can see such houses.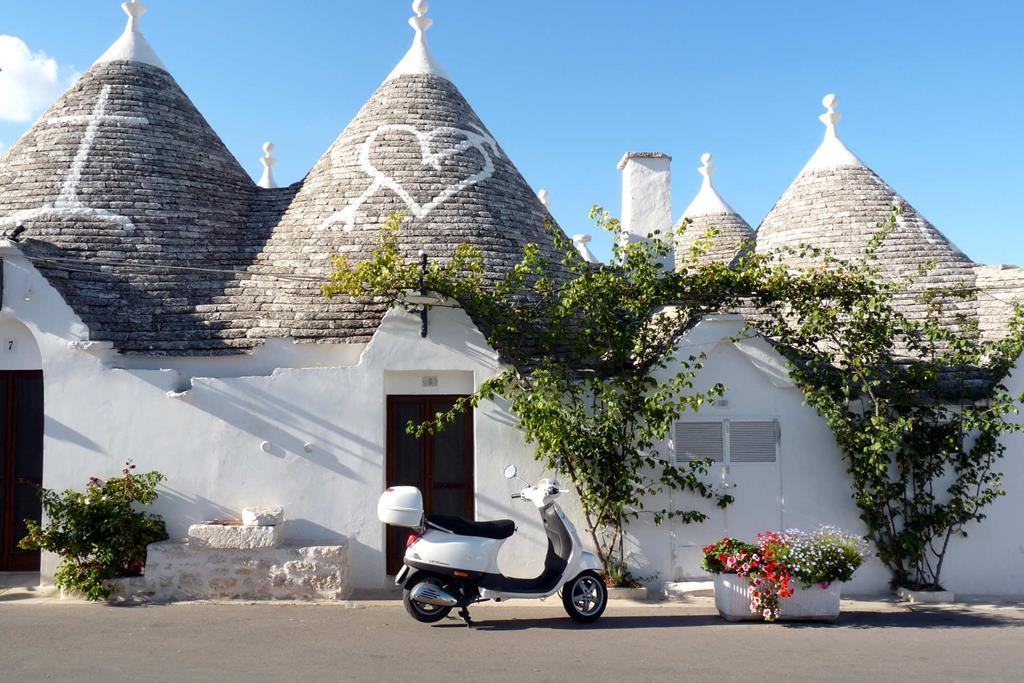 In March, Apulia celebrates "The Night of the Knights of the Temple" that is devoted to one of the first monastic orders.
Frasassi
Here in Apulia not far from Alberobello you can find the Frasassi Caves, a cave system that extends 13 kilometres under the Apennines in the region of Marche in the natural park of Gola Rossa di Frasassi. These caves are one of the greatest natural wonders: underground rivers, disappearing brooks, lakes, and waterfalls — come and see it all with your own eyes. The caves attract millions of tourists from all over the world. Here they can see wonderful twisty galleries, shimmering grottos, and fantastic limestone figures.    
The caves were discovered in 1948, however, only recently, in 1971, scientists have started to study them. The caves which run along this territory for about three kilometers were formed in the Apennines thanks to Sentino River. They were opened to the public in 1984.
To get to the Frasassi Caves by car, you should first reach a small town of Jesi. The caves are open for the tourists all year round, excluding the 4th and the 25th of  December as well as from the 10th to 31st of January.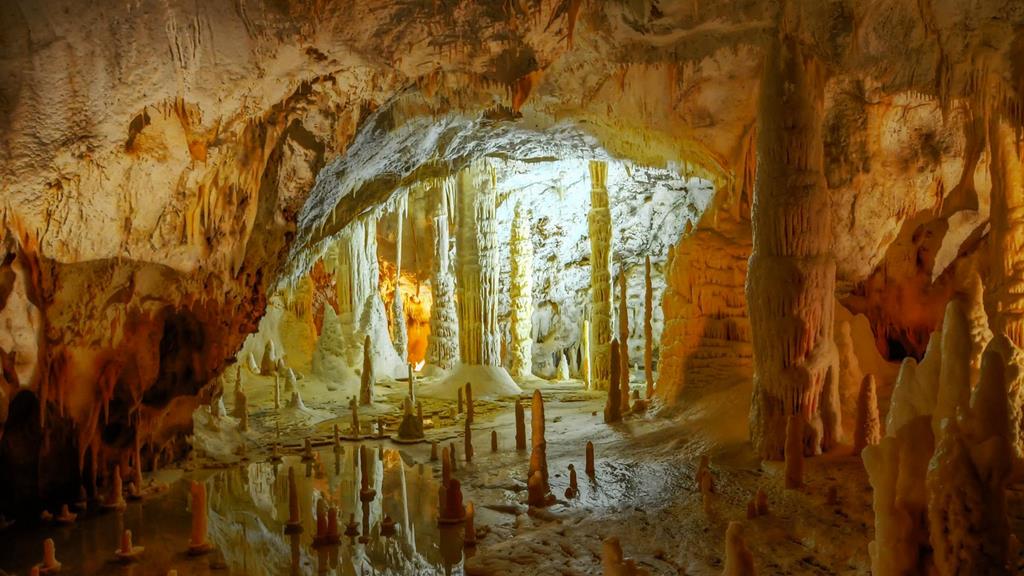 We have told you about the best places to visit in Italy. Before starting on a trip, make sure you've got an International Driving Permit. Otherwise, apply for it here. It really is that simple. Just try.