February 25, 2019
Roof racks
In any car, in addition to a driver and passengers, different things move – goods packed in bags, suitcases, various sports equipment, fishing gear, garden accessories, strollers, bicycles, etc. Most often, oversized loads are transported on a roof of a car.
Car roof rack
A roof rack is simply an indispensable accessory, for example, on a trip to the sea with the whole family. As a permanent option, roof racks are installed mainly by lovers of fishing and other recreational activities. Roof racks, as a rule, consist of a base (two axles) and various holders. The base is attached to roof rails, and directly to it – holders. In addition, axles often take on the role of holders, for example, in the case of a rack for ski and snowboards. Axles and holders must be compatible (if were purchased separately).
Most often, a roof box (capsule) is fixed on a car.
Roof boxes
Boxes are installed on a car roof, attached directly to a base. They are perfect for increasing the volume of transported cargo. Roof boxes are particularly relevant for small cars, because allow to transport even large loads without much hassle. Things don't limit the driver's view in the rearview mirror. This type of trunk also perfectly protects transported things from dust, dirt and moisture. Boxes are designed with all the features of aerodynamics, and therefore have a streamlined shape.
Modern boxes can be soft and rigid. Soft are made of high-strength, high-quality synthetic material. As a rule, this material is water repellent. Fabric box is attached to the base of the car's rack with the help of special fasteners, provided for by its design. The soft type of a box is characterized by a relatively low price and small dimensions when folded.
Rigid boxes are made of impact-resistant plastic, which isn't affected by dirt, moisture, dust, ultraviolet radiation, temperature changes. But the cost of rigid boxes is much higher.
When choosing a roof box, you need to focus on certain factors: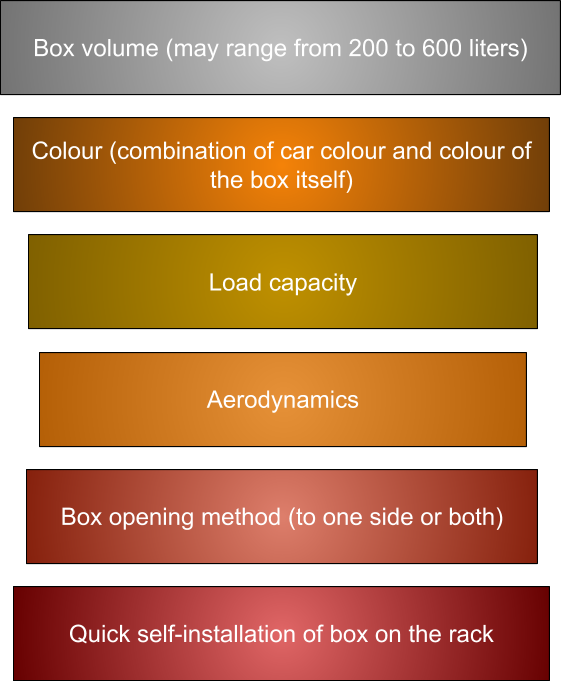 Roof rack fastening classification
A. Fastening on rain rails with which most Russian cars are equipped. This type of roof rack is universal, suitable for cars of VAZ, GAZ, Moskvich, IZH series. Since the rain rails are located along the roof, you can change the position of the roof rack or install not one, but two racks on the roof.
B. Fastening on the door aperture. One of the most common types of fastening, used on Russian cars – the Lada Granta, the VAZ 2110, the VAZ 2112, and most foreign cars with a smooth roof. Rack carriers cling to door apertures with special clamps-hooks. The closed doors of the car protect carrier from unauthorized removal. Three-door cars have adapters.
С. Fastening on standard places, that is, in the places specified in a car's instruction manual – grooves, threaded holes. In this case, the car manufacturer, for example, Daewoo Nexia, provided for the possibility of transporting things and goods on the roof. When there is no rack, grooves are covered with decorative moldings. This fastening ensures reliability and aesthetic appearance of the roof rack, but limits the choice of changing its location on the roof.
D. Fastening on rails is provided for cars that have longitudinal roof rails: foreign cars from among SUVs, station wagons and minivans, the VAZ 2111, the Lada Priora wagon. On rails, on any distance, depending on a load, rail bars are installed for a few minutes. This is a universal way to transport things of any size. It is important to notice that the roof rack of this design doesn't scratch the roof, as it doesn't come into contact with it. The load is conveniently fastened on the rack with straps to rails. But it must be borne in mind that the load's center of gravity on the roof rack with this type of holders is higher and may affect the car when driving. Therefore, cars with low rails began to appear. Fastening the roof rack in this case is carried out to the inner side of the longitudinal rail with clamps.
E. Fastening on integrated rails is used quite recently on cars like station wagon or crossover. Such rails are made without a clearance, and they have holes for fixing cross-sectional rail bars on the inner side. The center of gravity is lower than when fastened on ordinary rails. There are certain problems in the selection of cross-sectional rail bars. Such cars, as the Opel Mokka, the Kia Sportage III, the Suzuki Grand Vitara II, are equipped with integrated rails.
F. Fastening a roof rack on a T-shaped section, or otherwise – runners, is considered the best option for fastening when bars are installed in runners. This type of fixing is quite simple, the bars move along the roof, without contacting it and without damaging the surface, but it is extremely rare (only on station wagons and off-road vehicles like the Nissan Wingroad).
G. Fastening on magnets, though absolutely universal, but extremely unusual type of fixing, which allows you to easily install a rack on a roof of any car model. It is necessary to take into account the small carrying capacity of the rack, strengthened with magnets, for example, for transport of lightweight things, such as skis.
H. Fastening with straps through a cabin is used when fixing an inflatable roof rack, for example, Handirack. This method is also universal, as the atraps pass through the cabin of both four-door and two-door cars. Inflatable roof rack elements are placed on the roof and fastened with straps through the cabin, which can cause inconvenience for passengers.
The main advantages of roof racks
Moving all large things to the roof and emptying the luggage compartment of the car. Also, using this option, you can put on the roof a bicycle, building materials and other things that can't be placed in the cabin.
Free view when driving. External box will help to make room in the cabin and eliminate the need for careful packing of things so that they don't hamper the normal view.
Easy installation. The universal roof rack takes only ten minutes to install and, if necessary, can be easily removed. Additional fasteners designed for this are added up as a constructor.
Improved safety. Heavy and voluminous things that are in the cabin, represent a serious threat to human life and health in case of an accident, and those taken out of it become safe.
Proper load distribution. A full load of an ordinary trunk causes a reduction in ground clearance, car's flat spotting on the rear wheels, and can cause a rollover. The outer trunk distributes the load evenly.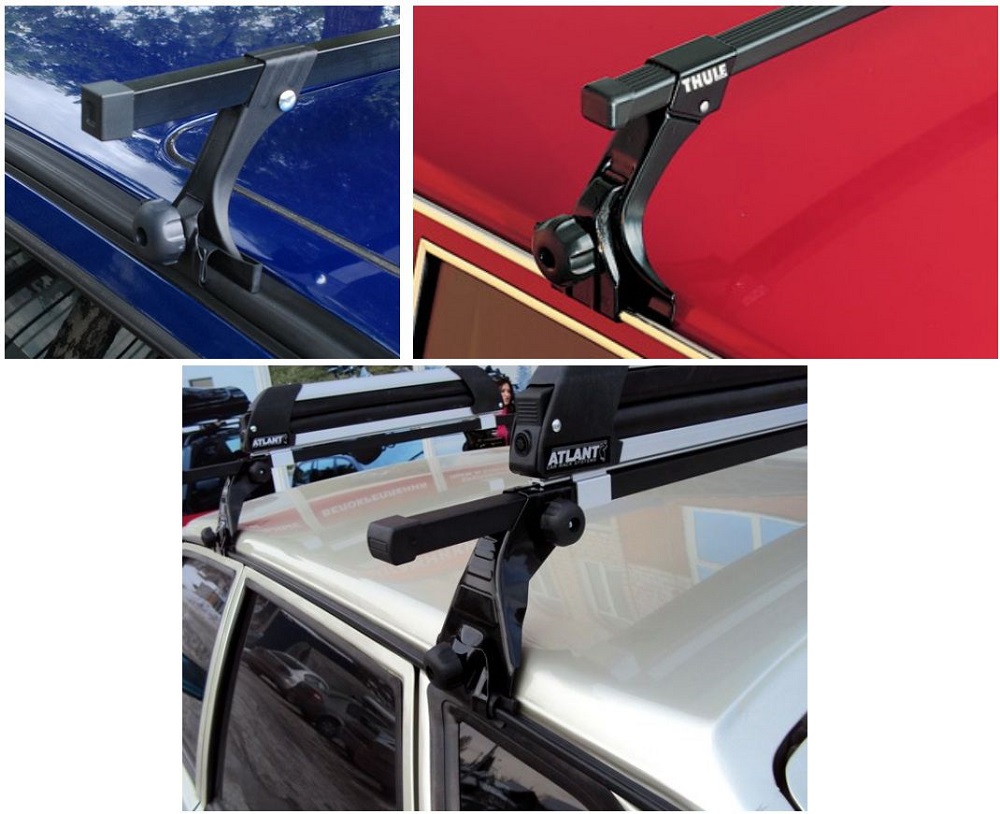 Thus, roof racks are convenient and functional. But the best option can be chosen only when there is information about positive and negative features of each model. In addition, car won't go even with a roof rack until a person with the necessary document sits behind its wheel. This document is a driver's license. Ideally, it should be a license of international standard. If you haven't got it yet, don't worry. You can do it without problems on our website, and you will become the owner of an international driver's license in the very near future.