February 09, 2018
Top 10 places to visit in Spain
Spain is a stunning European country washed with the sun that lies on the Iberian Peninsula. You are going to like the idea of taking a turn around Spain in a car. Keep on reading and you will find what to see in Spain when traveling by car.
Car rental, traffic system and parking in Spain
Renting a car in Spain is as easy as pie: when you book a car online, you enter all the necessary information in advance. All you have to do is go to the rental office, put your signature on the contract and get the keys. When you come to get a car, the deposit amount equal to half the cost of the rental will be blocked on your credit card.
There are toll-free state highways in Spain as well as toll with payment terminals every 10 kilometers. Driving with studded tyres is not allowed since the road wears evenly. There are a lot of surveillance cameras.
Pay attention to the speed limits:
in cities, the speed limit does not exceed 50 km/h;

in the countryside — 100 km/h;

on highways — 120 km/h.
The cost of fuel per litre is about €1.16. On the highways, prices are pretty the same, and in the cities the prices are higher. After 08:00 p.m. you may find it hard to refuel a car due to non-working hours.
A white line along the road with marked parking lots means toll-free parking. A blue line marks a toll parking. A green line marks parking areas for the locals. Travelers are not allowed to park on the green line. A yellow line means that you are not allowed to park there. You may leave your car for a while with the flashers put on. However, we recommend you to stay close to it.
The acceptable limit of blood alcohol content in Spain is 0.05% BAC (0.25 mg/l BrAC).
Offence:
0.25 – 0.5 mg/l of the expired air is fined with €500 and four driving points (for the residents of Spain);

0.51 – 0.60 mg/l of the expired air is fined with €1000 and six driving points.
Crime:
0.6 and higher mg/l of the expired air shall be punishable with up to six months imprisonment or fined with the amount equal to 6-12 minimum wage or public work during 30-90 days and licence suspension up to 1-4 years;

if you refuse to be breathalyzed, you shall be punishable with up to 6-12 months and licence suspension up to 1-4 years.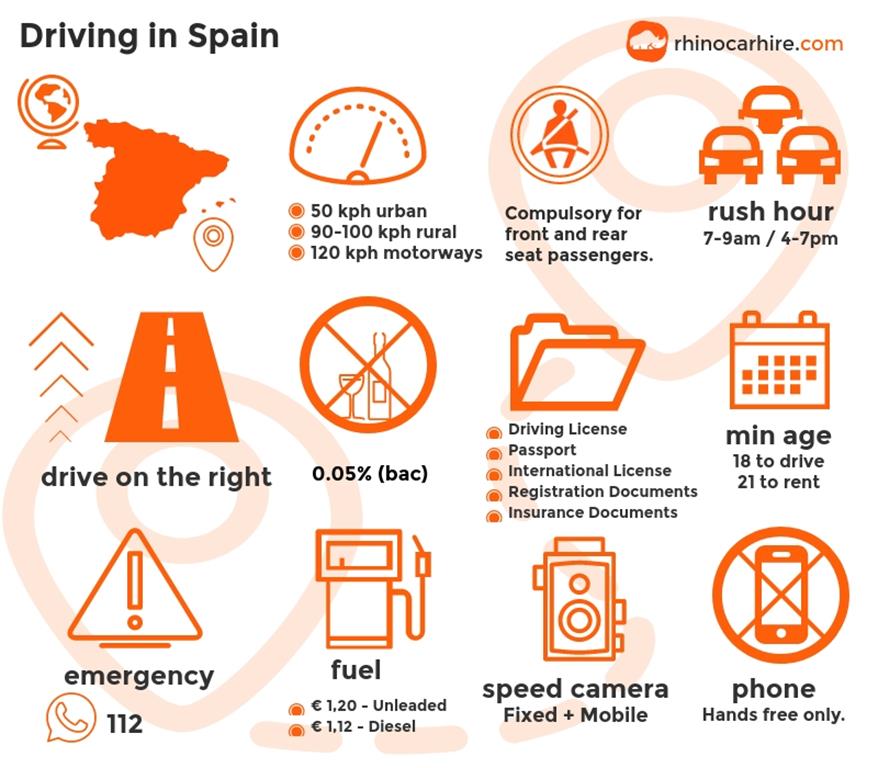 Barcelona
A Catalan capital has many merits: a vibrant nightlife, long beaches, and vast shopping opportunities make Barcelona one of the best cities to visit in Spain.
The main pearls of Barcelona are grotesque buildings built by Antoni Gaudi. The most visited of his masterpieces is the Basilica of Sagrada Familia with its carved turrets and bizarre columns. According to Statista.com, the Sagrada Familia was the most visited attraction in Barcelona in 2016 receiving 4.56 million visitors. Other Gaudi's masterpieces you must see are Casa Milà building and the so-called "gingerbread" houses in the Park Güell.
In the centre of the city, the traffic is mostly one-way which is quite comfortable especially when you turn to the left. It is almost impossible to park a car free of charge. You have to either to drive into a blue line and pay for your parking or use underground paid parking lots. In the countryside a toll road starts almost immediately. Keep in mind that the tariffs here are pretty high.
Seville
Seville is considered to be one of the top cities in Spain. The Plaza de España in Seville is an urban ensemble built in the Moorish Revival style that has originated in the south of Seville ahead of Iberoamerican exhibition of 1929. It looks like a colourful kaleidoscope of bright turrets and colonnades covered with turbinate tracery. In the centre of the square, there is a large fountain and canals one can ride through on the rental catamarans.    
A day before the exhibition, a southern part of Seville was rebuilt and planted with trees under the charge of French landscape architect Jean-Claude Forestier. The Maria Luisa Park is scattered half a mile. It attracts tourists with its fountains decorated with tiles, pavilions, benches, and porches in the Mudejar style alternated with waters and styled flower beds.
On the edge of the park, an architect Anibal Gonzalez designed a semi-round Plaza de España with the figured bridges across the canals. There is a big fountain in the centre of the square. The buildings around it have hovels dedicated to different Spanish provinces presented in alphabetical order. The décor of the square combines fantastically transformed Moorish elements with art-deco which was popular in the 1920's.    
Nowadays the exhibition buildings are occupied by the Mayor of Seville and museums. The Plaza de España is one of the places where "Star Wars. Episode II: Attack of the Clones" movie was shot.
Castilla-La Mancha
Castilla-La Mancha is famous for the "Don Quixote" novel written by Miguel de Cervantes. This is the region where much of the story took place.
These days endless fields, windmills and manchego cheese are regarded as the symbols of authentic Spain.
Due to never-ending wars, there have been built lots of fortresses and castles in Castilla-La-Mancha. Ancient architecture, picturesque vineyards with Don Quixote's windmills are the landmarks of this region. Though there are only a few windmills left, they are still associated with La Mancha just like Andalusia is associated with flamenco.
If you are keen on Don Quixote, you can go where your favourite character had been. Make the first stop in Consuegra, then visit El Toboso, a city in which Dulcinea del Toboso lived. You can also tour the house where she lived. The Don Quixote travel route ends in Belmont.
Castilla-La-Mancha is also well-known for its gorgeous holidays which combine Christian traditions, elements of folklore as well as the heritage of different nations and religions. Easter and post-Easter holidays are widely celebrated. For example, Procession of Corpus Christi in Toledo. Spectacular carnivals take place in several cities. The most famous of them takes place in Alcázar de San Juan (also known as Carnavalcázar).
The cuisine of Castilla-La-Mancha is a combination of Christian and Muslim culinary traditions. Its distinctive feature is the simplicity (you need just a few ingredients). Citizens of Castilla-La-Mancha like to add some garlic to the dishes. The most well-known dish is Pisto manchego (vegetables fried with olive oil). You should also try "migas". You will probably like morteruelo paste and pistos asadillo.  
Those who like meat should try kuchifrito (roasted lamb), gazpacho manchego soup.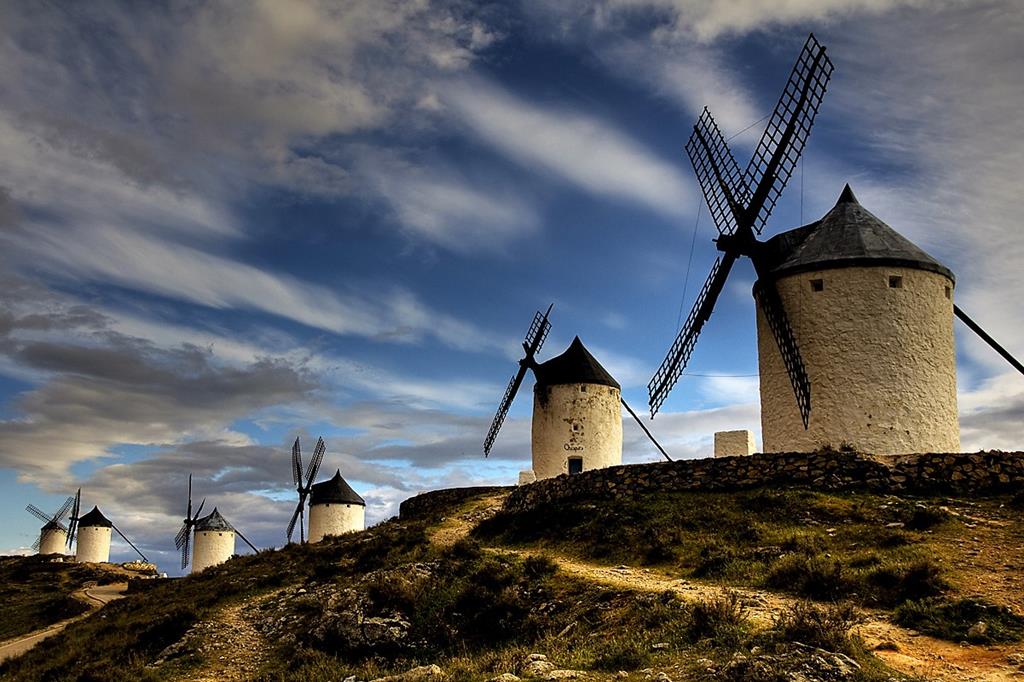 Toledo
Have you ever heard that an old Toledo in the heart of Spain has been a capital of the country until the 6th century? For many centuries, Jews, Christians and Muslims have lived side by side on this land, so that people began calling it "The city of three cultures". Narrow cobbled streets, historic buildings, landmarks, splendid temples and cathedrals. This is the №1 place to visit in Spain for those who want to plunge deep into the history of the country.
Toledo is mainly associated with the Alcázar fortress which earlier served as the royal residence. We recommend you to visit a cathedral. The walls of the sacristy are decorated with true masterpieces by El Greco, Goya, Titian, Velasquez, Morales, Vandyke, Raphael, Rubens.   
Other places of interest include an amphitheater and aqueduct of the Roman times. One of the most remarkable places here is an architectural complex that consists of a Dominican monastery, churches of St. Leocadia and St. Eulalia. There is a tomb of El Greco here, and several of his works are held in the church. Statistics say that Toledo which is, by the way, a World Heritage Site was ranked one of the top 30 cities with the highest average number of museum entries per resident.
Valencia
Valencia is well-known for its architectural complex "The City of Arts and Sciences" which has become a landmark of modern Spanish architecture. Shimmering white buildings of bizarre shapes the walls of which are inclined at absolutely unbelievable angles always impress regardless of the time of the day. However, at night it looks the best since fine illumination makes all its shapes shine.
A complex of five buildings at the bottom of the dry Turia river in Valencia is one of the most outstanding examples of modern architecture. The design is created by a Valencian architect Santiago Calatrava. The construction started in 1996.
"The City" consists of five buildings commonly identified by their Valencian (Catalan) names:
El Palau de les Arts Reina Sofía — is an opera house and stage for other performances;

L'Hemisfèric — an IMAX cinema, planetarium and laserium;

L'Umbracle — is a gallery/garden;

El Museu de les Ciències Príncipe Felipe — a science museum;

L'Oceanogràfic — an open-air oceanographic park.
Parks, brooks and swimming pools surround the complex. This is one of the most popular recreation areas for citizens and tourists. There are many bars and cafes there. Statistics indicate that the annual number of international tourists who visited the Valencian Community between 2000 and 2015 increased by more than two million.
This small town was founded as a military outpost. To protect it, 4 km thick walls and 130 fortified towers were built the remains of which are hardly traced nowadays. First of all, Don Quixote's Museum is to be noted. This is a big old two-storeyed house with an ancient printing works in the basement. Moreover, not long ago a very rare monument had been erected, — a bronze statue of Sancho Panza and his favourite donkey. There are many old buildings in this region.   
Not far from the city you can find two national parks — Las Tablas de Daimiel and Cabañeros. Anyone will find interesting an open-air theater and the National Theatre Museum in Almagro, not only theatre-goers.
Cuenca
A historical part of the city is small and centered on the Gothic cathedral where Tesoro Catedralicio Art Museum is situated. The city protects an old watchtower of Mangana in the complex of the convent. There are several museums in the city: the Museum of Science, Diocese's Museum, Museum of Spanish Abstract Art, Historical Museum. Take a walk near the so-called "las Casas Colgadas", the hanging houses of the 14th century.
On your way to these museums, you will see a lot of gas stations where one can take a rest, have something to eat, wash and refuel a car.
Guadalajara
In Roman times, there stood a city of Arriaca which means a "stony path". Nowadays all that remained is a bridge across the river that connects an old historic area of the city with its modern part.
Now Guadalajara is on the rise since this is the third most prestigious city for the citizens of Spain.
A magnificent Arabic viaduct bridge will meet you at the very beginning of your journey. Then we recommend you to visit the Alcázar, a fortified castle, built by the Arabs.
The true pearl of the city is the Palace of the Infantado Dukes. It has a beautifully carved face, however, the real beauty is hidden inside. A unique and fine carving: flowers, tracery, mythic animals, real lace in stone. Some foreigners to Guadalajara compare the Palace of the Infantado Dukes with a small toy faceted jewel-box because of plateresque style which elements are used in the design of its face (diapers, flowers, laces, ornaments, animals on stone walls). These days there is a Museum of the aforementioned province inside that building.
Another place of interest worth mentioning is the Pantheon of Duchess of Seville, a gothic church of San Francisco, Santa Maria La Mayor church, de Luis de Lucena chapel the walls and ceiling of which are painted with frescoes; the Palace of La Cotilla and San Jose convent. Guadalajara is a beautiful ancient city with its own tragic history.
Albacete
The city is famous for the Abelardo Sanchez Park full of different sculptures. People call this park "the lungs of Albacete". It has lots of springs, fountains and ponds. Inside the park, you can find a provincial museum of Albacete.
The museum exhibition features two major divisions: archeology and arts also known as the Arts Division of Benjamin Palencia. The Passage of Lodares is one of the most interesting places to visit in Spain. This building is a perfect example of Art Nouveau — a style of art that originated at the beginning of the 20th century.
Alhambra, Granada
Alhambra is a Moorish fortress decorated with magnificently carved tracery. It is one of the most visited monuments in Spain. Alhambra is an architecture and park ensemble on the hilly terrace in the eastern part of Granada in Southern Spain. Patios, passages, fountains and waters go very well with each other. Ceramic tiles, stone and wood carving, bizarre floral ornaments and Arabic script form a splendid finery of arcs, vaults, exquisite and slender columns, carved patterned windows. Many believe that Alhambra is the greatest achievement of Moorish art in Western Europe. The complex of palaces surrounded by well-kept gardens crowns a top of the hill. Inside the quiet patios, splendid Moorish decorations make a big contrast to laconic lines of later centuries baroque elements.

Picking the season to travel to Spain
If you choose to travel across Spain in March, you will definitely take certain advantages. In low season there are few tourists, and Spanish cities return to their everyday life. This is the very time when you can feel a slow rhythm of life and see the world the Spanish are living in. Low season is a perfect time for various excursions. This time you can enjoy exploring Barcelona and there's no need for you to queue to see the most interesting sights. Feel free to visit and make a photo of the world's famous stadium Camp Nou, see Gaudi masterpieces: Park Güell, the Basilica of Sagrada Familia, Casa Batlló, etc. without a swarm of tourists standing crowded in the background. Paella, flavorous soups, exquisite meat and fish dishes, turron and churro are those things one can enjoy anytime regardless of the season.
Moreover, unlike other European cities, Barcelona never fall into the rain, fog and slush. During the off-season, Barcelona is attractive to tourists due to its mild climate, blue sky and bright sun. The temperature from November to February remains at about 10-15°C. The weather invites to walking around the city and its suburbs, while the boldest can even enjoy sunbathing.
Don't forget about the discounts in hotels. In March you can stay in fine hotels since in this season the prices are pretty low while the comfort is always beyond all praise.
If you decide to go to Spain in July, be easy-going about the clothes you are going to wear. Travel light since summers here are always hot. Make sure you have taken headwear (we recommend women to take a cartwheel hat), sunglasses and a throw to cover your shoulders.
What to buy (souvenirs for friends, relatives)
The most compact and at the same time visually exciting souvenir will be castanets. Flamenco dancer figurines and FC "Barcelona" and "Real" stuff are also very popular with the tourists. Don't forget to buy Jamón. There are several types of it. However, the most popular and valuable (€200 per kilo) are Jamón serrano and Jamón ibérico. Jerez-Xeres-Sherry is an excellent complement to Jamón. This Spanish wine is produced near the city of Jerez de la Frontera and there are three types of it: Fino, Amontillado and Manzanilla. Those who prefer something stronger can taste Spanish brandy. We also recommend you to pay attention to Rioja wines, Catalan champagne and Asturian cider. By the way, you can buy wine in a butt (Spanish "bota") — a special leather cask. Manchego cheese goes well with wine.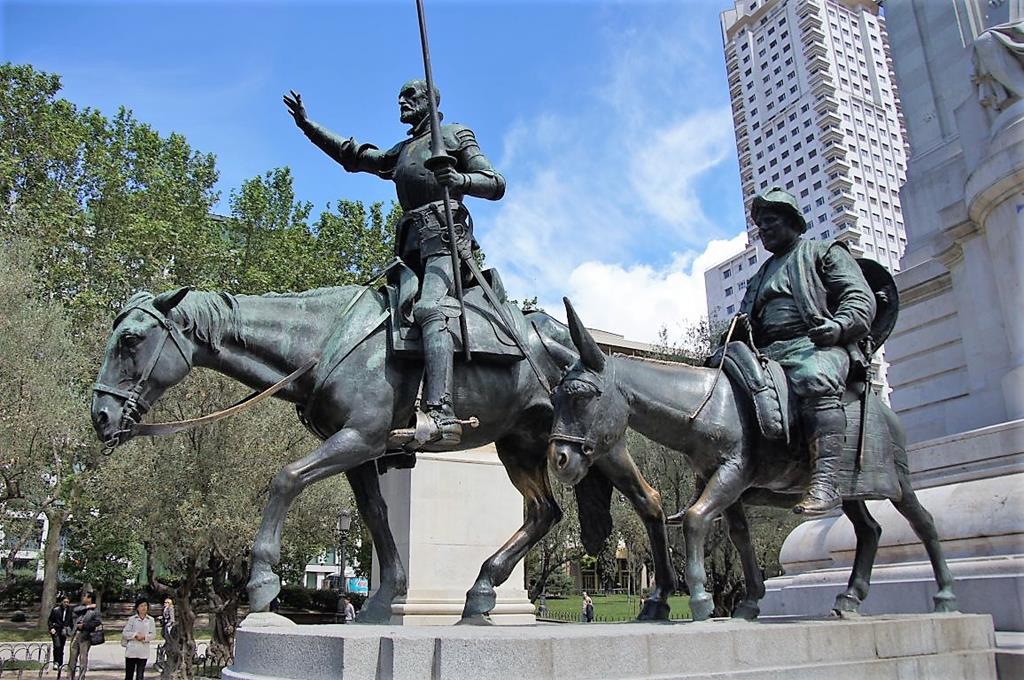 Now, are you ready to go to Spain? But before you say "yes", make sure you have an International Driving Permit. Otherwise, apply for it here. It really is that simple. Just try.