September 10, 2018
Parking rules in Finland
There is a right-hand driving in Finland, so you can park only on the right side of the carriageway. But if there is a one-way traffic, standing and parking are allowed on both sides of the roadway. However, there are many nuances that you should know if you need to park in Finland. We hope that the materials in this article will help you navigate the main provisions of the current Finnish road traffic rules regarding car parking.
Situations in which parking (standing) is prohibited
The Finnish traffic rules do not allow the car parking when:
– there are turns, intersections nearby;
– the car is located on tram ways or railway tracks, and also at a distance of less than 30 meters from the railway crossing;
– there is less than 5 meters left before the intersection;
– there is already one row of parked cars;
– there will be impediments to the movement or evacuation of other vehicles;
– overpasses are located above or below the car, as well as in tunnels;
– there is a place for parking only on a sidewalk;
– there is no marking indicating the position of cars;
– there is a sign "Priority road" outside the built-up area;
– a yellow prohibiting marking line is drawn;
– on a paid parking without payment;
– there is a sign prohibiting parking and standing.
Main parking rules
The vehicle should be stopped or parked parallel to the road or street and as far as possible from its central axis. In this case, the vehicle should not cause danger or obstruction to traffic.
It is difficult to park a car in the Finnish capital. There are three zones, and the closer to the city center, the more expensive it will be to pay for parking time. But there are also free parking spaces that are in the center close to shopping malls or large shops, but free parking time is often limited. Free parking usually lasts 1-4 hours. Less often – 30 minutes or, for example, 6 hours. You can determine the type of parking by the icon on the sign next to the parking.
If the Finn lives in a certain urban area, he has the right of local area parking. Tourists don't have such right, so you should carefully study the information on special signs. Usually they indicate a time (paid parking interval), which costs a certain amount of Finnish markka per hour. In the rest of the period, the parking is free, with no time limit.
On average, the cost of parking is about one and a half euros per hour (but in Helsinki it can be much more expensive, especially in the center).
It is important to park the car in accordance with the scheme indicated on the signs. You can pay for parking, but get a fine just because the car was not parked in accordance with the scheme. Controllers in Finland are harsh and give no special favors to anyone.
No one should park in a handicap zone (without permission), despite the fact that they are often empty and the closest.
If you are going to visit someone, for example, in a multi-storey house, then look for a parking lot with the sign Vieras – a guest. It is better not to just park in such places, especially for a long time by car with Russian numbers. Residents will quickly understand what's what, and can take action. At best, the car will be taken out somewhere on the tow truck, and you'll pay for the removal later.
Some Finnish localities require the use of so-called parking disc.
A parking disc
Finland introduced a special road sign with a picture of a parking meter and an indication of the maximum permitted parking time.
Such disc is individual for each driver and has an approved form.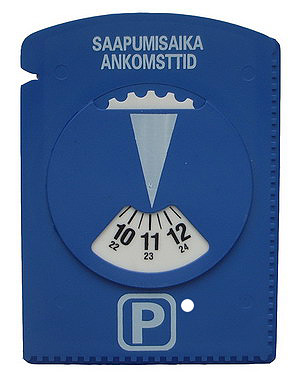 A parking disc is a blue panel with a size of 10×15 cm with a rotating disc. There is a sign "Start of parking" in Finnish/Swedish on one side of the meter (there are two official languages in Finland). On the other – the rules for using the parking disc are listed in detail. This disc (parkkikiekko) can be purchased at petrol stations and in car shops for two or three euros.
The start of parking (time of arrival to the parking lot) is set on the disc, rounded to exactly the next hour or half an hour. The set time of arrival can't be changed.
The parking disc must be placed prominently under the windshield (in the center or driver's side) so that it can be seen from the outside.
In cars registered abroad, it is allowed to use parking meters adopted in other countries, that in appearance correspond to Finnish ones.
Only one parking disc can be placed under the windshield during parking.
If the tourist went shopping, it is very easy to forget about the end of the parking time. Therefore, a quarter of an hour before the time X, you need to set up a "reminder" on your phone. To avoid a penalty, you should move the car to another place and re-set the parking disc.
Consequences of an unpaid fine
For a tourist, a fine not paid for a violation not only in Finland, but also in any of the Schengen countries, entails the entry into the unified Schengen information system-2 database. This base is available to any officials, including border guards. Therefore, when leaving the country, the Finnish border guard has the right to demand payment of a fine (and mounted up late fees, too), and may take "other actions". The latter involve the ban on issuing a Schengen visa for a period between one and five years, and such cases become more often.
The penalty for illegal parking is 50 euros. This penalty ticket is payable within 30 days (through Euroshtraf or any Finnish bank). You should keep a paid ticket for five years and carry it with you to any of the Schengen countries.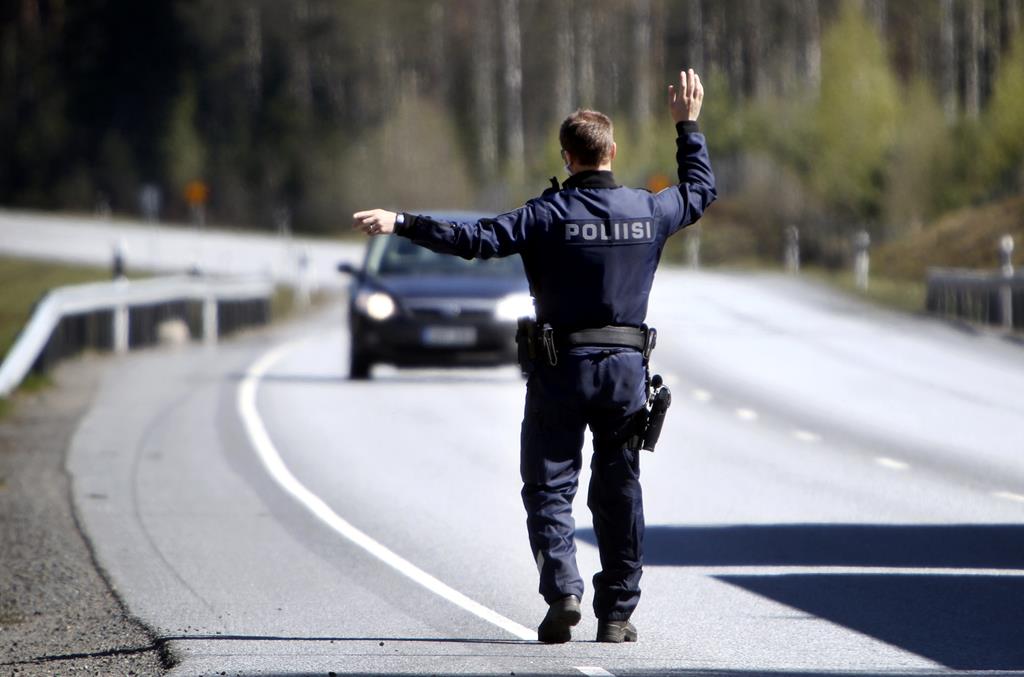 No international driver's license is required in Finland. Nevertheless, it will allow you to drive not only in other Schengen states, but also outside the European Union countries. Registration of such license is made by our site. We invite you to issue an international driving license without any formalities, quickly and easily!