May 27, 2023
Palau Digital Residency Program
What is Palau Digital Residency Program?
The Palau Digital Residency Program is an initiative that allows individuals worldwide to obtain a legal government-issued ID from Palau, without needing to be physically present in the country. This is typically done to facilitate business operations, online services, or other digital transactions for global citizens.
The program provides both a physical ID card and a digital ID, to enable secure online transactions and confirmations of identity. It's interesting that they're leveraging Web3 technologies to digitize and secure these identities, which suggests a commitment to cutting-edge blockchain and cryptographic technologies for securing digital identities and transactions.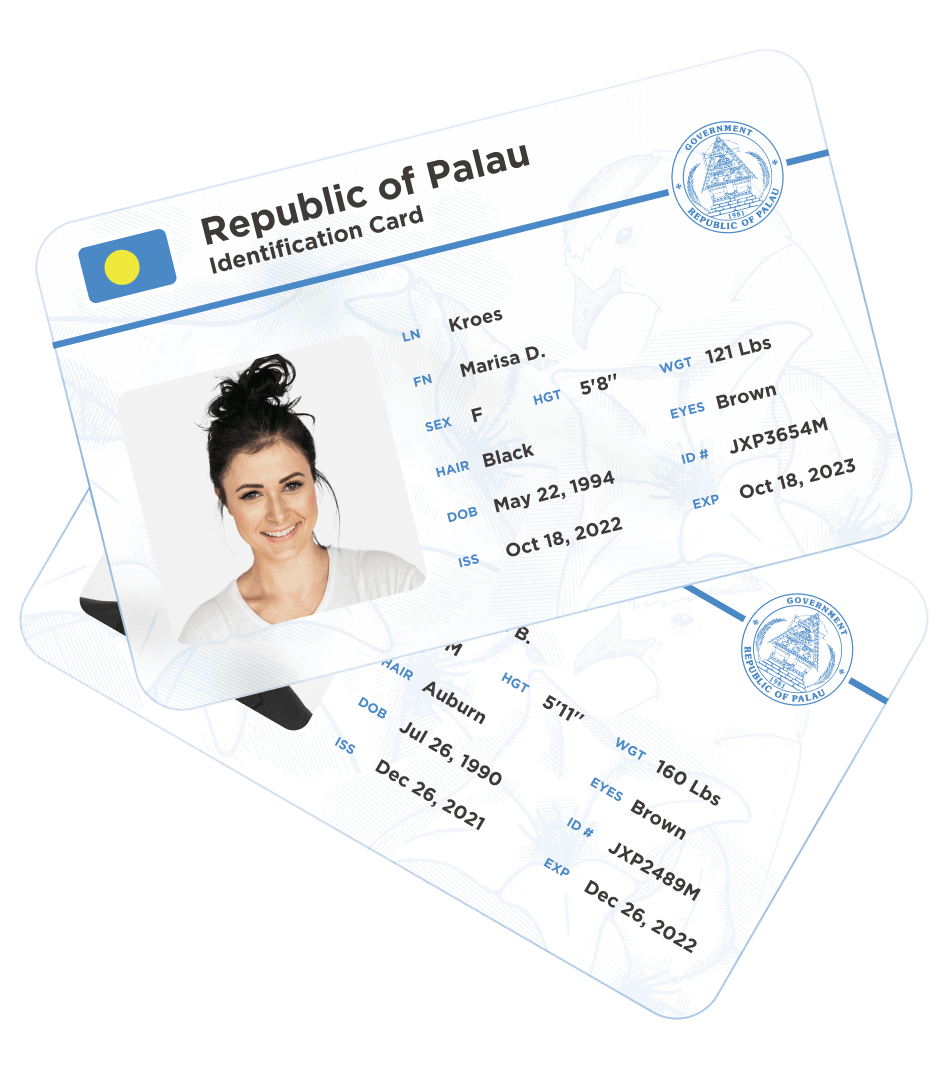 History and motivation
"I believe the Digital ID/Digital Residency Program is a very innovative one; a very symbolic and meaningful one. We are also quite honored to be providing the technology platform, the underlying blockchain technology for that, the BNB chain. I think Cryptic Labs has done a tremendous job and we are very happy to have this partnership to bring this to the next level."

CZ CEO/Founder of Binance
I. The Stifling Effect of Geographic Boundaries on Innovation
In a world witnessing an extraordinary level of interconnectedness, the concept of geographic limitations appears outdated. As global connectivity surges forward relentlessly, the existence of such artificial constraints hampers the thriving potential of innovation and business operations. This obstruction affects various aspects, from executing international monetary transfers to managing multi-national businesses or dealing with the geographic-dependent intricacies of intellectual property rules.
II. The Absence of Sovereign Authenticity in Present Blockchain Solutions
Blockchain solutions have emerged as a viable approach to surpass these fabricated borders. However, these solutions find themselves tethered strictly within the virtual realm, lacking the credibility granted by sovereign and legal institutions.
III. The Deficit of Legal Accountability in Current Blockchain Technology
The paradox of anonymity and transparency is uniquely leveraged by blockchain technology. Yet, its transformative potential is impeded by a lack of legal accountability. For instance, current on-chain identities are inadequate for opening a bank account or undergoing the Know Your Customer (KYC) process. Similarly, they fall short for participatory purposes in democratic elections or securing credit-based loans.
IV. The Role of RNS in Addressing These Challenges
RNS, the pioneer in blockchain-native digital residency platforms, bridges the gap between the privacy and security offered by Web3 identity and the capabilities and legitimacy provided by global sovereignties. With a vision to facilitate a global and borderless world, RNS is dedicated to empowering the future of digital existence on a global scale.
"From the beginning of my term, what we wanted to do was to diversify the economy, to make Palau a financial center. But we discovered that for Palau to become a financial center anytime soon, it would need to have a verifiable sovereign-backed ID."

President Surangel S. Whipps Jr.
Terms and facts
The Root Name System (RNS) is the technology platform supporting the application and issuance of sovereignty-backed digital IDs, such as the Palau ID. It is a system for managing digital identities and related transactions. The world's first sovereign-backed blockchain-native digital identity platform.
RNS ID NFT: RNS ID is digitalized as a Non-Fungible Token (NFT) enabling individuals to self-control their identification settings by selecting various levels of identification disclosure. The RNS ID NFT also gives its users discounts on partner hotels.
Available Solutions: Currently, the Palau ID can be used as legal proof of identity, supported by numerous platforms. The team is working on the legislation required to make Palau addresses and numbers feasible.
RNS Points: Registered users can earn RNS points through various activities, such as minting Voyager Pass NFT, referral, or participating in campaigns. These points can be used for hotel discounts, advancing residency level, and more.
Sovereignty-Backed Identification Card: This refers to a legally valid identification card issued by a sovereign nation, in this case, the Republic of Palau. Both a digital identification on the blockchain and a physical ID card are issued.
Use Cases: The Palau Digital Resident ID can be used anywhere a government-issued ID is required. It is also accepted by many crypto exchanges. It can be used for hotel check-ins with discounts, future trading, opening a business, and buying property.
Taxes: There is a 0% tax from Palau on non-Palauran income for digital residents.
Pricing and Payment: Payment options are diverse, accepting international credit cards, Google Pay, Apple Pay, and several tokens via Web3 wallets. The Palau Digital Residency costs $248 for 1 year, $1039 for 5 years, and $2039 for 10 years of validity.
Citizenship: Digital residency does not support pathways to citizenship or future Palau passports.
Privacy: All documents are end-to-end encrypted with separate private keys.
Eligibility: All nationalities are eligible with the exception of North Korea and Iran.
How to apply for Palau Digital Residency Program?
The process is simple and straightforward. You can submit your application online here.
Photo Requirements
To successfully submit your application, you'll require an ID issued by the government and a square picture for your new ID that is precisely 600×600 pixels or larger (if the image is not proportional, it will not be accepted).
Each photo intended for your ID card should meet the following criteria:
The photo should be in color;
It must be square-shaped, ideally 600*600 pixels or larger;
The photo should have been taken within the past 6 months;
The distance from the bottom of the photo to the chin and the top of the photo to the top of your head should be equal;
Ensure to use a clear image of your face without the application of filters typically used on social media platforms;
Eyeglasses should be removed for your photo;
An unadorned white or off-white backdrop should be used;
A high-resolution photo that is neither blurry, grainy, nor pixelated should be submitted;
Do not alter the photo digitally;
Maintain a neutral facial expression or a natural smile, ensuring both eyes are open;
Ensure your face is fully visible as you face the camera head-on.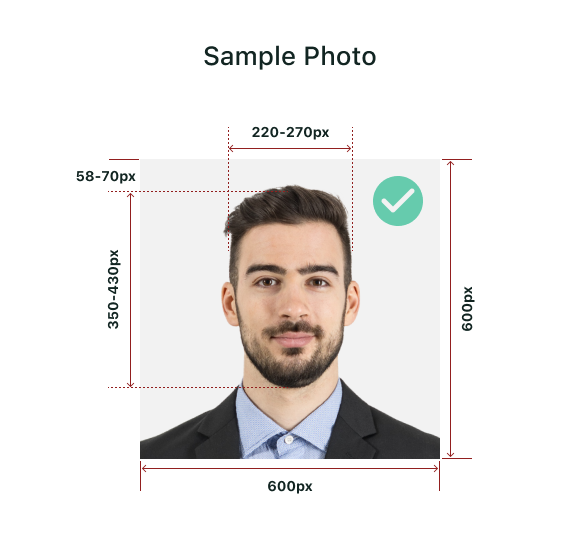 Status of Application
Your application will be subjected to an extensive process during its journey:
Authentication
This phase necessitates the preparation of your identity documents, making sure they meet acceptable standards and are valid. To authenticate your identity in line with government mandates, your provided documents will be scanned and matched, and your device's camera will be utilized for face-matching identification — a process taking around 15 to 20 minutes.
Profile Verification
Once your identity has been authenticated, you'll be able to fill in the details on your Palau ID, which must align with the information in your submitted documents. At this point, you can also specify the address where your Palau ID card will be delivered.
Evaluation
During this stage, your application undergoes a review process involving KYC/AML procedures, a criminal background and sanctions check, and an overall error inspection. The approval process will span over three days.
Final Approval from the Government
Following preliminary scrutiny, the Government of Palau will have the opportunity to examine your application and grant final approval to welcome you as a Palau Digital Resident. Upon successful completion, you will receive a confirmation email.
Production
The approved applications will be moved to the queue for production in the upcoming batch. While waiting in the queue, you are still able to modify your shipping details. The printing and packaging process will be completed within 7 business days. After printing, it is packaged and prepared to be shipped to the mailing address provided.
Dispatch
Once your card is dispatched, you will receive an email notification along with a tracking number. The duration of shipment may vary depending on the destination country. As soon as you receive your ID and the welcome kit, you can start using your ID card immediately.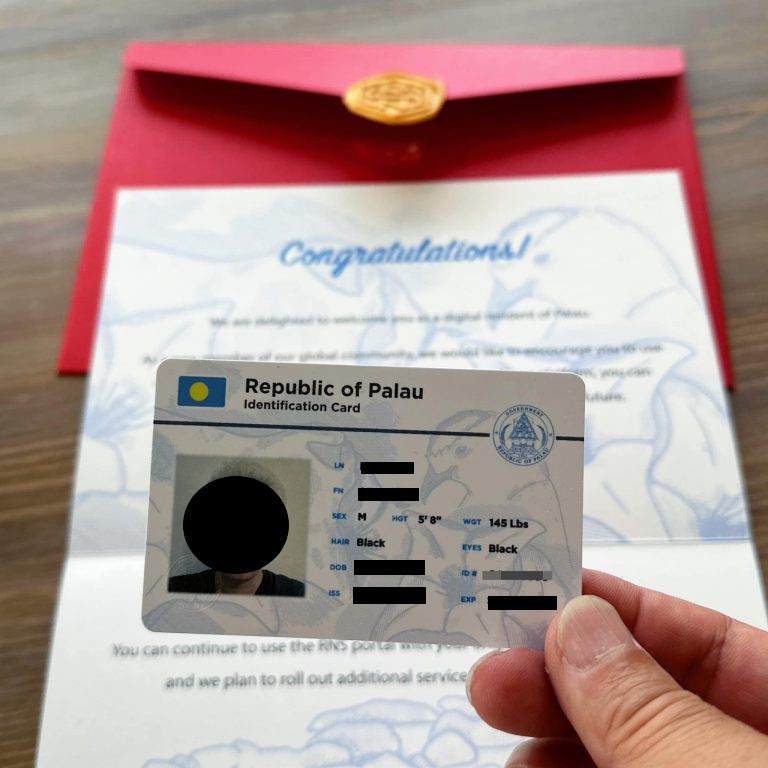 Conclusion
Palau ID is a digital and physical identity card issued by the Republic of Palau. It can be used for a variety of identity verification processes, and for KYC (Know Your Customer) purposes in many institutions.
This kind of digital residency program can have significant implications. It could make it easier for global citizens to do business, access services, or otherwise engage with entities in Palau. At the same time, it could also raise interesting questions and challenges around privacy, security, and regulation of digital transactions and identities.