January 10, 2017
What is an International Driver's License?
The world is becoming more accessible. But if you can fly almost anywhere in the world, then it's better to view the sights of the chosen corner directly; that is, moving around the country. You can do so on foot, but this is not the ideal way for short trips or family travel. It is much better to rent a car in the host country. It is affordable and simple to do, both personally and in advance via the Internet. When choosing a car at a rental company you should always buy auto insurance. Of course, if your driving experience is limited (or there is no information about it), then you will not be able to save on the cost of insurance. However, sometimes it is pretty difficult to prove your driving experience, which is specified on your national driving license, because of language barriers. For example, if you have a Chinese driving license, it will be almost impossible to be read by an American rental manager. What's next? Even if a person is already driving, no one is insured from various surprises. Therefore, in case of an accident it will be necessary to explain to the traffic police and other officials while paying a fine. You will have to indicate many personal and driving details (which means language difficulties can arise again). All these problems can be avoided if you have an International Driver's License.
What is an international driving permit?
So first let's take a look what an International Driver's License (IDL), or international driving permit, is. This license is a booklet with a photograph of the driver, his/her home address, and personal data, and all this information is presented in several languages. In addition to the booklet, there is also a plastic card with digital data on its magnetic stripe. The card is also protected by lamination. The presentation of information in the most common languages will help the driver feel confident in any country in the world, as it will save him/her from looking for an interpreter or certifying the information provided on the national driving license. The translation can be certified only in the territory of the state where a person is going to drive a car. However, problems with finding a notary may arise in an unfamiliar country, especially if the stay abroad is limited. Therefore, it is impossible to consider this option as the main one. In addition, the national driver's license usually does not specify a home address.
The legal basis of the IDL
There are two documents that present the legal basis for international driving — the Vienna Convention on Road Traffic, which was signed by a number of countries in 1968, and the 1949 Geneva Convention.
The Vienna Convention was adopted by 68 states:
Austria
Bahamas
Bahrain
Belarus
Belgium
Bulgaria
Bosnia
Brazil
Canada
Chile
China
Colombia
Czech Republic
Denmark
Ecuador
France
Georgia
Germany
Hungary
Spain
Italy
Kazakhstan
Costa Rica
Côte d'Ivoire
Cuba
Kuwait
Latvia
Lithuania
Luxembourg
Macedonia
Morocco
Mexico
Monaco
Niger
Norway
Pakistan
Poland
Portugal
Republic of Korea
Republic of Moldova
Russian Federation
Romania
San Marino
Seychelles
Senegal
Slovakia
Slovenia
Tajikistan
Thailand
Turkmenistan
Uzbekistan
Ukraine
Uruguay
Philippines
Finland
France
Croatia
CAR
Czech Republic
Chile
Sweden
Ecuador
Estonia
South Africa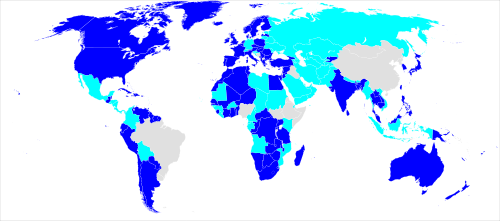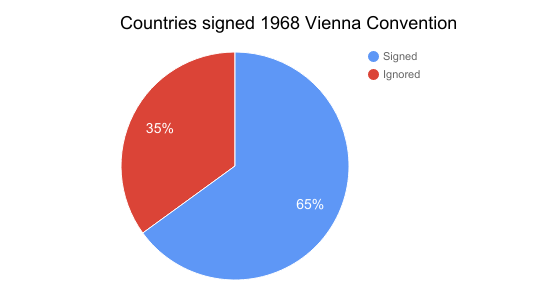 It should be noted that you should have no problems driving a car in these countries, unlike countries not included in the list. In practice, most offices of car rental companies require an International Driver's License, even if the driver shows a printed copy of the Vienna Convention to the rental manager.
There is a list of countries where the IDP is mandatory (the states in which the Geneva Convention was adopted):
Albania
Algeria
Andorra
Argentina
Bangladesh
Belize
Benin
Botswana
Vatican
Haiti
Gambia
Guatemala
Gibraltar
Hong Kong
Grenada
Dominican Republic
Egypt
Western Samoa
India
Jordan
Ireland
Iceland
Cambodia
Canada
Cyprus
Kyrgyzstan
China
Congo
Laos
Lesotho
Lebanon
Mali
Mauritania
Madagascar
Malawi
Malaysia
Mali
New Zealand
Namibia
New Caledonia
Papua New Guinea
Paraguay
Peru
Rwanda
St. Lucia
Swaziland
Saint Vincent and the Grenadines
Singapore
Syria
USA
Sierra Leone
Taiwan
Tanzania
Togo
Trinidad and Tobago
Tunisia
Turkey
Uganda
Fiji
French Polynesia
Jamaica
Japan
This means that an international drive'r document is needed in addition to the national driver's license. In its essence, it is a translation of the national driver's license into the main languages of the world:
English;

Russian;

Spanish;

French.
However, the list of languages could be longer, which is better.
The IDL is not a stand alone document
Drivers should take into account that the IDL is recognized as valid only if a national driver's license is also present. An international license has listed the number of the domestic one. When traveling abroad, you must have both licenses.
The new International Driver's License (starting in 2011) is a book of A6 format, filled by hand or by using a printing device. Records of documents are entered only in Latin letters and Arabic numerals. The front side of the document indicates the date of issue and the period of validity of the license, the name of the body that issued the document, and country in which the document was issued. In addition, the series and numbers of the national driver's license is written or printed on the front page. If the driver has restrictions, then these are put on the second sheet. The third sheet indicates the driver's data: first and last name, date of birth, place of birth, and place of residence or registration.
All categories necessary for driving must be marked with an oval seal; other categories are crossed out.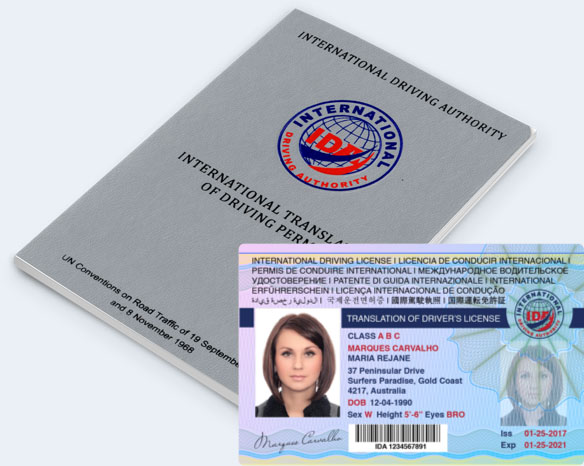 How to get IDL?
You can easily apply online. It is much easier than to get a regular domestic license. Requirements are simple and price is affordable. IDL will not cost you a fortune, while it will help you abroad to get such services as a car rental, registration and car insurance. Obtaining IDL is fast due to easy online application and express delivery services.
What if you don't have an IDL?
There are consequences for not having an IDL for the driver:
1. If there is no driver's license of an international standard, the driver may be denied the right to cross the border.
2. When renting a car abroad, staff may refuse to serve you.
3. If you drive abroad in Europe without an IDL and authorities of the country receive confirmed information of this, you can be fined up to 400 euros. If there is a significant violation of the rules, it is likely the driver could go to jail.
4. In the case of an accident, insurance companies may refuse to recognize the driver as the insured if they do not have an IDL.
In any case, first you should carefully study the local traffic rules. In many cases, foreign drivers have been fined abroad just because they did not know the local requirements and driving rules of the country in which they were driving.
Summary
Automobile tourism is developing rapidly. International Driver's Licenses are in demand today in many countries in the world. When traveling abroad, it is necessary to have a document that is relevant to the national driver's license and understandable in the conditions of the specific country.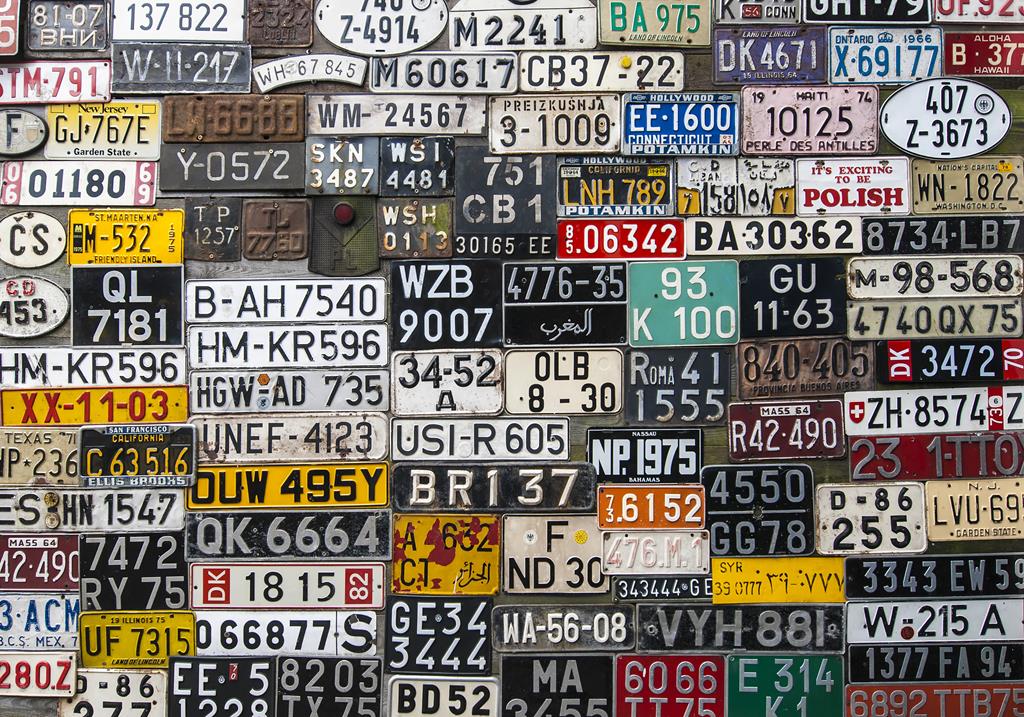 Various retro License Plates on the wall.
Plus having an IDL makes it easy to rent a car, as the insurance will become more affordable.