July 01, 2019
Tow hitch: pitfalls
A tow hitch is a special coupling attachment or fastening for a trailer. In simple words, this is the "hook" that the trailer is attached to. Most newbies think that this hook is a tow hitch, despite the fact that it's only one of the trailer hitch construction elements. Tow hitches are different from each other structurally, and this classification is sometimes the basis for restrictions on car registration. Let's figure out in what cases the latter can happen.
Typology of car tow hitches
Removable and non-removable, for a truck or for a car, factory and home-made tow hitches – they all differ depending on the basis of classification. And there are three such basis:
1) design features;
2) types of a hook's fixation to a platform;
3) class of load index.
Let's characterize tow hitches on the basis of their typology. And let's start with the last factor – class.
Class of tow hitch load index
There are three main classes of towing devices. A mid-size passenger car weighs up to 1.5 tons. According to the rules, the mass of the loaded trailer can not be greater than the mass of the car. Therefore, a small hitch can withstand a trailer weight of up to 1.5 tons.
A middle class of tow hitches is designed for a trailer weight of 2.5 tons. This class is more suitable for SUVs, crossovers, as well as minivans and station wagons.
A full frame SUV, a minibus can carry a trailer weighing up to 3.5 tons. Therefore, such a vehicle requires a big class hitch.
Typology of a tow hitch's fixation to a platform
Tow hitches must be securely attached to the car platform. Such a fixation can be removable, conditionally removable or non-removable: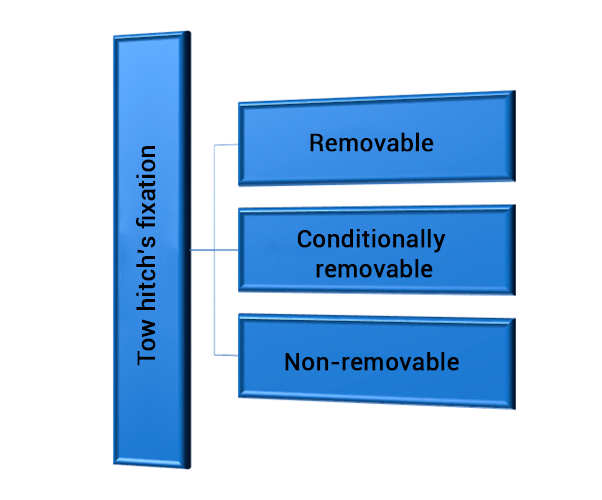 A fixture, which is called removable, is a hook that is attached to the platform with a special closing device. Installation and dismantle of this hitch are extremely quick and simple.
If the hook is attached to the platform by bolting, it is called a conditionally removable tow hitch. Such a fixation is no less reliable with posing the right question. In addition, if necessary, you can remove the hook and carry it in the trunk or leave at home.
A non-removable tow hitch is a type of fixation, which is the fixed connection of a hook with a platform by means of a weld. It is considered the simplest and at the same time the most reliable connection. The disadvantage is that there is no possibility to disconnect the hook.
Design features of tow hitches
Tow hitches can have fastening platforms of parts that are usually bolted together or welded. As for the fixing of platform itself, it is always bolted. The fixing of the hook itself can be both bolted and welded. Often, there are removable hook options or those that can be easily transformed into an operating position.
Welded fastening platform structures are considered more convenient and reliable, because the car owner only needs to monitor the platform fixture. However, you should remember that a metal is aging, corrosion does its thing, and even welds can destruct.
Bolted connections require constant monitoring of bolts' condition, but even if the bolt breaks or rusts, you can always replace it with another, after which you can safely continue operating the tow hitch.
Types of tow balls
"A" ball type on two bolts (conditionally removable) – when the hook of the tow hitch is fixed with two bolts. If necessary, you can remove the hook by unscrewing the bolts. Tow hitches with "A" ball type are the most common option.
"F" ("FC") ball type – flanged forged or cast on two bolts. If there are four holes in the tow hitch beam, it can be adjusted in height in relation to the beam.
"G" ball type – flanged forged or cast on four bolts.
"H" ball type – welded ball. Completely non-removable design. The ball (hook) is welded to the tow hitch beam.
"N" ball type – universal (combined) with four holes. Available in three variants, that differ in center-to-center distances and the diameter of mounting holes. They are available in "hook" and "hook + ball" options.
"B" ball type is a removable hook fixed by a central nut and manually separated from the tow hitch beam. This design was an intermediate solution connected with removable tow hitches and is practically not produced nowadays.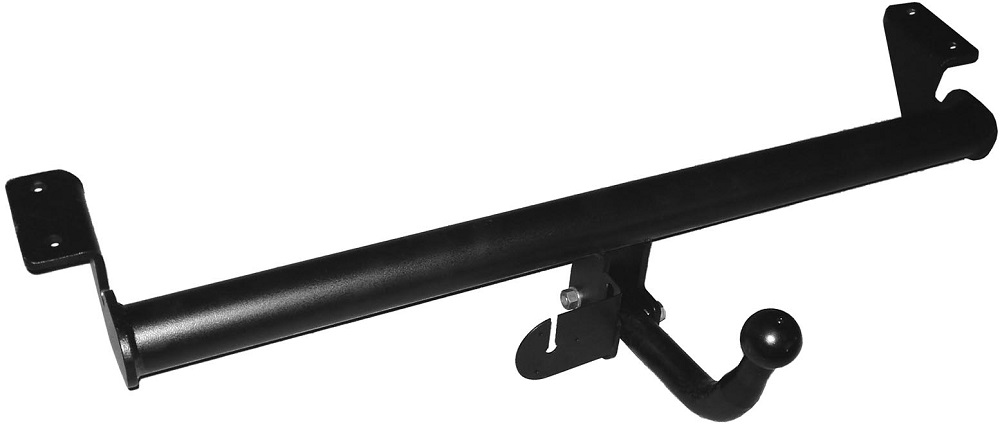 "C" ("BMA", "BMC") ball type is vertically or horizontally removable. With a slight movement of the hand, the removable hook is installed when the time comes and removed with the same ease when useless. It is widespread in Europe, as driving with a tow hitch without a trailer is either prohibited or not recommended in Western countries. The transverse fixation shaft is made with a shifted center (eccentric) or in the form of a truncated cone. The removable hook is protected by a lock to prevent a theft.
"E" ball type is a removable hook. It is typical for all American cars. It's used as an insert in the adapter bracket for a square hole with a size of 30×30 mm or 50×50 mm for American tow hitch.
There are also luxury tow hitches – when it is decorated with polished stainless steel plates supplemented by an embossed car model name. Usually, expensive SUVs have such towhitches.
Things to take into account when choosing a tow hitch
Drivers who expect to use the tow hitch from time to time don't need to purchase non-removable construction. Indeed, in the latter case, the hitch is constantly exposed to moisture and road reagents. Therefore, quick-removable (or conditionally-removable) connections will be an ideal option, although they will cost more. And in the case of constant use of a car with a trailer, a hitch with a non-removable construction will be safer.
Also consider the weight of your vehicle and the approximate weight of the trailer you are going to use. Don't forget about checking a complete set of the tow hitch when purchasing it, a warranty card, instructions for installation and operation.
Finally, you shouldn't forget that a hand-made or low-quality hitch can lead to an accident with very serious consequences. That is why road services may refuse to register cars with non-factory tow hitches.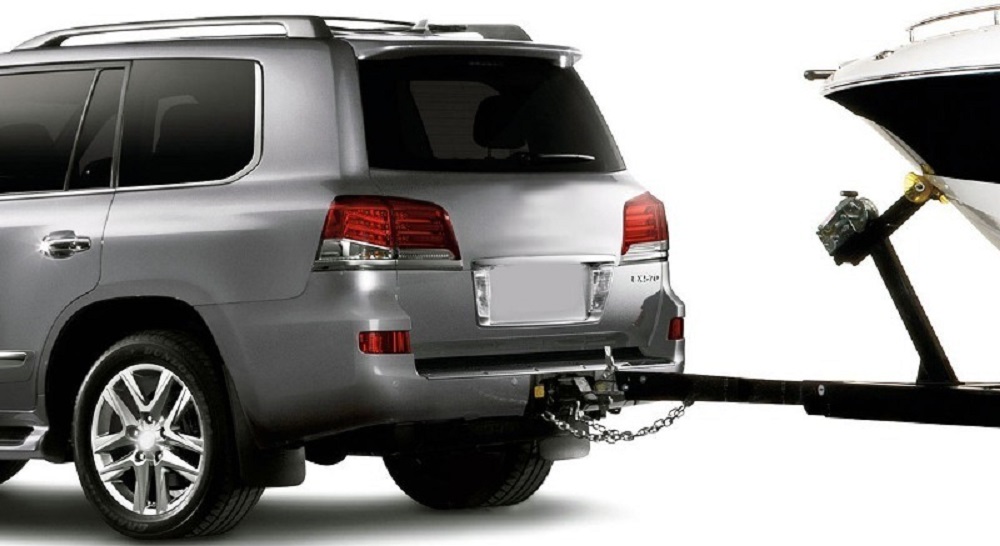 We wish you many years of trouble-free driving with or without a trailer. Also don't forget to take an international driver's license for the road, and if you still don't have one, we invite you to process it quickly and easily on our website.