October 27, 2017
Heat stroke in a car: how to give first aid
Heat stroke and its main causes
Heat stroke is a type of illness that occurs because of excessive sun exposure. In plain words, heat stroke is when your body overheats.
As a result, your body can't maintain normal temperature, because of increasing heat generation process with simultaneous heat elimination, which results in severe disturbance of its life functions.
Heat stroke is especially dangerous for those who suffer from heart diseases.
Everything that influences sweat production and prevents its evaporation contributes to body overheating.
Moreover, causes of heat stroke may include also:
high temperature and humidity;

high temperature indoors or in rooms with inadequate ventilation;

physical activity that requires wearing leather, rubber or synthetic clothes under high environmental temperature;

exhaustion;

dehydration;

big meal;

long walks in hot weather.
Heat stroke is easier to get than the sunstroke, since in this case the sun is not a must. All you need is to work hard in too warm or poorly ventilated clothes or spend several hours in a sweltering, poorly ventilated room.
What are the dangers of getting heat stroke in a trip on the road?
Heat stroke in a car has the same symptoms as under any other circumstances. These are the symptoms:
skin redness;

dyspnea;

cold sweat;

faint;

nausea and vomiting;

high temperature (up to 39-41°C);

dizziness, darkening of vision, visual hallucinations (blinking, a feeling that foreign objects move right before your eyes, a feeling that something is crawling right before your eyes);

pupil dilatation;

severe headache;

rapid and weak pulse;

skin is getting warmer and drier;

muscle spasm and ache;

rapid breathing.
Needless to say how dangerous these symptoms can be for everyone, especially for a driver. What if the passenger is a small child or an elderly person? That's why you should take care of your passengers and if they feel uncomfortable, do your best not to worsen their health condition.
What to do prior to the arrival of the doctor if somebody has already developed heat stroke?
First stop the car (in a shady place, if possible). Help the patient to leave the car and put him on the horizontal surface. Wipe his face with warm water, give him plenty of water to drink (first aid) and call the doctor. The latter is crucial, since an ordinary person usually finds it hard to assess severity of patient's condition.
Follow these instructions in case of heat stroke:
Move the patient in a shady or cool place with adequate ventilation and humidity (the space should be open and far from the crowded public areas) and far from direct sunlight. Fan the patient.

Put the patient on his back with his head and feet elevated. Put something soft under his head (e.g. a bag).
Note. If the patient is vomiting, position him in such a way to avoid choking on his own vomit. If he had vomiting, expose his airways of vomit.
Take off the patient's clothes (in particular, those that come down on his neck and chest, take off his trouser belt. If the patient is wearing synthetic clothes or clothes of dense texture, it is better to take it off too).

Wrap the patient's body in a wet bed sheet and spray it with cold water. Wet his face with cold water. You can also wet any cloth with cold water and tap the patient on his chest (you may also pour water that is about 20°C over his whole body or, if possible, help him to take a cool-water bath (18-20°C)).

Give the patient plenty of cool water to drink (preferably, mineral) with sugar and salt on the tip of teaspoon, or at least cool water. Valerian tincture is also quite effective: 20 drops per one-third cup of water will be enough. If the physical condition of the patient permits it, give him strong tea or coffee.

Put a cold compress (or a bottle of cold water, pieces of ice) on the patient's head (forehead and under his neck).
Heat stroke prevention in a trip on the road
If your air conditioner works properly, it will be the best way to prevent both the driver and the passengers from getting heat stroke. Make sure your air conditioner is fully operational before you go on the road, especially in warm season.
Furthermore, we recommend you to dress for the weather. Synthetic fabrics do not let your skin "breathe". Thus, heat exchange between the human body and the environment is becoming more and more difficult. We recommend you to pack only clothes made of natural fabrics.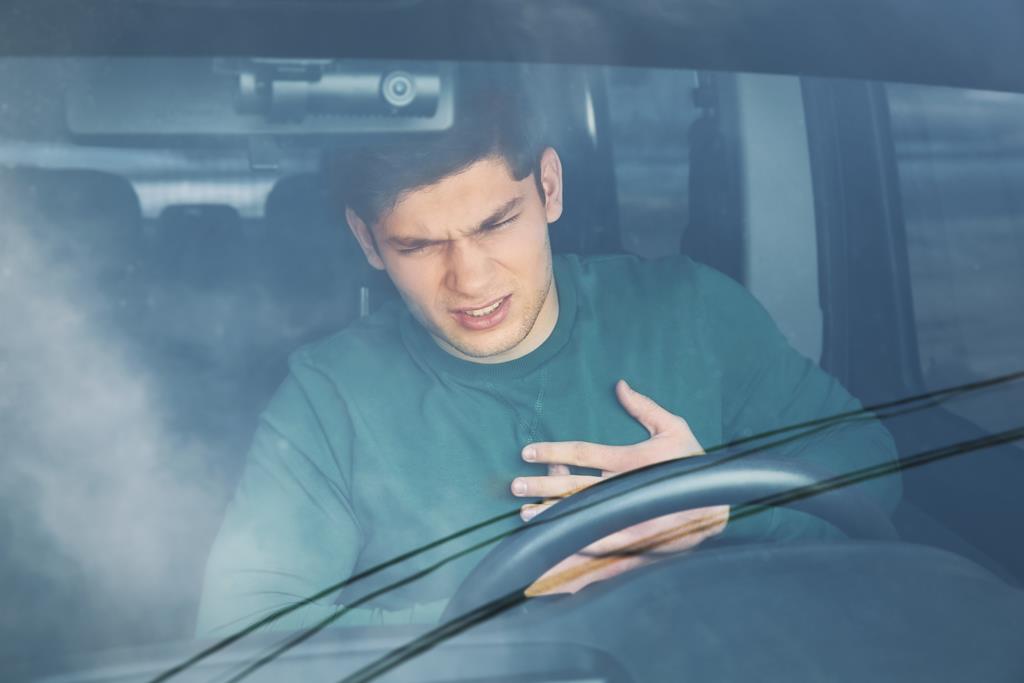 Try to prevent dehydration. The latter quickly provokes heat stroke. In this case, the symptoms will be more severe. Therefore, make sure you always have enough water to drink.
Relax for half an hour after a big lunch. Let your body recover. If a driver is exhausted, it will be even more difficult for him to drive in the heat.
Take care of yourself not only when it is cold outside. In summer health problems occur no less frequently if not to take into account seasonal characteristics. We wish you to stay healthy and don't forget to take your International Driving Permit! It helps you to save time when planning a good rest during the whole trip.