June 14, 2019
Traffic rules in Portugal
If you are going to see one of the most amazing European countries, the cradle of seafarers, located on the Atlantic coast, in the south-west of the Iberian Peninsula, a rental car will be very useful. The country has an excellent road network (in 2015, it was named the best in Europe!) and a developed car rental industry. At the same time, it is foolish to miss the opportunity to visit the sights, regardless of travel agencies' schedules, with an individual program. Let's see what subtleties of the road traffic in Portugal should be considered when driving around the country, and how to avoid various problems connected with car driving.
Portuguese driving style
Ordinary Portuguese don't seek to violate the traffic rules every minute. However, they are also behindhand in care, that put the country to the first place in Europe in the number of road accidents. Driving style of the inhabitants can rather be called eccentric, if not aggressive. During the holidays, many get behind the wheel under the influence, after drinking a bottle (or even two) of Portuguese wine. Of course, the Portuguese police know all these local features and ruthlessly suppress various violations themselves or with the help of video recording of disgraces on the roads. However, the number of accidents doesn't decrease. Therefore, it's not worth saving on insurance when renting a car. Take full one – it will pay off.
To pay or not to pay: Portuguese tolls
Motorways in Portugal have a length of about three thousand kilometers. Highways, as a rule, are toll and belong to private individuals. Payment methods are different – in cash, with bank cards and vignettes. Some toll roads have only "Toll" collection points, so buying or renting a transponder is mandatory. It is also possible to pay tolls only with a credit card, linking the car's registration number to it. This can be done at gas stations. Card registration costs 60 cents plus VAT – value added tax. Also, with such a payment system (EASYtoll), a fee of 26 cents plus VAT will be charged for each toll paid, and charges will be automatically written off from the specified account.
If there are a lot of toll roads along the chosen route, you can rent a transponder or Via Verde vignette for 6 euros plus VAT and pay a weekly fee in the amount of 1.5 euros for using the device. Also, you will have to make a deposit of 27.5 euros. The electronic device will be attached to the windshield of the rented car and automatically register the driver in the toll payment system.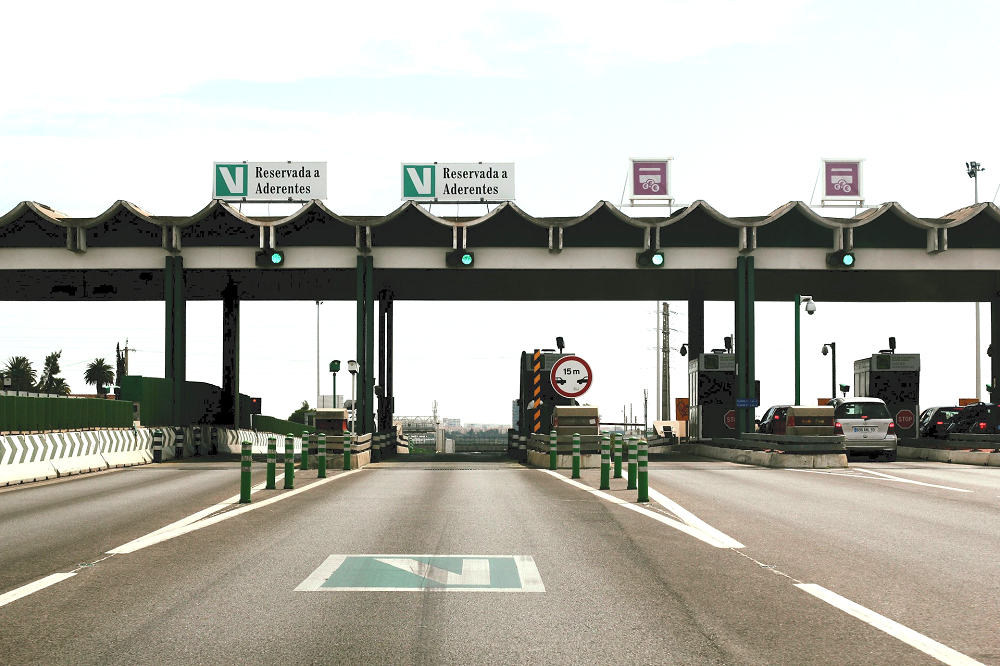 Basic requirements for drivers
In Portugal, people drive on the right side of the road (there is a right-hand traffic in the country). A driver is prohibited from using a mobile phone while driving a car — only with a headset that frees hands. All passengers and driver must wear seat belts unquestioningly. In new cars (and in those that are taken in rental companies), there is a gadget that doesn't allow the engine to start until the driver is fastened. It is also illegal to use headphones for listening to audio while driving. A child under 12 years old won't be allowed to sit in front until he grows to one and a half meters. Children under the age of seven can't be transported on motorcycles. The driver must move through the tunnel with headlights on. The one who is registered in automatic payment systems can use special green lanes of motorways. Other drivers should avoid moving on green lanes. If there is a free lane on the right, it's not permitted to use it for overtaking the front vehicle (do it only on the left). The car renter must have an insurance of civil liability for causing harm to third parties, as evidenced by the insurance sticker on the windshield of the rental car. In addition to this sticker, you must have a driver's license, a receipt for a road tax payment, car registration documents and a rental agreement, as well as an IPO certificate and DUA All-in-One (Documento Unico Automovel). A driver of any car should always have an emergency stop sign (a warning triangle) and a reflective jacket.
For what a car driver in Portugal can be fined
Penalties in Portugal are quite tangible in material terms. So, for exceeding the permissible level of blood alcohol content, which is 0.49 g/l, you can get a fine of 1,250 euros, as well as will be deprived of your national or international driving license for up to one year. If the excess turns out to be significant, the amount of the fine will be doubled, and the driver himself can get a long ban on driving a car or imprisonment, depending on the degree of intoxication. Although even the latter doesn't really scare Portuguese – there is a total drunk driving on the roads on holidays. Too nimble drivers also don't lag behind: speeding is punished on a sliding scale. Penalties for violation of the speed limit in Portugal range from 300 euros to 2,500 euros.
Speed limits in the country are set in accordance with the character of the area within which the car moves: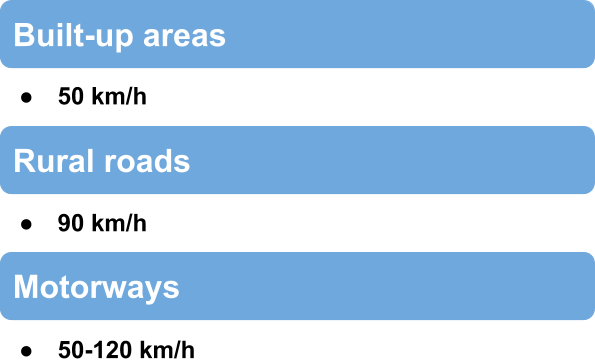 Thus, it is impossible to drive on motorways at a speed of less than 50 km/h – a fine will also be imposed. So it's better to observe the speed limit in Portugal – this will help you to avoid many troubles and won't affect the contents of your wallet.
Parking rules
Each Portuguese region has its own car parking rules, but there are also regulations common to the whole country. So, you can't stop and even more so to park at the white and blue sign with a red line on it. If there are yellow or red signs on the roadside, parking is prohibited. If there is less than five meters before the intersection, you also can't park. A similar prohibition is in the area less than 5 meters after the bus stop and 25 meters before it. As for the tram stops, the limit is 6 m here. Sometimes it is forbidden to park vehicles within a certain time interval (in the daytime). As a rule, restrictions on parking exist only in large cities (that are also tourist centers).
We wish you a pleasant journey on Portuguese motorways, but don't forget to take an international driver's license with you, and if you still don't have one, we invite you to quickly and easily process it on our website.