July 09, 2018
The world's most beautiful cars
There are cars to die for. They are as eye-catching as a pedigreed horse at the races. The boldest take selfies in front of these cars. However, not only men admire the beauties of the cars.    
Of course, tastes differ…nevertheless, we will try to describe the most beautiful cars in the world and their features. However, in this article we are not going to talk about the beautiful and rare cars.
Aston Martin CC 100 — a miracle of today's automotive industry
Aston Martin CC 100 is one of the most unique work of humankind, which millions of drivers around the world admire. This is a true masterpiece. The car has a classic two-seat Speedster configuration and combines traditional style with the state-of-the-art technologies. It is equipped with 6-litre engine that provides 517 horsepower and a maximum speed of 290 km/h. A combination of naturally aspirated V12 engine with six-speed robotic gearbox helps CC 100 to go from 0 to 100 in 4 seconds. To shift gears, use paddle shifters.
This speedster is being advertised as a top model with futuristic exterior. This car was developed as part of Aston Martin's centennial anniversary celebration. The length of CC 100 is almost 4.5 metres. The width of the car is more than 2 meters (including the mirrors).
The interior of the car looks like a combination of indicators in the form of display and metallic switches straight out of the 50's sports cars dashboards. The body and interior are full of carbon decorations. The body is made of top-quality carbon fibre.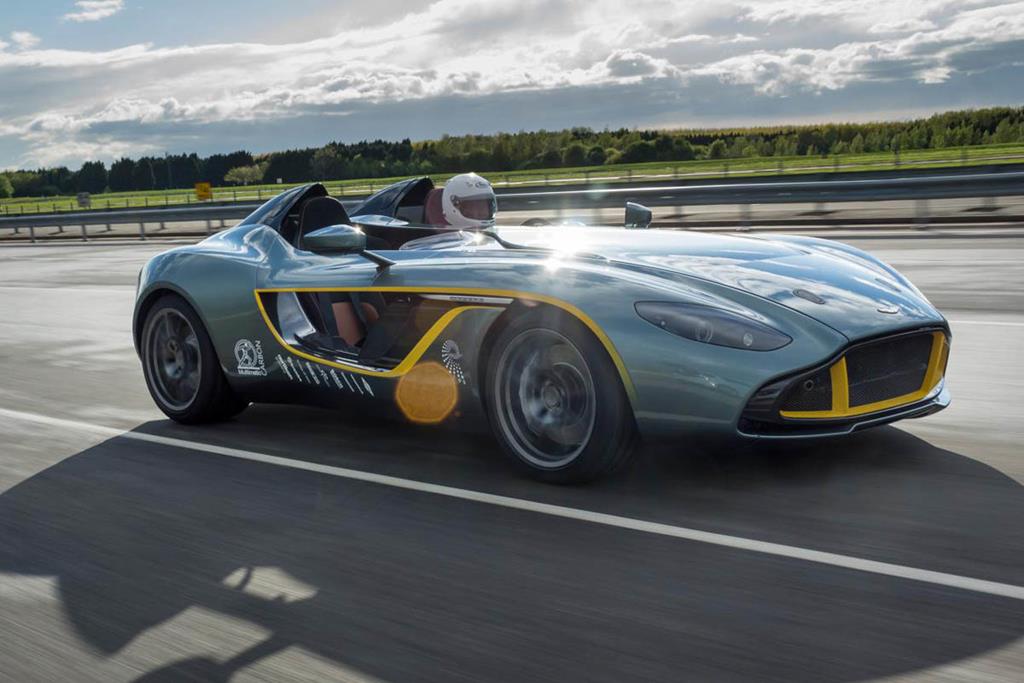 Peugeot Onyx —  a precious stone
This car will make your skin crawl. French designers did not push the boat out to consult the jewellers, and now this is one of the eye candies of automobile industry. Its body panels are made of carbon with built-in copper side elements. This is complemented by aluminium finishing. The diesel turbo engine provides 600 horsepower. The interior is luxuriously appointed in matted wool. Onyx accelerates to 160 km/h and more thanks to V8 diesel 908 Le Mans 3.7-litre engine. The monocoque structure became lighter due to carbon (12 parts weigh only 100 kg) while copper counterbalanced it. The copper is not coated and in theory, it should get old when copper oxidizes and becomes covered with green patina. The dashboard of Peugeot Onyx is made of compressed scrap paper. By the way, its texture feels like wood. The windscreen is made of high-tech polymethylmethacrylate.
Peugeot Onyx does not look realistic, however, it is rather fancy. That's a sound  concept car: it looks stunning and goes well. That's what Peugeot needs — reality and perspective.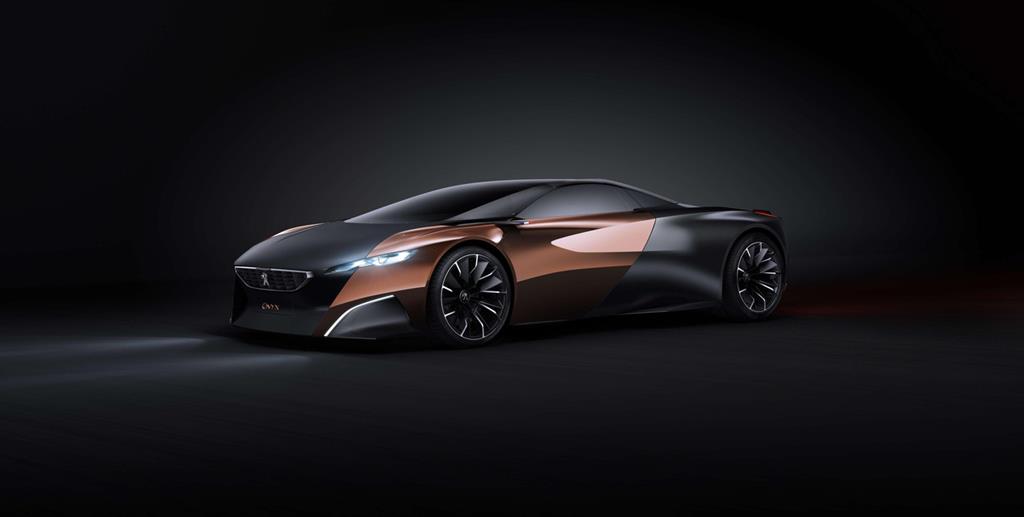 McLaren P1 — a unique hypercar
McLaren P1 is a British hypercar with aerodynamic exterior that weighs about 1.4 tons. Its hybrid 3.8-litre engine (unique power unit consisting of electric motor and petrol engine) goes from 0 to 200 in less than 7 seconds. The car is fitted with eight-cylinder twin-turbo engine. However, not only the engine power and design are the objects of admiration but also the incredible cost of this car — about €1 million. The world will see only 375 McLaren P1 cars.
Composite materials make the structure of the hypercar extremely rigid and robust. The mass of carbon chassis is 100 kg. Thus, the gross weight of the car is 1,400 kg (one quarter for the transmission and engine). The monocoque structure of the body is based on carbon space structure. The car has rear mid-engine. The aero parts include the front bumper with a fine lip, side skirts and rear bumper with a developed diffuser of intricate shape as well as an active antiwing. The latter is adjusted by the on-board computer that automatically changes the angle of incidence and altitude. Thus, the drag coefficient can be easily changed if necessary by 25%, and, thus, the downforce significantly increases or decreases.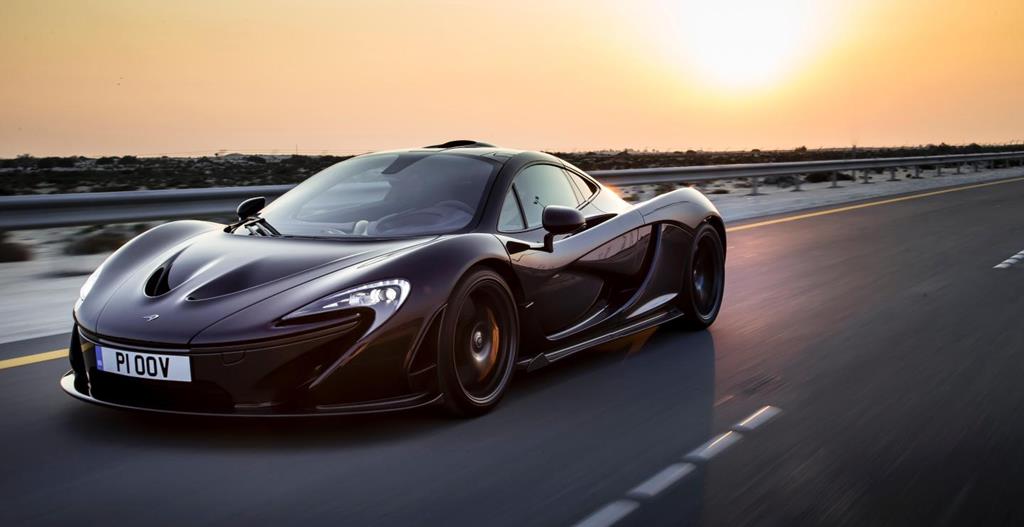 The interior has nothing extra — no mouldings, marking plates, sound insulation, i.e. it is minimalistic. Inside everything is made of carbon except for racing seats. They are covered with alcantara on titanium frame. There are no dials on the dashboard — only three plasma displays where all necessary information is shown.     
There is also no seat (driver's and passenger's) adjustment since all parameters are set during purchase at the plant. That's why McLaren P1 is a one-man car.
Lamborghini Aventador Roadster — an earthly alien
Lamborghini Aventador Roadster is based on space technologies and made of carbon fibre composite. It goes from 0 to 100 in 3 seconds and has a maximum speed of 350 km/h. A 6.5-litre engine provides 700 horsepower (V12 is a real wonder). It is fitted with robotic seven-speed ISR gearbox, four wheel drive with Haldex coupling of the 4th generation. There are also available an independent suspension with double wishbone architecture fore and aft, Magneto Rheological Suspension adaptive absorbers, Lamborghini Dynamic Steering power steering and carbon-ceramics brakes.
The unladen mass of Italian supercar convertible version (by the way, the top of it consists of two carbon-fibre parts weighing less than 6 kilos and can be easily hidden in the trunk) is 1,575 kg. At speed 130 km/h you can talk on the phone without any inconveniences. Aventador is undoubtedly awesome: this is a modern design masterpiece.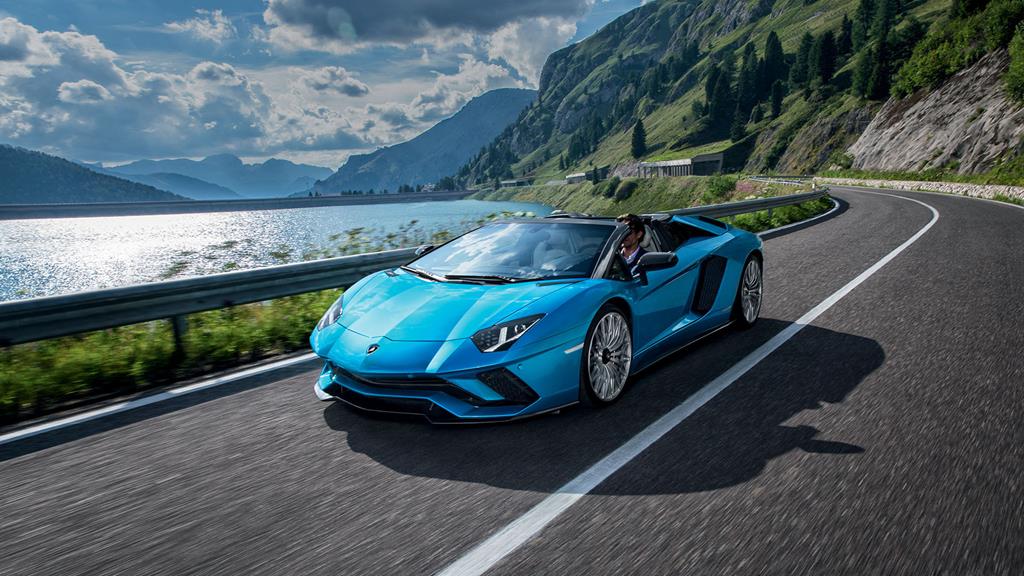 This Italian car is famous for its thoroughbred beauty. All cars are sold upon request. With or without a roof this roadster is much more beautiful than a coupe! The interior is stunning as always — all these frills, a starter push under the sunshine roof, dashes "drawn" on a TFT display, broad leather sheets, are of high quality, and it is always comfortable to sit in this car.
Aston Martin Rapide — a luxury model
Aston Martin Rapide dominates the news of the world's famous editions for car enthusiasts. This four-door sports sedan of British origin is fitted with a 6-litre V12 engine that provides 477 horsepower. Aston Martin Rapide is made of materials produced for space industry. The distinguishing feature is that the production is based on glueing rather than welding. Thank to it the engineers managed to reduce the weight of this car to 1,950 kg. Aston Martin Rapide S has carbon driveshaft as well as a limited-slip differential under its belt.
A new version of Rapide S is available with new power increased to 558 horsepower. The maximum speed is 305 km/h with zero to hundred in 4.9 seconds. However, Aston Martin Rapide is sold at a reasonable price — $197,000. "Q by Aston Martin" customization service is available for clients. It enables the clients to choose almost any material and colour for the interior.
This is a perfect car for travelling together at long distances. That's what it is made for. Those sitting in the back will find all necessary conveniences including separate climate-control, ventilated seats (real sports seats!), monitors. The interior includes wood covered with black piano lacquer while the seats are covered with perforated leather. One-touch down feature allows you to recline split back seats, thus, increasing the trunk volume by three times.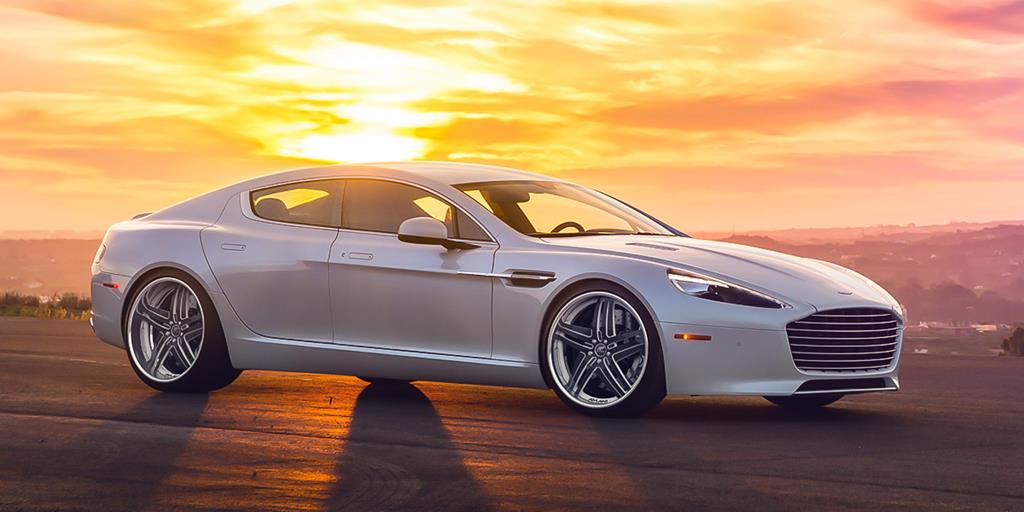 In 2018, the car will be taken out of production. Instead of it, new models such as  DBX, Lagonda, and electric car will hit the market.    
SSC Tuatara — an alien from autospace
SSC Tuatara is an American supercar from Shelby Super Cars has an extraordinary exterior, however, that's not the best asset. Technical data are also quite impressive — it goes from 0 to 100  in 2.5 sec and reaches the maximum of 400 km/h. This American beauty combines two classical colours — black is the colour of road and strictness while the white colour symbolizes purity. This masterpiece was introduced to the world in 2011 and immediately became popular with those who value speed and luxury.
This car was named after reptiles from New Zealand that change their DNA sequence extremely quickly. The car is fitted with ultralight carbon wheels (5.8 kg each) and unique carbon-ceramics brakes. Light-weight V-shaped eight-cylinder engine SSC Tuatara coupled with two turbines produces 1,350 horsepower at 6,800 rpm and weighs only 194 kg. You can choose between a seven-speed manual H-Pattern transmission and 7-speed SMG sequential robotic gearbox with triple clutch plate. Moreover, this car is fitted with traction control system and ABS.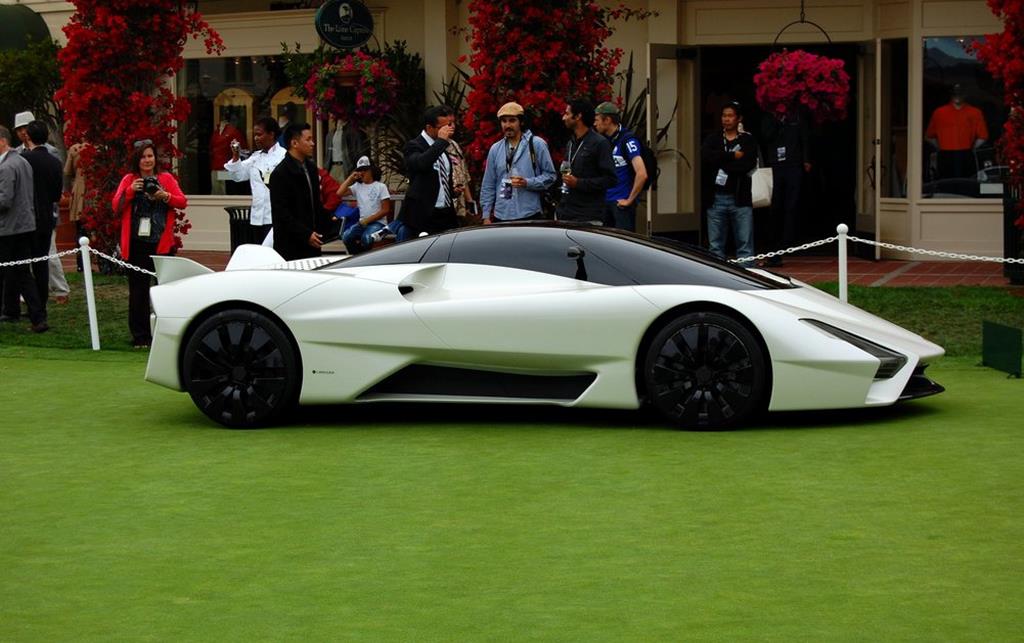 Bugatti Veyron Super Sport — an iron lady
This car was born in 2010. Bugatti Veyron Super Sport is said to be the fastest stock car. It is the most famous sports car which is well-known all over the world. Today it satisfies the eyes with orange panels on the black body. The contrast of brilliance and elegance was declared as design solution. The aerodynamics of the car is carefully constructed. The car has smooth sculptured shapes, narrow halogen headlamps as well as two large air intake ducts that cool the front brakes. There is a high rack with chrome-plated surround. From the back side of the car one can see  its high-blown wheel arches. There is also one more air intake duct from the back side of the car that leads the air to the engine compartment. You can see a round fuel tank cap made of polished aluminium.
The rear side of the car has four round lamps, and under them there are racks which remove hot air from the engine. A little bit lower there is a diffuser and a large square exhaust system outlet. The upper side has a retractable spoiler with the engine compartment that has two air intake ducts on each side. They take the air from the top.
Only top-quality materials are used in interior of Bugatti Veyron. These are leather, alcantara and chrome inserts, however, a buyer can choose both the material and colour. There are also terrific seats with side bolster which help to hold both the driver and his passengers on the corners. These are the electrically operated seats with an option to adjust them according to one's preferences.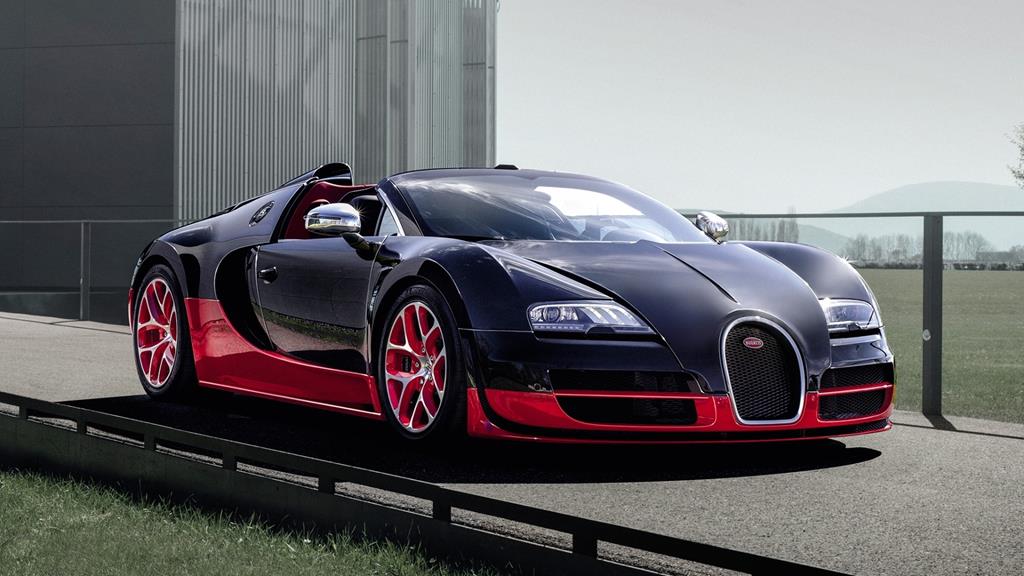 Bugatti Veyron Super Sport is fitted with a turbocharged engine that has four turbines. This is W16 which means 16 cylinders with W-shaped distribution.
This car is fitted with a 8-litre engine which provides 1,001 horsepower, however, there is also a version that provides 1,200 horsepower. Bugatti Veyron Super Sport goes from 0 to 100 in 2.5 sec whereas the maximum speed is 407 km/h and 415 km/h if you choose a more powerful engine.
The engine of Bugatti Veyron works in conjunction with seven-speed robotic Recardo gearbox. Thus, a car has a permanent 4WD. The car has eleven sensors that control the cooling system of the motor.
The car comes from Germany and is made of 3,500 parts. The engine consumes 40 litres of regular unleaded gasoline in the city, however, if you switch to relaxed driving on a highway, fuel consumption will decrease to 14 litres. By the way, if you accelerate to the maximum speed, you will spend almost 1 litre per each kilometer.
The car has rigid suspension, however, the latter deals well with the turns and in general, shows good vehicle handling. You can stop the car by using large ceramic brakes.
Bentley Continental GT 2003 — a royal beauty
Bentley Continental GT 2003 looks strict and elegant. However, it still remains a luxury sedan. Luxury inside and outside, expensive wood and leather in the interior, BOSE sound system and Logic by Pioneer multimedia interface say it all. To own such a car, you must be at least an aristocrat.
This British car has received an update in the form of on-board voice activation system, a greater variety of design options including a new Magnolia colour for the interior. Moreover, it has stretchable opening handles of air and heat deflectors made of chrome. Aside from handles, the interior has 29 engravings, embroidery and graining of Bentley logo (even on bolts and nipple caps) as well as a well-known chain-link radiator grill.
The maximum speed of the car is 305 km/h. It goes from 0 to 100 km/h in 4.9 seconds. The engine power is 560 horsepower while its capacity is almost 6 litres.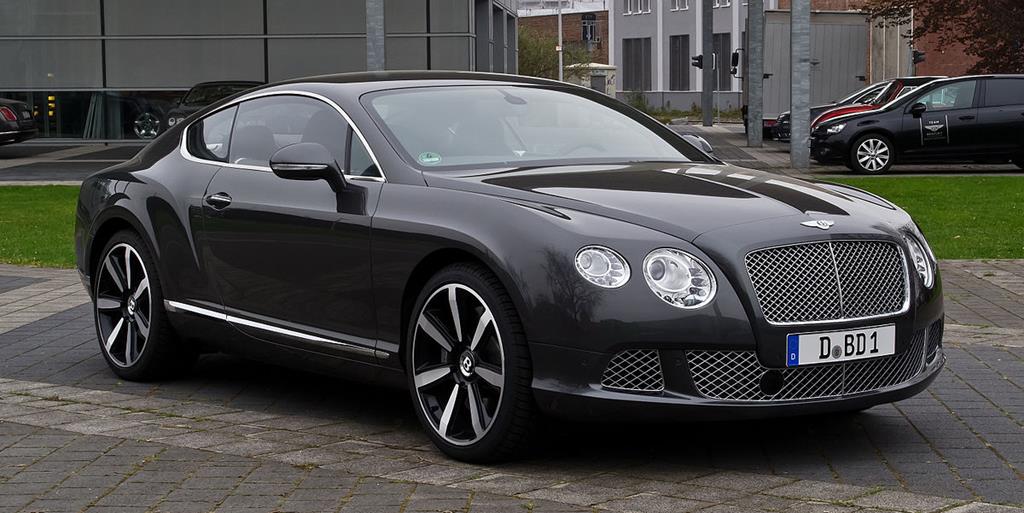 This is a perfect car which has everything you need: permanent 4WD, motor with deep second breath to revive all 12 cylinders at once, a TV set to know what Marina Diamandis is singing about. And though its conservative and labour-looking exterior is not typical for a "dreamcar", it is absolutely fast, tractable, superstable and comfortable. This is achieved due to fuel consumption of 37 and more litres in urban traffic (according to the on-board computer).
Lexus LC500   
Lexus LC-500 is one of the most popular premium class brands. This good-looker is fitted with a 5-litre V8 engine that provides 477 horsepower. It draws on good practices learned from 24-hour race on Nürburgring track and Pikes Peak International Hill Climb. This V8 hand-built engine is mated to the world's first 10-speed automatic transmission providing an impressive acceleration and amazing sound.  
According to the chosen driving style and road conditions adjustable adaptive suspension can make your car trip more comfortable or rigid by controlling the characteristics of all four absorbers and an impressive range of various 650 settings.
The world-class surround sound system Mark Levinson® Premium Surround with 13 speakers based on GreenEdgeTM technology was specifically designed with regard to acoustic properties of LC500 interior. The infinite quality and sound naturalness help to recreate the atmosphere of digital home theatre. Thus, Clari-FiTM technology helps to compensate for sound losses during digital compression in MP3 format.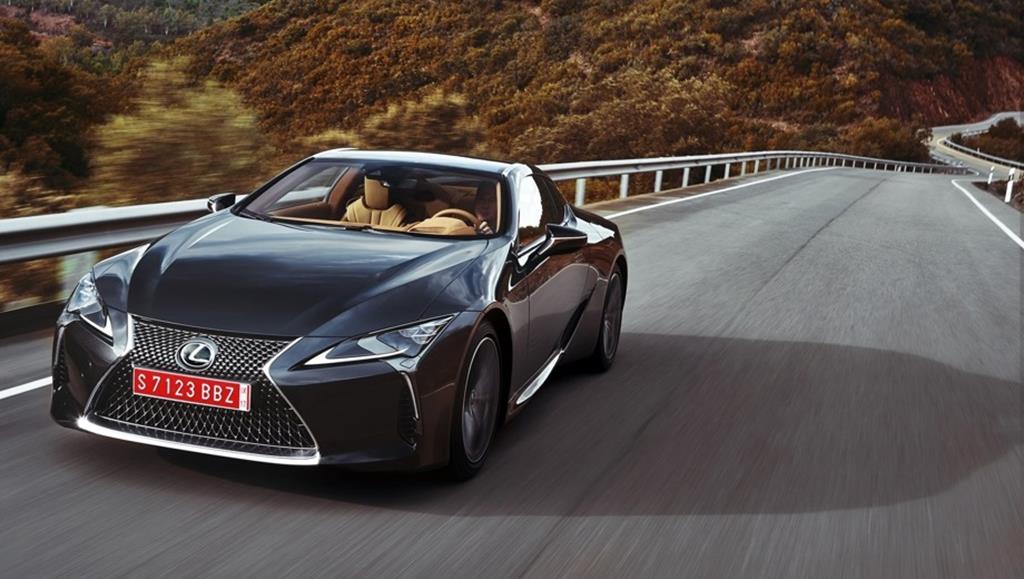 There is a multi-functional display in the centre of the dashboard that shows the key data including security warning and navigation system commands. Thus, all necessary information is always at hand.
The key to success of this car is the cooperation of engineers and designers. To create the low line of the roof typical for coupe cars and, thus, provide a comfort fit for four persons, the engineers have used absolutely new concepts. Its athletic profile is distinguished by sweeping lines of the roof that converge a bit at the rear of the body and, thus, create a unique outline.
Porsche Carrera GT 2005 — a charming Frau
Porsche Carrera GT 2005 is an iron horse with extraordinary exterior: it looks elegant and strict, however, moves as fast as a jaguar with the wind. Porsche Carrera GT was powered by a 5.7-litre V10 engine that provides 612 horsepower and a good and old-fashioned six-speed manual transmission. Only 1,270 GTs had been sold.
Interestingly enough, the central wheel lock nuts from the driver's side are red while those from the passenger's side are blue. Porsche has labeled it for purpose to avoid mistakes: one set has a right-handed thread while the other one a left-handed thread.
Carrera GT has one of the most complex clutches among all stock cars — Porsche Ceramic Composite Clutch (or PCCC). This car is fitted with an automatic throttle to assist on start. Though it conflicts with common sense since drivers should not bend the throttle when on start. You should slowly release clutch and press the gas pedal only when clutch is fully released.    
A standard transmission control lever is made of birch and ash to pay tribute to Porsche 917 lever of cork-tree.Wood is lighter than aluminium and it transmits no heat. That was especially important for Porsche 917 drivers who burnt their hands while driving cars with lever made of plain materials. In the second year of production, Carrera GT was available with an optional transmission control lever made of carbon fibre.   
Carrera GT is the first stock car with a monocoque chassis of carbon-reinforced plastic.
Carrera GT maintenance costs are quite significant. Oil change costs about $1,200. A new alternator costs $2,400. New tyres which are recommended to be replaced every four years will cost you another $2,500. A windscreen costs $9,000. A new clutch will cost you more than $20,000. 30,000 miles interval MOT test costs $30,000. Thus, as you may see, being an owner of Porsche Carrera GT 2005 is not that easy, though so prestigious!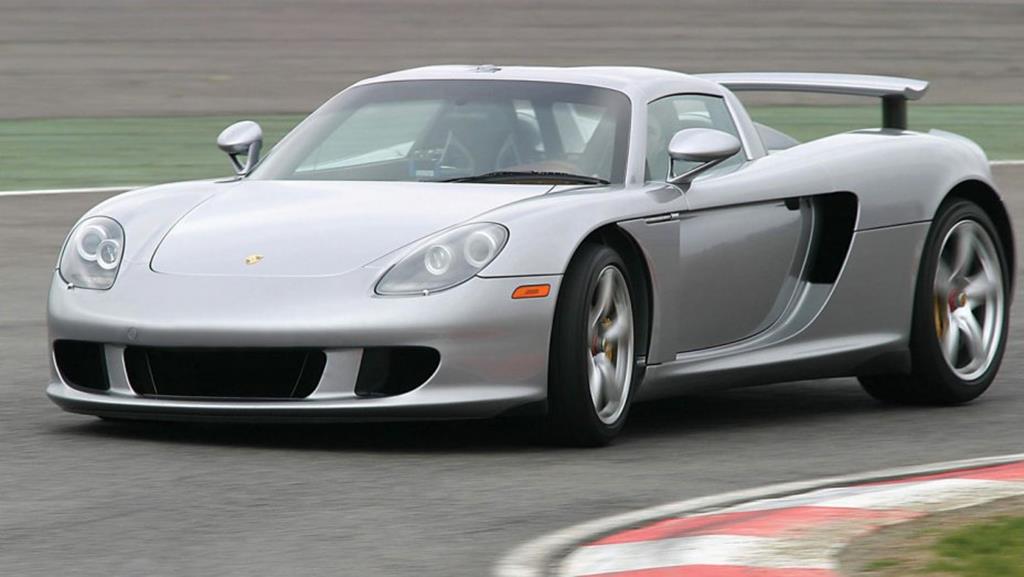 If you still have no International Driving License, apply for it on our website. With our IDL you can travel safely all around the world!