October 23, 2017
Driving regulations in Austria: driver license, speed limits & car rental
Austria is a country with perfect road conditions. The same is true of driving habits in Austria. According to Statista.com, in 2016 Austria received a rating of 6 on a scale of 1 (= under-developed) to 7 (= extensively developed according to international standards) and was ranked sixth among the countries with the highest road quality. Traffic rules and regulations are obeyed strictly and scrupulously. Tourist driving in Austria should first get to know some nuances. Stay tuned and you will explore all of them.
Documents required for foreigners driving in Austria
If you are a resident of any EU country and have a European driving license, you don't need any other documents to drive across Austria. Otherwise, you should have an international driving licence in Austria since national driver's license will be considered invalid.
Distinguishing features of roads in Austria and traffic rules
There are many paid areas (autobahns and highways) in Austria. The cost of travel depends on the permission expiry date. While crossing the border, buy a vignette in places specially indicated upon entry to the country or cross-border gas stations. The price of the vignette for 10 days equals to 9 Euro, for two months — 26 Euro and for a year — 87 Euro. Put it in the left upper corner or in the centre of the upper side of the windshield according to the instruction on the reverse side. If the vignette is put incorrectly, it is not considered valid.
Moreover, panoramic alpine paths and tunnels are also paid. To drive them in winter, you should have antiskid chains. This is a must for drivers.
The maximum allowed speed on the autobahns in the daytime is 130 km/h. At night (from 22:00 till 05:00) the maximum allowed speed is 110 km/h. If you drive across the territory of the populated area, your speed should be no more than 50 km/h. In the country, you are allowed to drive at a speed of 100 km/h.
If you violate speed limits, the minimum fine will be 20 Euro. The more you exceed the allowed speed limit, the more you will have to pay.
Policemen impose fines on site by issuing the receipt. If you don't have enough money at the very moment, you should deposit, and pay the rest of the money in the bank during next two weeks. Otherwise, the fine will be collected through court action at double rate.
In Austria, there are strict guidelines concerning the entry into the roundabouts. If there are no any other road signs, the priority is given to the cars that enter into the circle. Consider that in many European countries there is a contrary rule: the priority is given to those who circulate.    
Using and transporting antiradars in Austria is not allowed. However, instead of it, you should have a reflective jacket in your cabin (not in the trunk!). In case of vehicle breakdown, you are allowed to get out of the car only if you put on your reflective jacket.
Except for the jacket, you should always keep in your car the following:
first aid kit;

warning triangle;

fire extinguisher;

snow tires (from the 1st of November to the 15th of April) or studded tires (from the 1st of October to the 31st of May).
 Keep in mind that dashboard cameras are not allowed in Austria.
Turn on the dipped headlights irrespective of the weather conditions and time of the day. Otherwise, you will be fined 21 Euro.
If you are stuck in a traffic jam, do not use the left-hand lane (a rapid corridor). Otherwise, you will be fined 2,180 Euro. That will significantly hit your pocket.
You are not allowed to drive unbuckled (you will be fined 35 Euro) and phone behind the wheel (you will be fined 50 Euro, the only exception is when you have a hands-free device).
Drunk driving is not welcome in Austria. However, the maximum allowed blood alcohol concentration is 0.05%. Otherwise, you will be fined 300 to 5,900 Euro. Moreover, your Austria driving licence may be suspended for up to half a year. If your driving experience is less than two years, the allowed blood alcohol concentration can be 0.01%.
You are not allowed to transport more than 10 litres of fuel in your cabin. Gas stations that work round the clock are rare. Generally, gas stations work 12 hours a day — from 9 a.m. till 9 p.m. except for Sunday (a day off). The price of a litre of EuroSuper (АИ-95 in Russia) petrol is 1 Euro. By the way, toilets at gas stations are paid.
In case of a car accident, call the police only if there are victims. To call the police in Austria, dial 133, firefighters — 122, ambulance — 144, and rescue men — 140.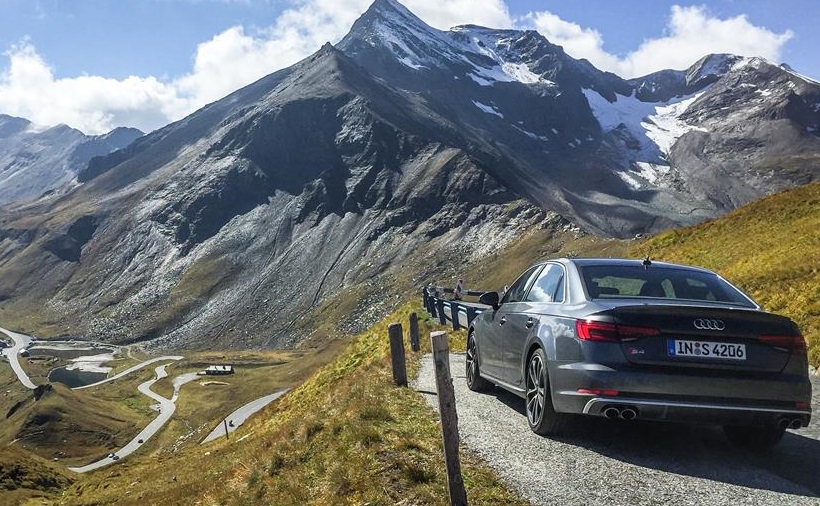 How to park a car in Austria?
Parking lots in Austria are paid. However, on Sundays, it is free of charge. You may not pay on Saturdays, too (except for the parking lots in the centre of the city from 09:00 a.m. till 13:00 p.m.).
If the road runs across tram tracks, you are not allowed to park there in winter. You are not allowed to park your car where there is yellow zigzag marking. You are allowed to leave your car in open parking lots in the centre of the city for no more than hour and a half. If you fail to meet a deadline, you'd better leave your car in indoor underground parking.
In large cities, you can find the so-called "blue parking". To use such parking, you should have a timer card. You can get it free of charge in any tobacco shop. You can leave your car here for no more than three hours.
Capital parking rules are absolutely different. Payment is collected from 09:00 a.m. till 10:00 p.m. You can park your car with a specialized parking ticket (you can buy it in any tobacco shop or at gas stations).
In Bludenz, Dornbirn, Feldkirchen and Bregenz parking fees are paid via specialized machines or a cash desk.  
If you violate parking rules, you will be fined 200 Euro or even more. Moreover, your vehicle will be towed to the distant and inconvenient impound lot.
How to drive in Austria with U.S. driver license?
American? Keep in mind that your U.S. driver's license is not sufficient to drive in Austria. You should also apply for an International Driving Permit. This document is supplementary and should not be used instead of your valid country's driving permit since this is only Austria driver's license translation. Statistics have shown that in 2016 about 118, 000 driving licences were issued for the first time or to an existing driving licence further categories were added which is, however, 5.4% lower than in 2010.
How to rent a car in Austria?
Austria has many samples of architecture: castles, abbeys, historic cities. The country lies in several climate zones and thus, has picturesque nature reservations, national parks, various resorts (including ski resorts and baths). Eight Unesco World Heritage Sites are situated in Austria, while Vienna is considered the Pearl of Europe. It is impossible to see all the wonders of this country while travelling by public transport, transfers are very expensive and inconvenient. Even if you rent a car, you are unlikely to finish within a week. The best solution is to rent a car.  
According to your route preferences, you can reserve a smaller car to drive in the city and a bigger one to go in the country (e.g. in the mountains). We recommend you to book a car with automatic transmission in advance. These cars are always in scarce supply.    
A client and a car rental company make a treaty where they specify all the nuances.Generally, you will be offered several payment methods: a per day fixed paid amount or payment per mile. In the latter case, you should agree upon a particular limit of kilometers. If you exceed it, you will have to pay for each subsequent kilometer separately.
In Austria liability insurance is the only mandatory type of insurance. If you rent a car, you'd better get insurance in the event you damage the rental car. Keep in mind that in Austria you can rent a car only if you are aged 21 years and over and your driving experience is no less than 2 years.
Insurance companies independently regulate the procedures for acquiring of the insurance certificate according to their in-house rules. Usually, a standard set of documents required to obtain a civil liability insurance certificate includes driving licenses for Austria, car registration certificate (can be temporary). The cost depends directly on the power of the vehicle, your driving experience and accident-free driving record.
The whole registration procedure and customer handover take 10-15 minutes. You can execute a lease agreement without a credit card and upfront car reservation payment.   
By the way, if you still have no International Driving License (IDL), apply for it right now on our website. Drive across Austria confidently! However, do not forget to take your national driving permit (driving license).