October 22, 2018
Kazakh roads
Kazakhstan is a huge country in the center of Eurasia, its area is slightly smaller than Argentina. More than 18 million people live in Kazakhstan. The length of automobile roads in Kazakhstan is more than 85 thousand km. The roads are completely different, and today we will introduce you the peculiarities of the Kazakh road network.
Polar quality!
Kazakh roads can disappoint, please, surprise, and make laugh at the same time. Here you can find sections that have never been repaired since the USSR period, and primers, and excellent modern autobahns. But it's all going to the last option. Kazakhs are good fellows, they got to work in the sphere of roads and the result is impressive. And their road network is impossibility colorful: here you can meet anything you want. For example, gas station "ala 1960's", a cart pulled by three donkeys, an armored personnel carrier, and a rider, who suddenly came out from the steppe and moves along the roadside, like a usual cyclist in the middle of Russia, and even landing aircraft. Yes, yes, which lands directly on the road. The point is that one of the Almaty-Khorgos motorway's sections suddenly expands very much right in the middle of the steppe, and the next five kilometers look like an asphalt field. Such a strange road section was built especially so that if necessary, even the world's largest aircraft could land here.
On the cut, the modern Kazakh autobahn represents a groundbed filled which a solid layer of concrete. There are special cuts in it, into which rubber thermojunction are inserted. The latter, as shock absorbers, are designed to prevent the roadway destruction in the heat and severe frosts (and they are enough, because the climate in Kazakhstan is sharply continental).
Moreover, a part of the giant "Western Europe – Western China" highway lais along the territory of Kazakhstan. The length of it is 8445 km, 2787 km of which are located in Kazakhstan. The highway should connect St. Petersburg and Lianyungang on the Yellow Sea. A section of the Kazakh part of the highway is ready.
A road section from Kyzylorda to Almaty also has very good quality. It is 1200 km of four-lane concrete road with a separator.
But the roads in Atyrau Region put foreigners in a state of deep cognitive dissonance. All of them unanimously ask: "Why do we go on a dirt road/across the steppe away from the road? We are shaking, we demand to go on the road." Then, a couple of kilometers along the road, and they beg to return to the steppe.
One of the feature of Kazakh roads is their straightforwardness. This is understandable – steppes make it easier for builders to do their work, because they don't need to bypass difficult terrain. Since this is a steppe, sometimes, moving along the road, one has to literally break through a herd of cows, goats or sheep flocks. There are even special signs warning about the areas of mass livestock migration through the route.
The roads, which are visible for many kilometers, are always particularly beautiful. Along the roads in Kazakhstan, there are often various figures of animals and birds living in these parts.
Strangely enough, the roadsides are clean. Garbage along the routes is collected regularly and carefully.
The public transport stops, that are located near the roads, are extremely colorful and even vintage. The uniqueness and singularity of stop pavilions can be expressed in their unusual architectural solution, concrete paintings, mosaics and even molding. But the work on the installation of modern stop pavilions on the roads of Kazakhstan is also carried out.
Features of roadside service
The closer to the city, the more different cafes, shops and even hotels can be found near the road. But the further you leave the megalopolis – the less catering places you see, and then the steppe begins. It's absolutely empty from any blessings of civilization.
Roadside toilets can be found only in cafes, isolated booths aren't provided yet. And there are less stores on the Kazakh routes than cafes. Most shops are located on the territory of gas station.
Kazakh motels and gas stations were stuck deep in the Soviet times. Roadside business in Kazakhstan isn't very profitable. Probably, that is why a lot of signs and banners are "For sale" on abandoned cafes and other placements along highways.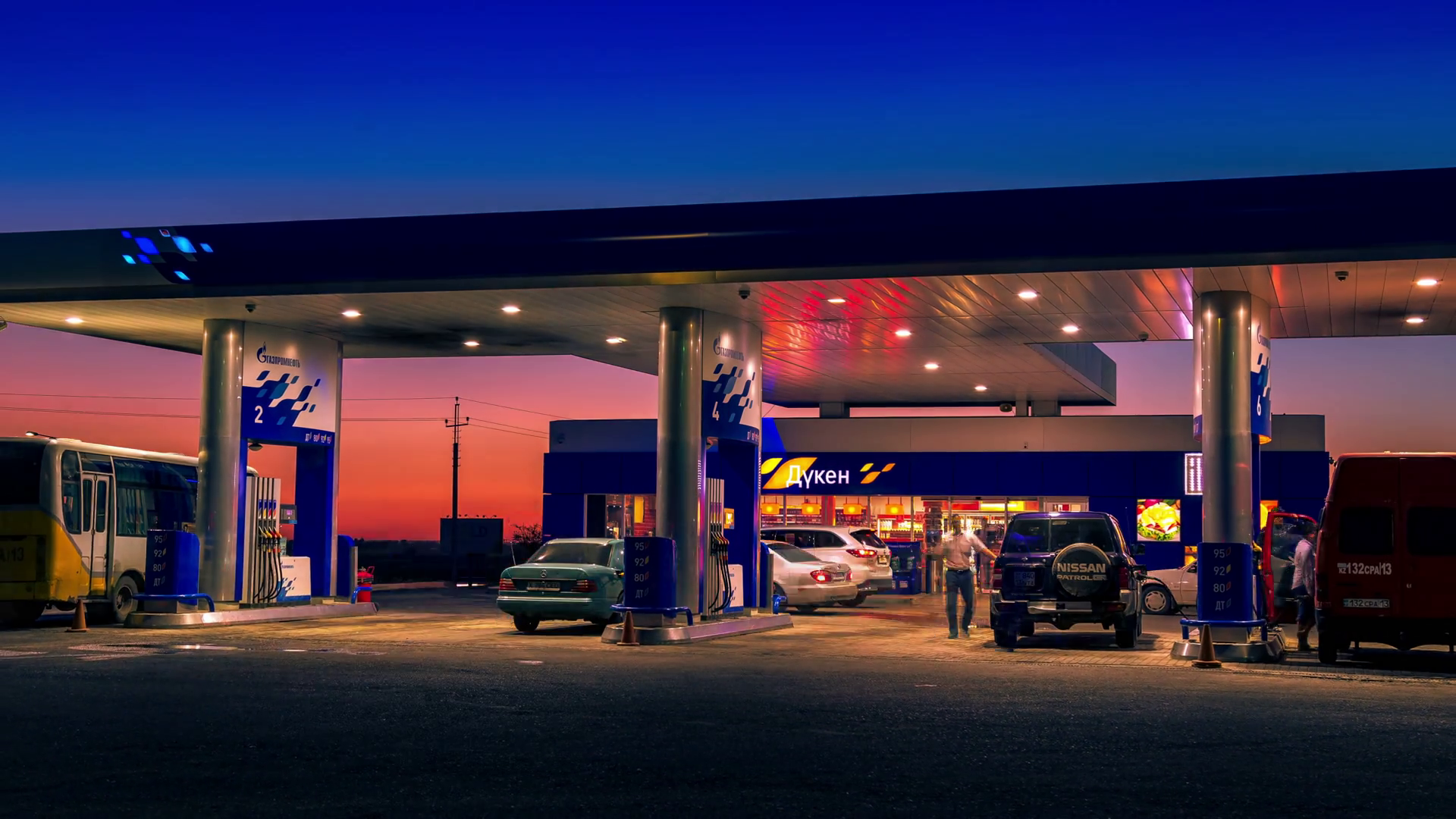 Petrol stations that are sold, often don't meet modern requirements for fuel tanks and equipment. Many owners can't afford replacing the old options with the modern ones, for a long time they can't find buyers, so gas stations wait for a better share.
But there are plenty of modern gas stations, and there are no queues on them.
Roadside cafes and shopping benches are extremely hidebound. It seems that they can't get out of the "sovok" in any way. And this is despite the fact that in 2015 the National Standard of the Republic of Kazakhstan "Public roads. Requirements for road service objects and their services" was introduced.
The standard is intended for use by design organizations engaged in the design of road service facilities, by central and local authorities that manage motor roads, legal entities and individual entrepreneurs, controlling road service facilities, as well as by consumers of road service and road service facilities. The standard includes the separation of service facilities into four complex categories – A, B, C, D.
Today, there are 3,028 roadside service facilities in Kazakhstan. 1062 of them are petrol stations, 1422 are trade and food outlets, 130 are hotels, 273 are service stations and 141 are parking lots. 25,000 people work at these facilities.
The existing service facilities, already having engineering communications, are planned to be modernized and supplemented with food and trade outlets, motels, camping and gas stations.
By 2020, Kazakhstan plans to build 260 roadside service facilities.
Road Police of Kazakhstan
There are quite a lot of traffic police, catching drivers on radars with cameras, for overtaking on a full line, or simply checking documents (although formally they don't have such right). There are no problems to deal with arose questions informally, both quickly and inexpensively.
However, the "road police" – is already outdated concept in Kazakhstan. The fact is that patrol and road units of the Kazakh police were decided to be merged into one administrative department. And the police are now called universal. For now, there are police officers with cars on duty, in each of which there are one traffic police officer and two officers of patrol police regiment. But very soon all of them will become universal officers, and by the order (now they are retraining).
As for the corruption of Kazakh "traffic cops", there are jokes on the Internet. So, you can travel on a car with Russian license plates a hundred kilometers along the monotonous Kazakh steppe, and every five kilometers you will be stopped by patrol, looking the same, and asked the same questions – did anybody give them gifts from Russia? But every Kazakh policeman is very afraid of camera. Therefore, it is better to record communication with him by dashcam or in another way – it produces the necessary impression.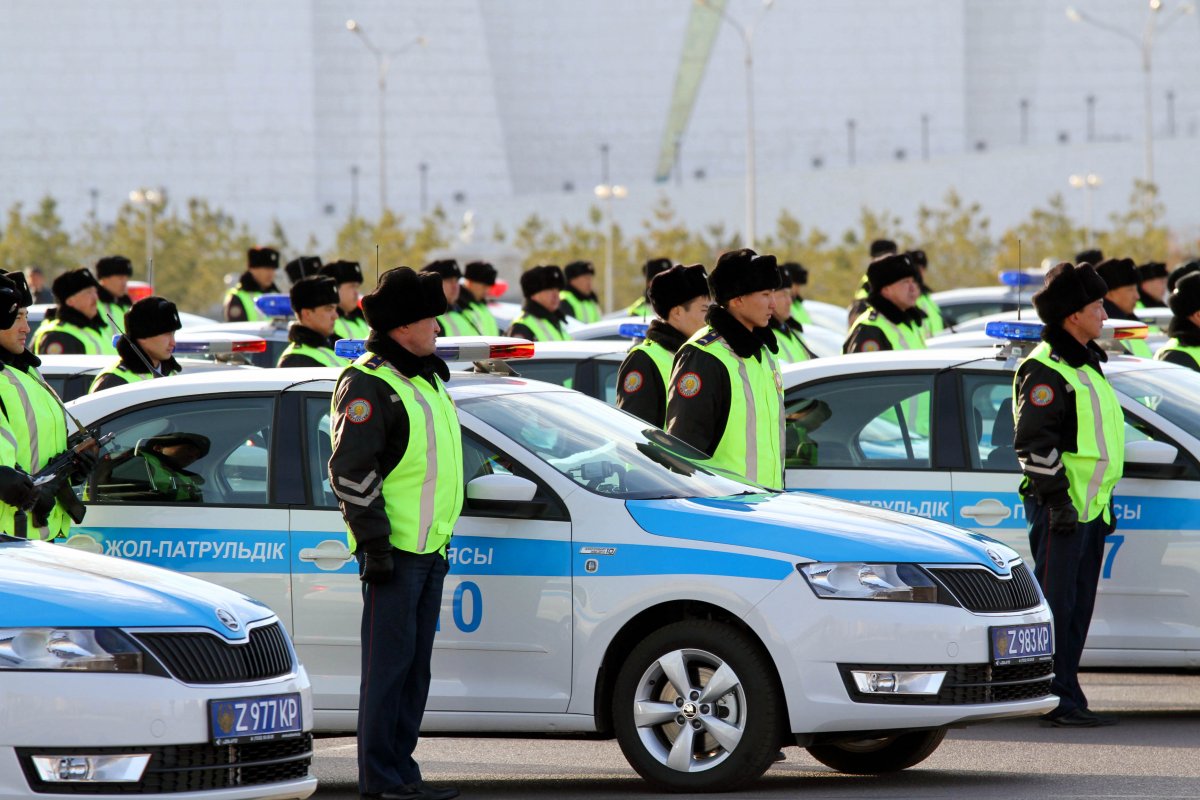 Kazakh driving culture and crash statistics
On Kazakh roads, there are always instances of people trying to be smarter than others. For example, you can meet a car, going on the wrong side of autobahns with a separator – simply because it is too far to drive to the turn. Some people not only drive with violation of traffic rules, but in principle like to stand out from the crowd. For example, they drive super-expensive cars without number plates, while behaving on the roadway as they please.
The accident rate on the roads of Kazakhstan is very high. In this country, more people die on the roads than in the war. According to information provided by the Kazakh Committee of Legal Statistics, in 2017, 2086 people died in accidents, and about 30 thousand people were injured. There are always breaks in dividers on the tracks. Even the UN sounded the alarm, saying that the roads of Kazakhstan are the most deadly among the CIS and Europe countries. For every 100 thousand people in Kazakhstan, 24.2 died (in Russia – 20.8, and in Norway – 2.2). There is no full-scale explanatory and preventive work with the population, pedestrian crossings are not illuminated – the authorities prefer to save electricity at dusk, when visibility is significantly reduced, but the lighting isn't turned on. In addition, a car in Kazakhstan is a cheap means of self-assertion, and often a driver's license is just given for a birthday.
Hitchhiking in Kazakhstan
There are a lot of people trying to catch passing transport in Kazakhstan – the public one works improperly and is too expensive. But the people in Kazakhstan are very responsive. Every second car stops. With pleasure, they give a lift for a few kilometers, and even for several days.
Many Kazakh drivers know what a hitchhiking is. At the same time, there are a lot of people who hitchhike near the city or in the city itself clearly with the aim of finding a taxi. The most important thing is that the one, who was stopped, understood the essence of the hitchhiking, and understand that hitchhikers don't search a taxi. As usual, the presence of a huge backpack helps you to understand that the traveler is hitchhiking.
Many of those who drive – Russian, but representatives of other nationalities also speak Russian. It's not necessary to use and know the local language, but it is advisable to use two most important phrases – greeting and gratitude. The rest does not matter.
In Kazakhstan, you can stop trucks, which are quite normal to drive, communicate and help. Truck drivers know what a hitchhiking is. It's interesting and reliable to go with them, and you can also hear a lot of useful information about the road and people, because they see 24/7 only this. But anyway, it's better to agree with trucks in place where they stop – to go to the toilet, to refuel, to sleep, to snack, just to relax. Because it is not a simple task for them to stop on the road, especially with cargo. Don't be afraid of Kazakh hitchhiking.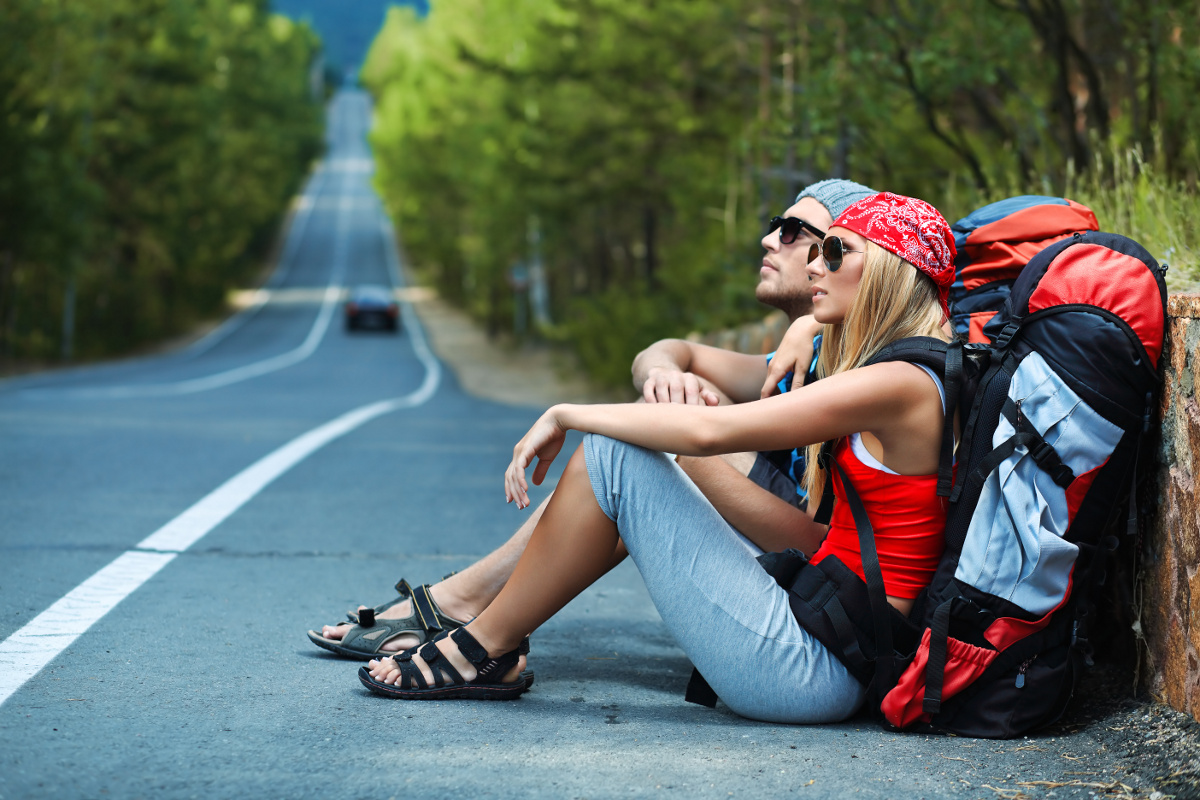 We tried to characterize the Kazakh traffic. Now, if you want to travel by car along Kazakhstan, you will be fully armed. But don't forget to take a driver's license. Ideally, if it's an international one. It's quite easy to obtain it right on our website.