October 28, 2023
Driving in Spain: Comprehensive Guide for US Tourists
Planning a road trip in Spain as a US tourist? Navigating the roads in this vibrant country can be an exciting adventure, but it's crucial to be well-prepared and informed about the local driving regulations and customs. Here's a detailed guide to help you make the most of your driving experience in Spain.
Understanding Local Driving Laws in Spain
When driving in Spain as a US tourist, it's essential to grasp the nuances of local driving laws to ensure a smooth and trouble-free journey. Some key regulations to keep in mind include the designated speed limits, which typically range from 50 km/h (31 mph) in urban areas to 120 km/h (75 mph) on highways. Additionally, familiarize yourself with the various road signs, especially those indicating prohibited actions, mandatory directions, and potential hazards. Pay close attention to the rules regarding right-of-way, particularly at roundabouts and intersections, as they might differ from those in the US. Being well-versed in these driving laws will enable you to navigate Spanish roads confidently and adhere to the country's traffic regulations.
When driving in Spain, it's crucial to be aware of the distinct driving regulations that differ from those in the United States. Drivers and passengers are required to wear seatbelts at all times, and the legal driving age is 18, with car rental eligibility beginning at 21. Spanish laws maintain a strict 0.05 percent blood alcohol limit, with severe penalties for offenders. Cell phone use while driving, including screen-based navigation systems, is prohibited, promoting safer road practices.
Moreover, understanding parking regulations is essential, as parking beside yellow lines, especially in residential areas, can result in towing. Familiarize yourself with the labeling of fuel at Spanish gas stations, with leaded, unleaded, and diesel fuel having specific names such as super, sin plomo, and gasoleo, respectively.
In the event of fines or penalties, immediate payment may be required, with the authorities having the right to impound the vehicle if the fine isn't settled promptly. Understanding the emergency protocol is crucial, with the universal 112 emergency number accessible across Europe and emergency telephones placed along Spanish motorways every mile for immediate assistance.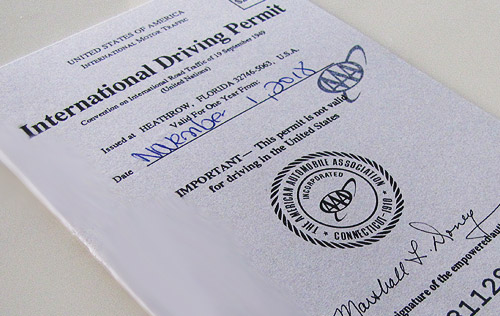 Obtaining an International Driving Permit (IDP)
Obtaining an International Driving Permit (IDP) through AAA is a straightforward process for US residents planning to drive in Spain. Simply visit your local AAA office, bringing along two passport-sized photos, a completed IDP application, and a valid US driver's license. The processing fee is generally affordable, making it a convenient option for obtaining an IDP before your trip.
In the event that you're already in Spain and require an IDP, the process can be facilitated online. Various online platforms offer IDP services, requiring you to provide the necessary documentation, including scanned copies of your valid US driver's license and a passport-sized photo, and to fill out an application form. Once the application is processed, the IDP can be shipped to your location in Spain for a nominal fee, allowing you to legally drive within the country.
Things to take when driving in Spain
When driving in Spain, it's crucial to carry certain essential items to comply with local regulations and ensure your safety. Alongside mandatory documents like your driver's license and IDP, remember to have reflective jackets readily accessible in the vehicle to avoid fines for not wearing them when walking on the road or hard shoulder. Carrying a warning triangle is compulsory for every vehicle with four wheels or more, while residents are required to have two.
Additionally, consider equipping your vehicle with headlamp beam deflectors, either in the form of stickers or manual adjustment, to adapt to local driving standards. For those planning to ride mopeds, motorcycles, trikes, or quads, crash helmets are obligatory, unless the vehicle is equipped with seat belts. Keep in mind that motorcycles must have their lights on at all times while on the road. These precautions can help you stay compliant with Spanish driving laws and ensure a safe and pleasant driving experience.
Rental Car Considerations in Spain
Renting a car in Spain can be a convenient and practical option for exploring the country. However, there are several considerations to keep in mind when renting a car:
Driver's Age: The minimum age for renting a car in Spain is generally 21, although some car rental companies may require drivers to be 23 or older.
Required Documents: Make sure to carry your driver's license, passport, and a valid credit card when picking up the rental car. Some agencies might also ask for your IDP, so it's advisable to have it on hand.
Insurance Coverage: Understand the insurance coverage provided by the rental company and consider additional insurance options for comprehensive coverage, including collision damage waivers and theft protection.
Fuel Policy: Clarify the fuel policy with the rental agency, as some may require you to return the car with a full tank, while others might operate on a full-to-empty policy.
Vehicle Condition: Conduct a thorough inspection of the vehicle before accepting it and document any existing damages or scratches on the rental agreement to avoid disputes upon return.
By considering these factors, you can ensure a smooth and hassle-free car rental experience in Spain, allowing you to make the most of your trip.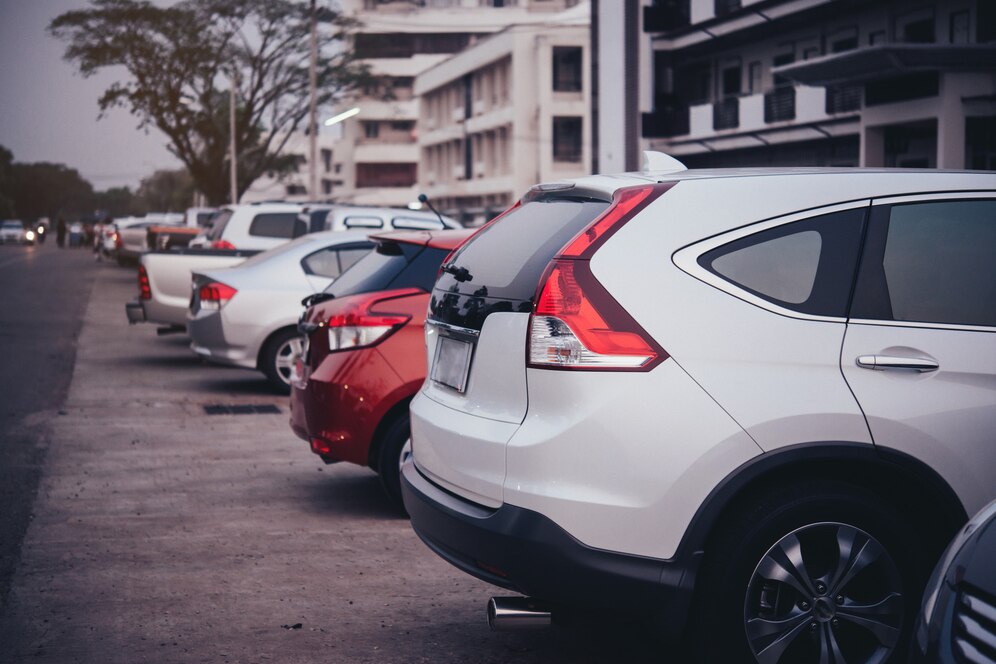 Parking Tips and Urban Navigation
Parking your rental car in Spain involves understanding the diverse options based on city size. In major cities, free car parks on the outskirts facilitate easy access to public transportation. Meanwhile, paid car parks in the city center offer a convenient option, which can be found using online tools that locate nearby public underground parking facilities. Parking on the street is possible but involves adhering to specific regulations and restrictions.
Avoid parking within 16 feet (5 meters) of a bend or intersection to ensure clear visibility for other drivers and pedestrians.
Look for blue parking zones known as "zona azul" or "zona O.R.A." These areas typically allow parking for a maximum of two hours during the day, while there are usually no parking restrictions between 8 p.m. and 8 a.m.
Remember that in Spain, cars should be parked on the right-hand side of the road, unless it's a one-way street allowing parking on both sides.
Be aware that paid parking spaces often come with a two-hour limit, and they are marked with signs and blue or green lines. Payment for these spots can be made at roadside meters, machines, or through designated mobile apps available in some cities.
Road Safety Measures
Prioritize road safety by wearing seatbelts at all times and avoiding any form of distracted driving. Stay vigilant, especially on narrow roads and in crowded urban centers, to ensure your safety and that of other road users.
Local Driving Hazards and Challenges
While driving in Spain can be a delightful experience, there are some hazards and challenges to keep in mind:
Narrow streets and winding roads, particularly in older areas of cities and rural regions, can pose a challenge for drivers not used to such conditions.
Watch out for aggressive drivers, especially in larger cities like Madrid and Barcelona, where heavy traffic can exacerbate impatience.
Some rural roads might lack lighting, making it difficult to navigate at night. Be cautious and attentive during nighttime driving in such areas.
Beware of pickpockets, especially in busy tourist areas and city centers. Keep your belongings secure and out of sight to avoid any unwanted incidents.
Stay vigilant for local pedestrians, especially in popular tourist destinations. Pedestrians might not always adhere to traffic rules, so it's crucial to drive cautiously and be prepared for unexpected situations.
Emergency Preparedness
When traveling in Spain, it's crucial to be prepared for any unforeseen emergencies. Here are some essential tips to ensure your safety:
Keep emergency contact numbers readily accessible. The general emergency number in Spain is 112, which can connect you to police, fire, and medical services.
Make sure to have a basic first-aid kit in your vehicle, containing essential medical supplies such as bandages, antiseptic wipes, and pain relievers.
Familiarize yourself with your surroundings and the nearest medical facilities, including hospitals and clinics, in the areas you plan to visit.
Stay informed about local weather conditions and potential natural disasters, especially if you're traveling during certain seasons that might be prone to extreme weather.
Have a plan in place in case of a breakdown or mechanical issues with your vehicle. Keep emergency supplies such as water, non-perishable food, and warm clothing in case of an extended wait for assistance.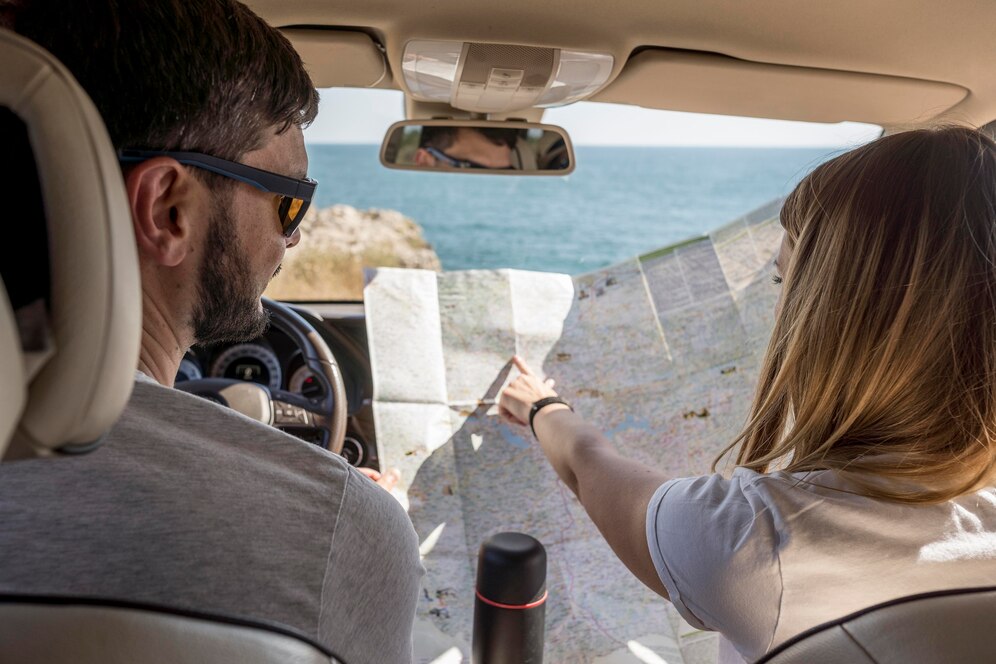 Top 7 breathtaking natural destinations in Spain for car trip
Picos de Europa National Park: Discover the stunning beauty of the mountain range, featuring deep gorges, lush forests, and picturesque hiking trails.
Teide National Park: Explore the diverse landscapes of Tenerife, including the Teide volcano, the third highest volcano in the world, and its captivating surrounding environment.
Cabo de Gata-Níjar Natural Park: Enjoy the unspoiled beaches, dramatic cliffs, and crystal-clear waters in one of Spain's most remarkable coastal protected areas.
Ordesa and Monte Perdido National Park: Witness the impressive canyons, waterfalls, and rich flora and fauna in the Spanish Pyrenees, making it a paradise for nature enthusiasts and hikers.
Sierra Nevada National Park: Delight in the breathtaking scenery of the high-mountain landscape, picturesque villages, and diverse wildlife, making it a perfect destination for both winter sports and summer adventures.
Doñana National Park: Experience the extraordinary biodiversity of this wetland reserve, housing a diverse range of ecosystems and serving as a crucial refuge for many endangered species.
Timanfaya National Park: Marvel at the otherworldly volcanic landscapes and unique geothermal features on the island of Lanzarote, showcasing the fascinating power of natural forces at work.