September 24, 2018
Bentley - an expensive toy for adults
Founded on January 18, 1919, the British automotive company Bentley specializes in the production of luxury cars. Since 1998, Bentley has been part of the German concern Volkswagen Group. As the founder of the company Walter Owen Bentley was initially aimed at producing prestigious cars. In this article we will introduce you the history of the "Bentley" brand, its present and prospects.
A car is not a luxury?
Bentley is a legendary aristocratic car brand, a premium car. As a rule, Bentley is bought only once. Although initially it was ordinary, reliable car, and its functionality was much superior to comfort.
Today's Bentley is a car that boggles imagination. Its cost starts from ten million rubles. The first Bentley SUV, the Bentley Bentayga, was also released. Now, Bentley cars are considered a standard of expensive style.
Modern development of the brand began 20 years ago – in 1998. It was then that a merger with Volkswagen took place. Today, the latter invests in Bentley for half a billion pounds to develop each new model. They already assemble Bentley cars not only in Britain, but also in Germany.
In 1998-2009, they produced refined luxury Arnage Limousine, the wheelbase of which was increased to 3566 mm. For all the years of its production, it has become an increasingly massive and ultra-technological vehicle. The car was named after the first of the most difficult turns in Le Mans, Bentley Arnage. Instant acceleration and chic interior are typical for the Arnage car. Big, fast, unique and comfortable – the Arnage Bentley embodies well all these features inside. It is unique and beautiful creation of modern engineers, which more than 90 years is the auto flagship of elegance and passion. It is a prestigious limousine with cumbersome capacity and unrivaled cabin.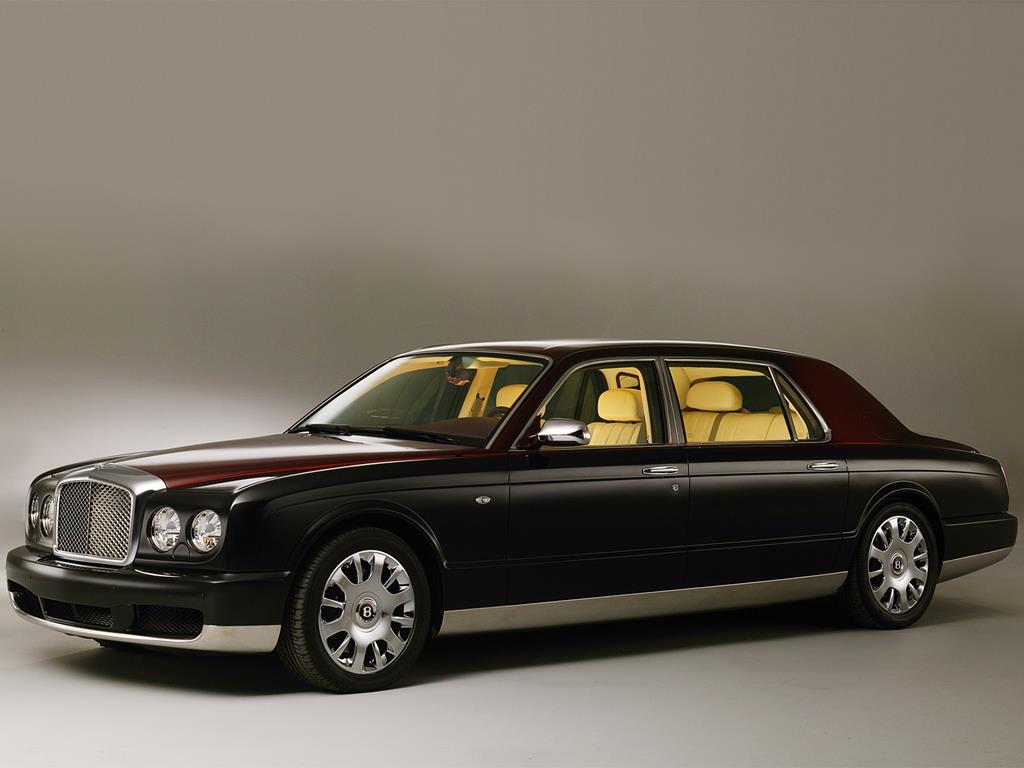 The Arnage Bentley is an ultra-luxurious exotic huge sedan, trimmed with carbon, aluminum and expensive wood. As for safety systems, they are perfect. The safety equipment includes automatic pretensioners, a lock, a trunk with an anti-trap device, a passenger airbag, front and rear side airbags, curtain airbags on the roof, and rear electric parking assistants with ultrasonic sensors.
There are also four-wheel anti-lock braking system, electric brake assistance, traction control, central locking, engine immobilizer. External control, internal control and sensor anti-lift are also elements of the safety system that guarantee a comfortable and enjoyable trip.
The Bentley State Limousine is a car of representative class, in the amount of two copies was released in 2002 and then presented to Elizabeth II, Queen of Great Britain, in honor of the 50th anniversary of her ascension to the throne. The Bentley State Limousine is used only on official events, and always accompanied by local police cars and motorcycles, there are no license plates in the car.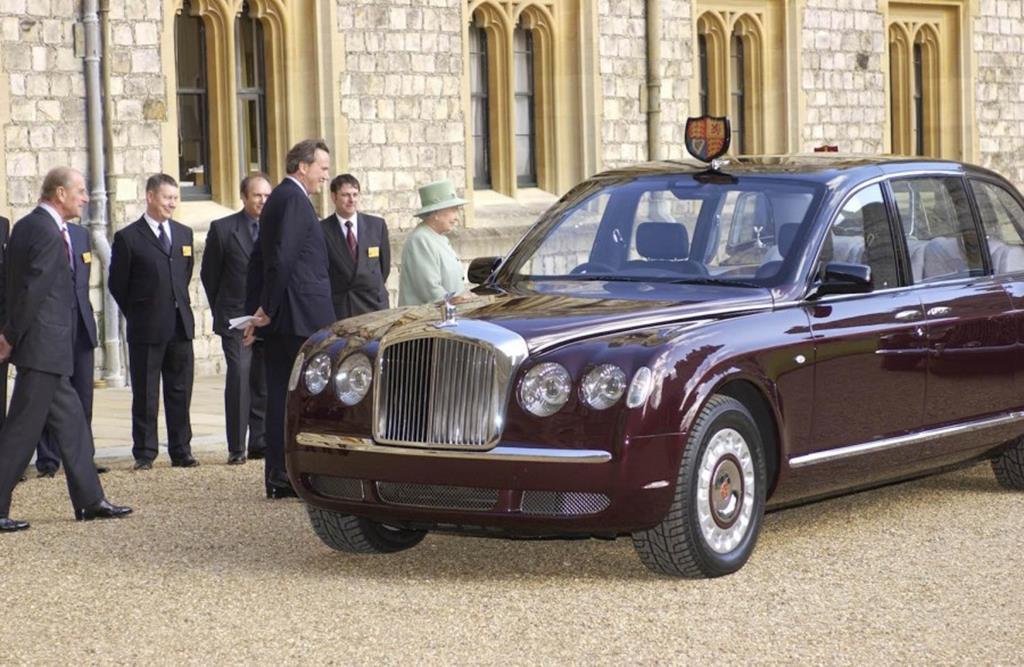 Since 2015, the Bentley Bentayga is produced – a mid-size prestigious premium crossover, which is a unique combination of dynamics and luxury. This jeep has all chances to become Bentley flagship. Its name is similar to the name of a rock ridge on one of the Canary Islands. The Bentayga's design was created about two years. They spent two and a half months only on the brand radiator grille. Externally, the Bentley Bentayga expresses calm aristocratism and elegance, and the interior has 15 variants of the leather trim color and 7 variants of veneering from natural wood of rare species. The dash panel is covered with mineral glass, and the watch (at the customer's request) can be a tourbillon Breitling Mallinner, which will automatically increase the cost of the car by 150 thousand euros. Each seat (both rear and front) has not only adjustable backrest angle, but also controlled lateral support, as well as a massage mechanism, but also is equipped with drive servo. Cruise control, of course, is adaptive, climate control is four-zone, and infotainment has a built-in memory of 60 GB. As for the technical characteristics, they are perfect: the top speed is 300 km/h, it is possible to reach 100 km/h in 4 sec, there are eight speed regimes allowing to drive the crossover both off-road and on autobahns. The off-road capability of the Bentayga is phenomenal, and the steerability is magnificent.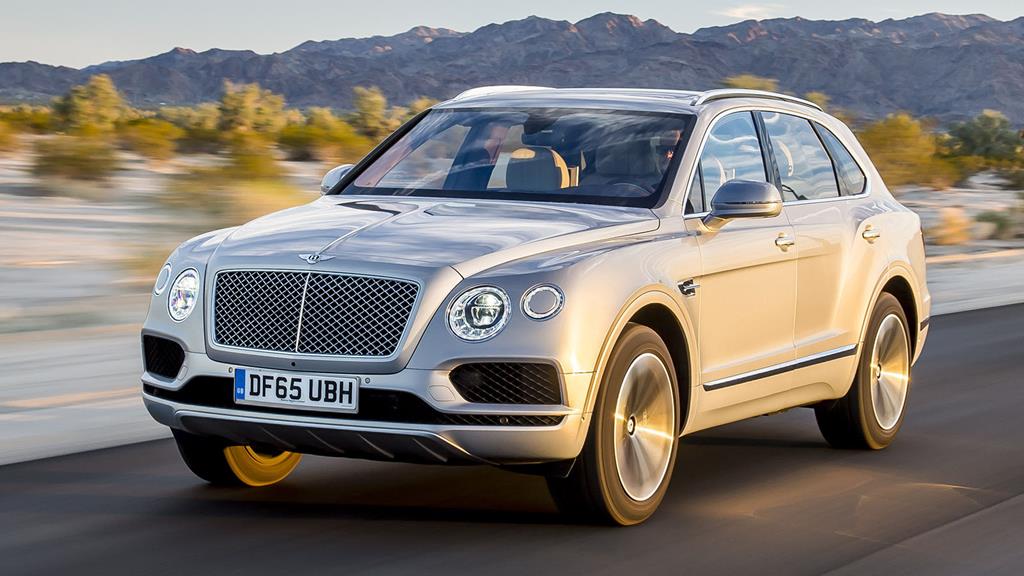 By the way, there is also a tiny safe made of cast aluminum. This "glove box" is equipped with a capacitive fingerprint scanner, and therefore super-safe. Meanwhile, several fingerprints can be stored in the system memory, for example, fingerprints of the owner's family members and friends.
This car is positioned by its creators as "the fastest, most powerful, most luxurious and most exclusive SUV in the world."
How it all began
One day, mechanic and racer Bentley decided to create his own sports car. This talented engineer and a real fan of auto racing wanted to create a real monster, which would be the best on a racing track. When the car was created, the emphasis was on the assembly quality. The latter was a success, and the car, called Bentley 3L (that is, indicating the volume of the four-cylinder engine) went on sale already in 1921, a couple of years after the official creation of the company. The car turned out to be expensive (inaccessible for ordinary motorists), but unprecedented grand gesture of the creators, embodied in the five-year warranty period, impressed the British, and the car was sold out. In addition, it was possible to advertise the car thanks to auto racing wins. Bentley had no crazy popularity at that time, but, nevertheless, there were buyers. The car did not differ in design, but it bribed with its capacity and speed characteristics.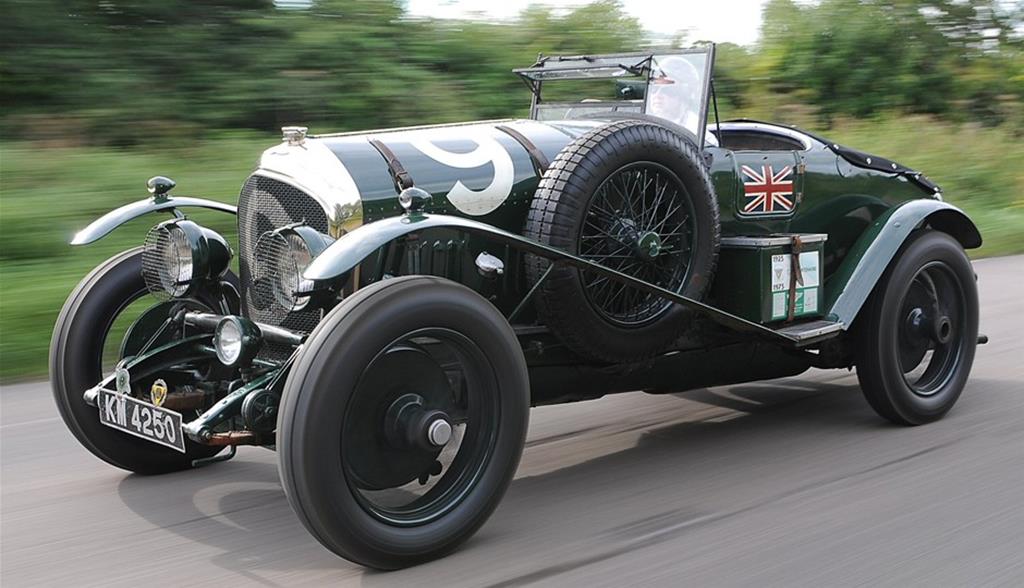 So, the company Bentley, in general, comfortably, lasted nine years. But in 1930, there was a failure, when the car came off the race and, thus, did not reach the finish line. This immediately affected their sales. In addition, the Great Depression began. Instead of reducing the cost, Bentley produced an even more expensive model of "8L", and bankruptcy became inevitable. At that moment, the company is offered to be sold, and not to anybody, but to another luxury cars manufacturer – Rolls-Royce Motors Ltd. Bentley agreed, continuing to work in engineering position under the four-year contract. However, the concept of the company had already been changed. Races were no longer the prerogative of Bentley, although the sports accent was preserved. The car was advertised to wealthy gentlemen who wanted to drive it personally, without a chauffeur. Bentley, now called SS Cars (which means a noiseless sports car), becomes the undisputed leader among high-end British cars.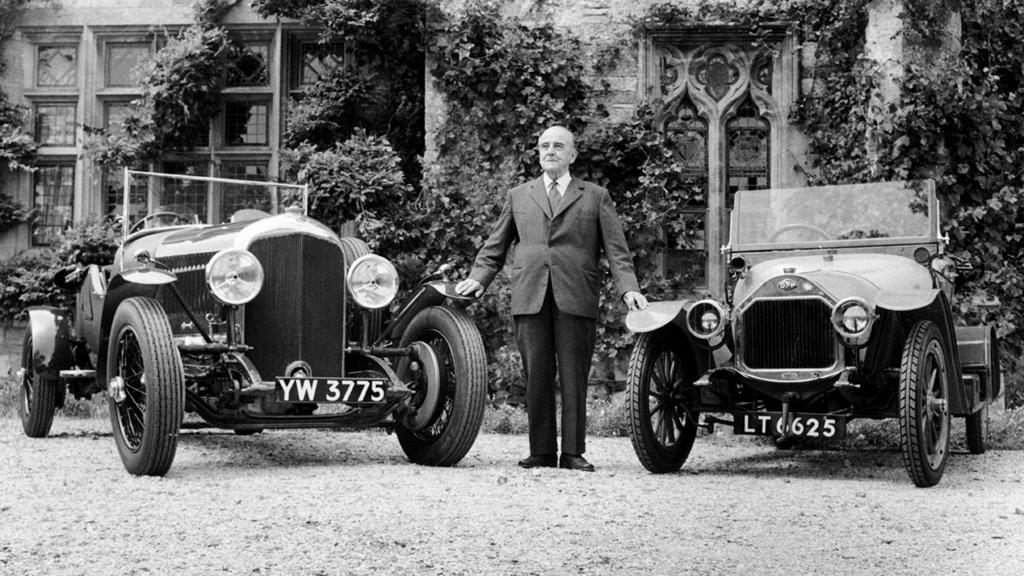 Several gradations of Bentley were created – "Red Label" (emphasis was on comfort), "Black Label" (emphasis was on sports performance) and "Green Label" (something in the middle).
Since 1955 all Bentley models have been the most complete copies of Rolls-Royce. Nevertheless, despite the constructive similarity of the two brands, the main difference has remained between them: Rolls-Royce is an executive car, and its owner's place is at the back. And Bentley, on the contrary, are cars for people who know how to drive them and like to do it. In the 1970-s, turbomodels appeared. The family of expensive sport coupe Continental was primarily intended for young and ambitious millionaires, who considered sports cars like Ferrari to be too utilitarian and uncomfortable.
Bentley Continental GT – premium model classic
The Bentley Continental GT was introduced in August 2017. New two-door Bentley Continental was announced by the British company Bentley Motors as the world's best car in the Grand Tourer class. This luxury British coupe is already the third generation, with a double wishbone front suspension (rear suspension is multi-link). In addition, the car is equipped with three-chamber pneumatic air bellows, a four-wheel drive with an electronic multidisk clutch, "smart" snubbers with adaptive control, active antiroll bar. The latter is opposed to body rolls in turns, using electromechanical actuators controlled by a 48-volt vehicle network. The novelty got the native Bentley engine – 6.0-liter W12 TSI (635 hp 900 Nm). Acceleration from 0 to 100 km/h takes only 3.7 seconds, the top speed of 333 km/h.
The body design has a classic exterior with a large and solid false radiator grille, more expressive headlights and unmatched oval side lights with exhaust tips, resembling them.
In the design of the new Bentley Continental GT body of the third generation, high-strength steel and aluminum are widely used (exterior body panels are produced using the technology of forming from winged metal at a temperature of 500 degrees Celsius), which made it possible to reduce the novelty's mass in running order by as much as 80 kg to 2,224 kg in comparison with the last generation model. At the same time, the engineers managed to provide the coupe with an excellent weight distribution: the front axle accounts for 45% of the mass, and the rear one – 55%.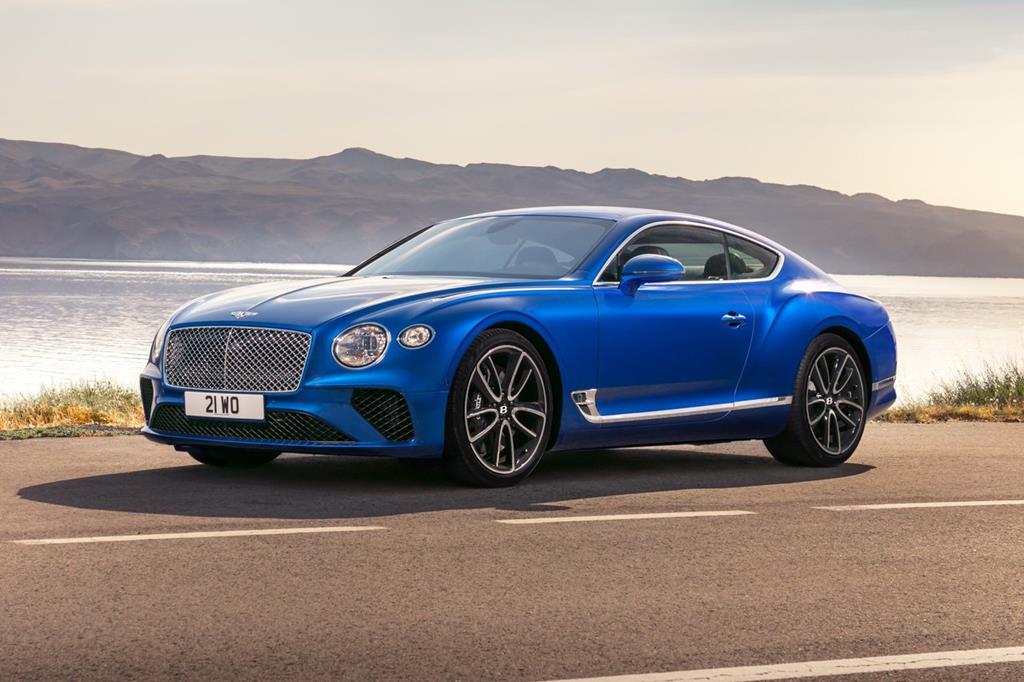 The Bentley Continental GT is a real revolution in the interior. Just think, there is a virtual dash panel, a fantastically original three-way section on the centre console (in the parked state of the car, the center console is blank and continues the stylish trim of the front panel, the ignition is turned on and a huge 12.3-inch color screen of the multimedia complex appears before you; and on the third side – the analog dials with temperature, compass and chronometer readings).
Of course, there are also traditional, familiar attributes of a luxury coupe, that, nevertheless, do not cease to impress with its unique look and high functionality. There is an exorbitant amount of leather, veneer and aluminum, door trim, front seats and rear seats with a trim of combined natural leather, driver and passenger seats with electric adjustments, heating, ventilation and massage.
Factors to ensure the safety of driving Bentley
Bentley's safety systems are active, passive and adaptive. There are matrix LED headlights and rear LED parking lights with the original three-dimensional graphics; for a surcharge you get a pedestrian warning system, a Road Sign Information, cameras providing an around view (City package) and adaptive cruise control with an assistant in traffic jams, a projection screen on the windshield, an automatic lane following, a night vision and BAS Plus (Touring package).
Bentley Bentayga SUV safety is provided by: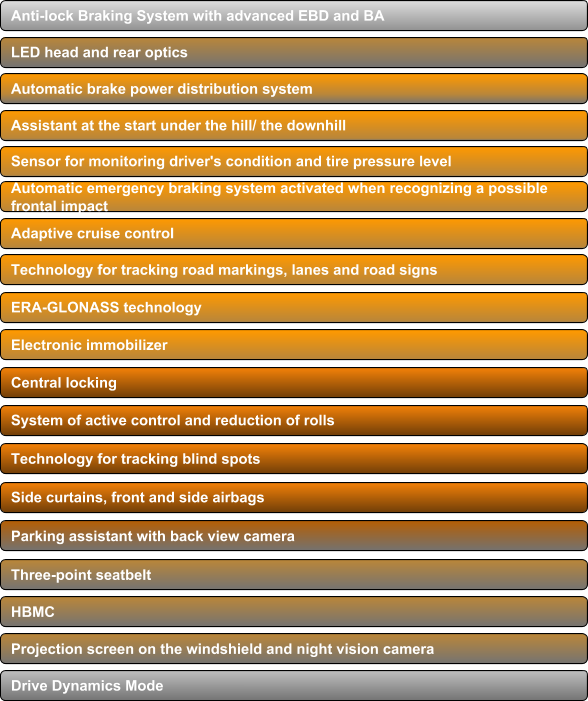 It is impossible to characterize and even simply list all the features of Bentley as a luxury car in this article. But we still tried to do something. However, no matter what car you own, Bentley or another brand, you can drive it only when you have a driving license. Ideally, if it is an international permit. And it is quite easy to process it – right on our website.